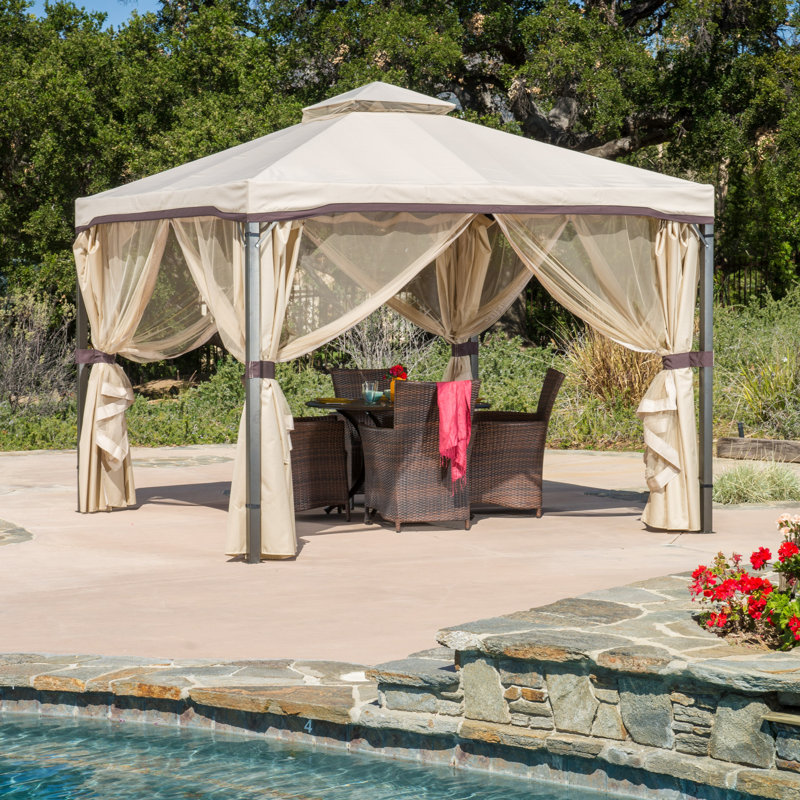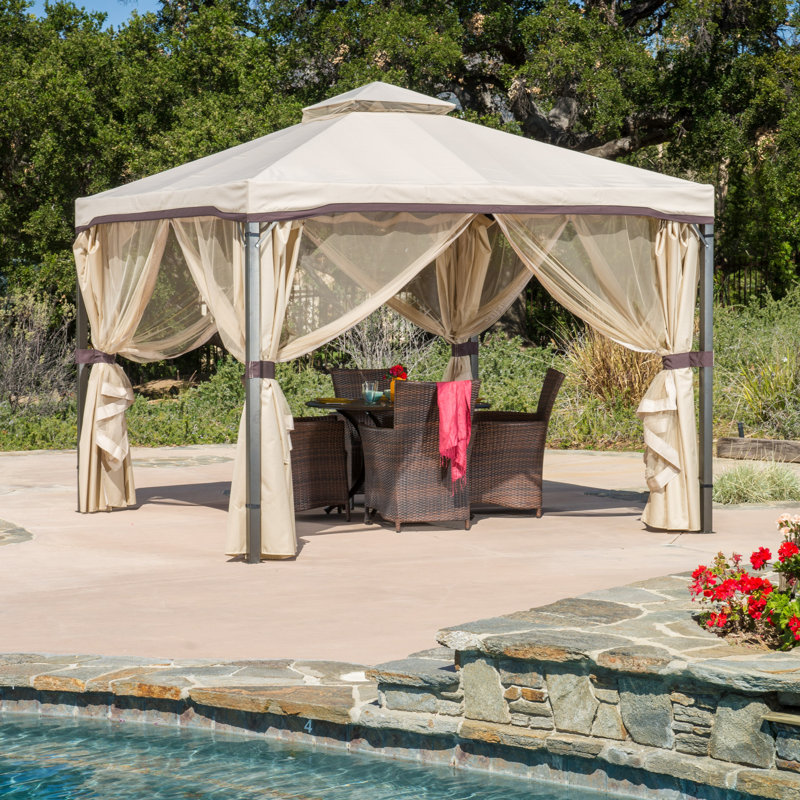 A gazebo is a perfect addition and enhancement for any garden or yard. Not only does it provide an attractive feature and focal point to please the eye, but it increases the pleasure you derive from your outdoor space in an almost infinite number of ways. It enables you to expand your home's living space, and greatly extend your enjoyment of outdoor living to three, or even four, seasons of the year.
A gazebo is a free-standing structure with a roof and open sides. Gazebos can be square, rectangular or round, but the most popular shape is a six-sided or eight-sided formation.
They can consist simply of a roof supported by posts, or can incorporate a low wall, two or three feet high, which makes it possible to add screens, doors and windows, and attach benches to the wall for permanent seating. However, gazebos can also be temporary structures, known as pop-up gazebos, which can be erected when and where you need them.
What Can I Do with a Gazebo?
The uses for an outdoor gazebo are so many and varied that they are limited only by your imagination. Its most common use is simply as a place of rest and relaxation, and as a shaded seating area.
Depending on size, you can put in garden furniture, such as recliners, tables and chairs, or even a garden bench or two, to maximize the family's enjoyment of summer. This way you can also have an extra room to increase your living space.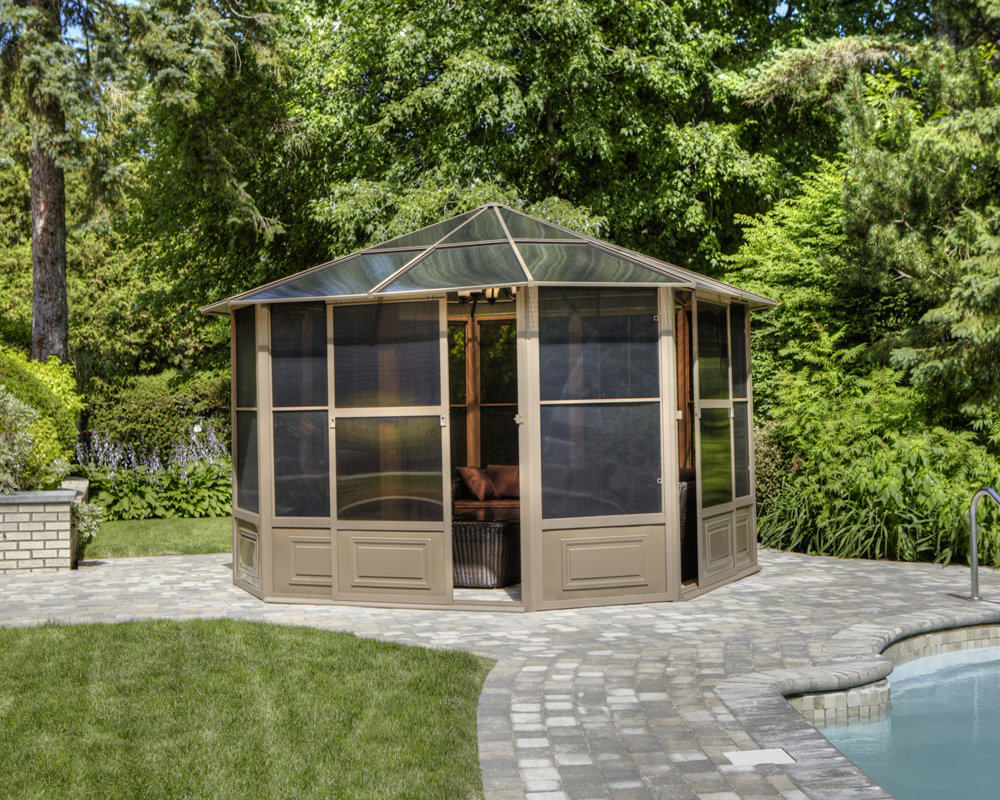 A garden gazebo is ideal for social events too — it's a perfect place to host a barbecue, or an outdoor party. A very popular use nowadays is as a venue for a garden wedding, for either the ceremony or the reception — for the ceremony, it's an effective way to focus all eyes on the bride and groom.
If your gazebo is by the pool, it makes a delightful poolside retreat, where you can sip a glass of chilled lemonade after your dip in the water. Some people even use their outdoor gazebo as a fitness room, or as a place of prayer and meditation.
One increasingly popular use is as a hot tub gazebo, or a spa enclosure, providing privacy as well as protection from the elements. For gardeners, the gazebo is a good place to do sedentary jobs like potting plants, to avoid having to work in full sunshine. In fact, the possibilities are virtually unlimited.
What Are Gazebos Made Of?
Gazebos can be made of a wide variety of materials such as metal, wood, stone, or even of reinforced concrete. Nowadays an increasing number of gazebos are also being made from vinyl.
Metal Gazebos
A metal gazebo is usually constructed of aluminum, wrought iron or steel, aluminum being the cheapest, and wrought iron the most expensive. Steel gazebos are particularly durable and permanent, while aluminum is lightweight and strong.
However, people love wrought iron gazebos most of all, because they are so beautiful, and add an old-world elegance and charm to any garden setting. Whatever it is made of, the great thing about a metal gazebo is that it requires hardly any maintenance, and you never need to worry about it rotting, warping or being eaten by ants.
Wooden Gazebos
Wood is always a fantastic natural looking option when it comes to outdoor furniture and the same goes for its use with gazebos as well. Unfortunately, while there are many gorgeous types of wood, not all can be used to build a gazebo. Here are your top three wood options which are guaranteed to impress:
Pressure Treated Lumber
Pressure treated lumber is the most inexpensive option of the three. It is normally either Fir or Pine which has been chemically treated. This treatment allows the wood to be used outdoors without any problems.
It's good looking and strong. Both Pine and Fir can range from slightly green in color to brown, it's up to your preference.
As they age, they will in fact both slowly change to a handsome gray color. A trick many wooden gazebo makers employ is to use pressure treated lumber in many of the parts which are hidden from view and switch to either Cedar or Redwood for the ones in plain sight.
This can help save a few bucks as pressure treated lumber is cheaper than both of them. Regardless of whether you use it to construct your entire gazebo or only part, it is a good, cheap, and reliable option.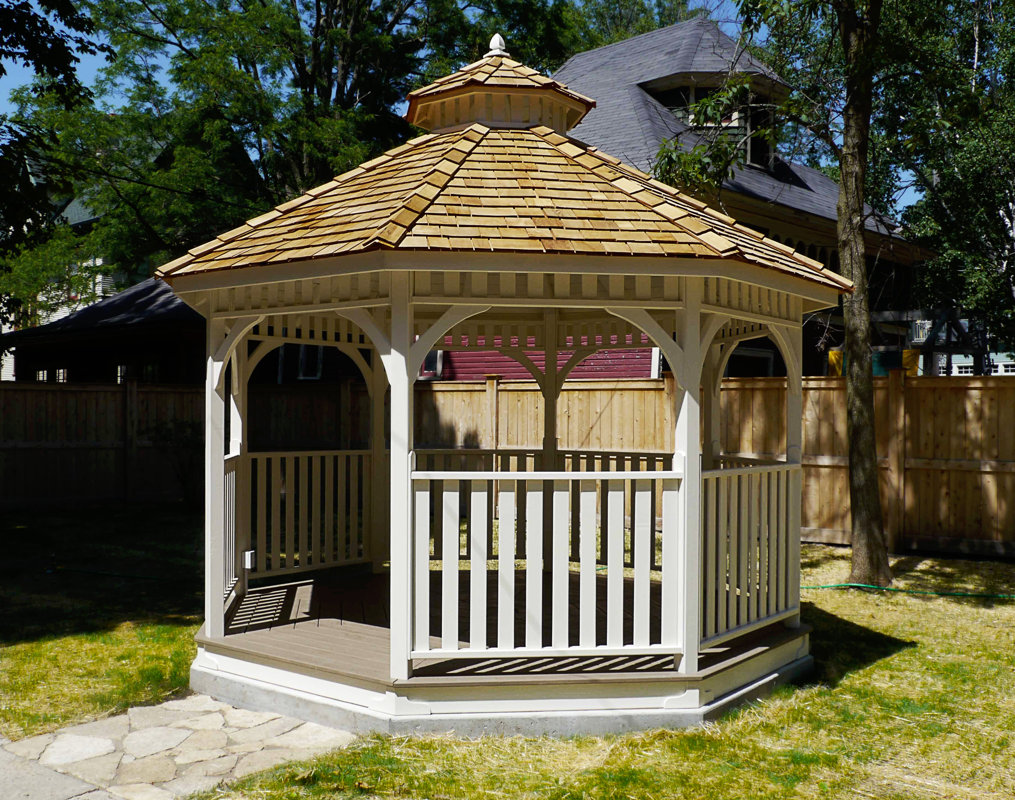 Cedar
Cedar is a very popular wood for building gazebos and for many good reasons. Builders love it because it is lightweight and relatively soft. This means it's easy to work with. It is also very rustic looking and has a very pleasant aroma for which it is famous. The most important feature however is its natural resistance to rot and decay, making it perfect for use outdoors.
It is available in a few different varieties such as Eastern and Western Red Cedar, with the Western type being the more popular as it is much more resistant to decay than the Eastern variety. The wood of all cedar is classified as either heartwood or sapwood.
Heartwood which comes from the center of the tree is darker in color and higher in quality along with sapwood which comes from the outer area and is lighter in color.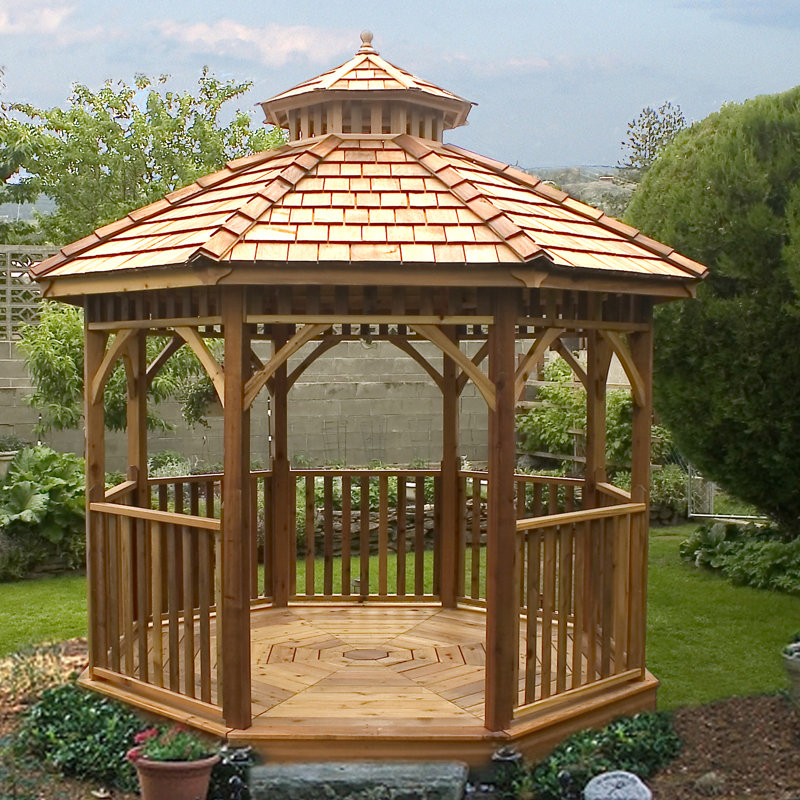 Redwood
Redwood is considered by many to be the best choice of wood for all outdoor projects. It is a strong wood making it very suitable for supporting your outdoor wooden gazebo. This wood is very attractive and luckily also very easy to work with. Redwood is particularly known for its natural rot-resistance and insect-resistance too.
The only drawback is that it is more expensive than other options, however when beauty and quality is concerned you really do get what you pay for. Like with Cedar, all Redwood lumber is also classified as either heartwood or sapwood.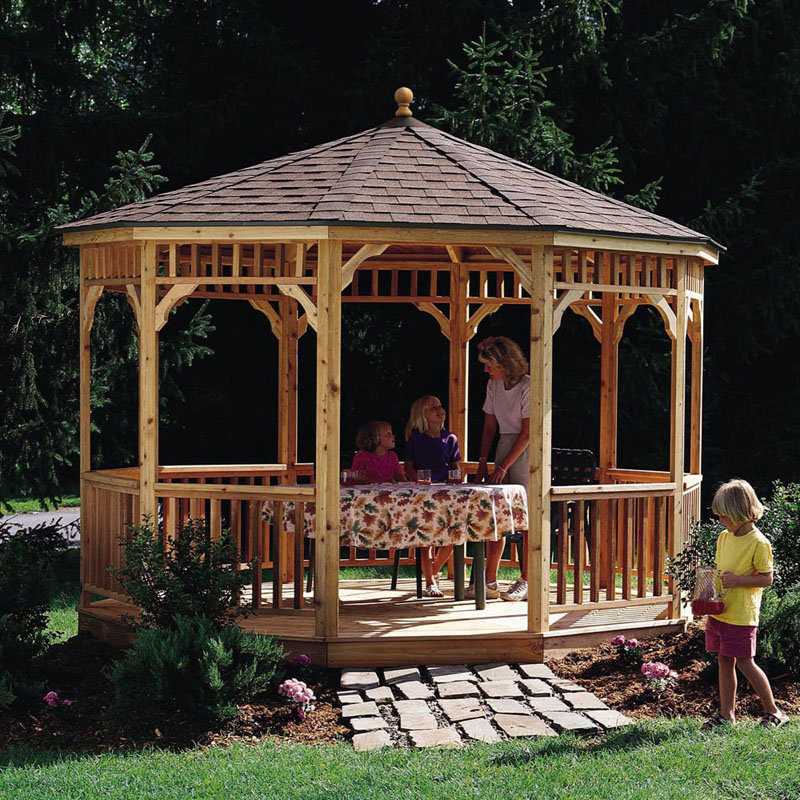 The trick when building a wooden gazebo from Redwood is that you can only use heartwood for areas which will be coming into contact with the ground. And while heartwood is more expensive, you can still use sapwood for the other parts of your gazebo without any worry.
The special charm a wooden gazebo can bring to your outdoor space is like no other. The natural feel, look, and smell of real wood can make your gazebo a special place to relax and will no doubt enhance the beauty of your yard or garden while fitting in perfectly with the natural surroundings.
Consider these three types of wood for your project and no matter which one you choose you can't go wrong! If you decide on either Cedar or Redwood be sure to use only aluminum, stainless steel or galvanized steel hardware. If you do not, the wood may develop black stains or streaks from contact with other hardware materials notably iron.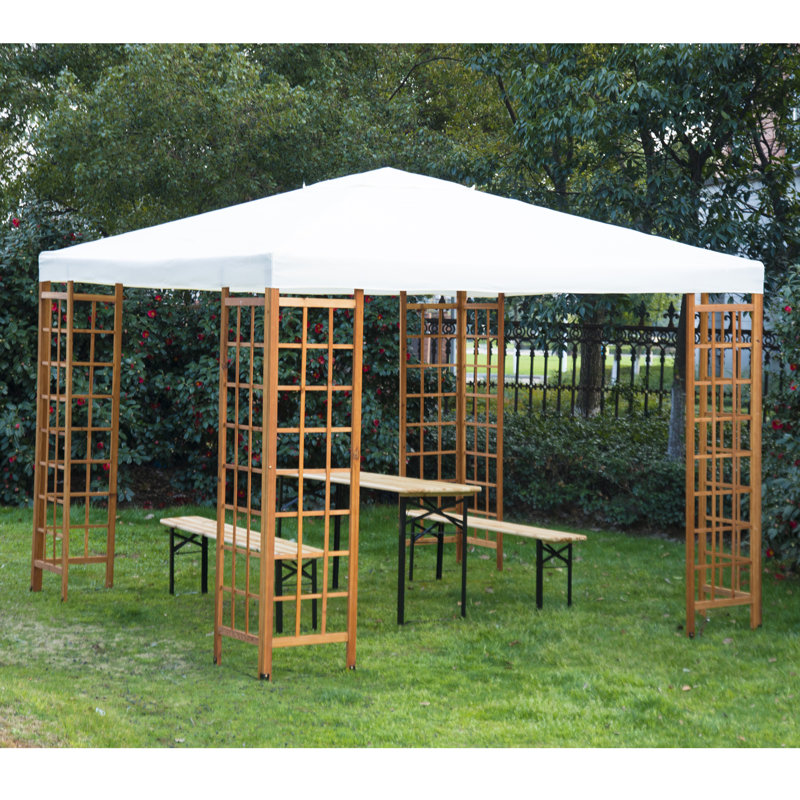 Vinyl Gazebos
Vinyl gazebos require minimal maintenance, and can look as attractive as real wood, without the problems of rot or warping. The only care they require is a hose-down about once a year.
Another possibility for a gazebo is stone, including marble — a marble gazebo will look exceptionally beautiful, but will be very expensive, and is really for those who want an extremely formal garden layout, to complement a classical-style home.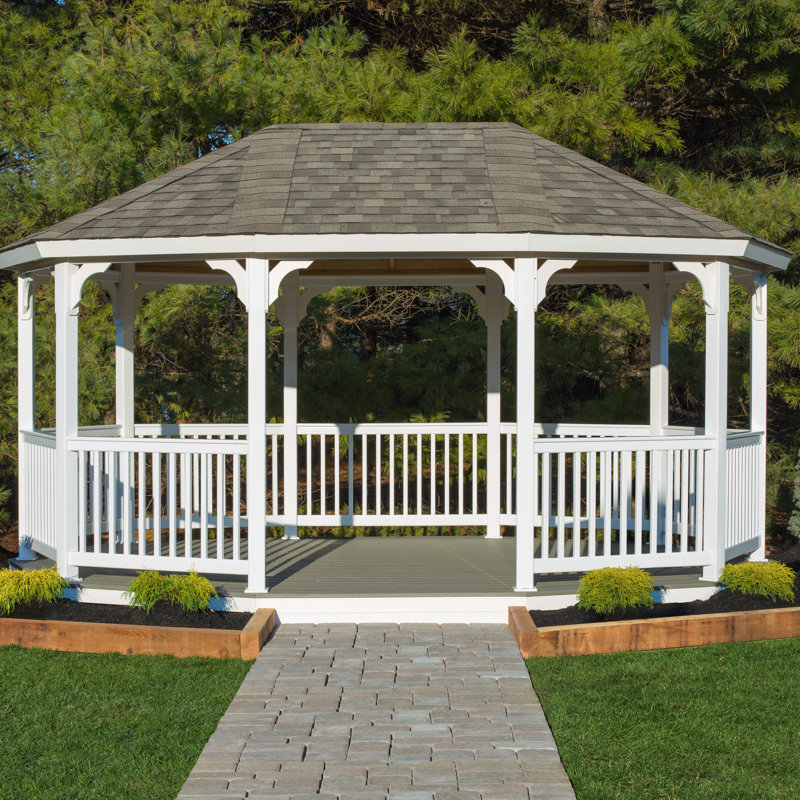 Pop-Up Gazebos
A different style altogether is a pop-up gazebo, which you can use as and when required, for instance for a social event or a charity sale, and then dismantle it afterwards. You can find foldable pop-ups, which are made of sturdier materials and stay in one piece when taken down — thus making them easier to put up.
The more common type is the practical pop-up, which requires assembly, and can be quite complicated until you get the hang of it. They can be either open-sided or enclosed. If you are likely to use it regularly, pop-ups are the least expensive type of gazebo. However for one time events and parties many companies offer pop-up gazebo hire or rental.
Three Ways to Acquire a Gazebo
If you are wondering how to get hold of a garden gazebo, there are basically three ways you can do it. If you have good carpentry skills you can build it yourself from scratch, or, if you are not quite so handy, you can assemble it from a gazebo kit. Alternatively, you can hire a contractor to plan and build your gazebo for you, to your exact specifications.
Building the gazebo yourself from scratch requires not only a high level of carpentry skill, but also a good set of plans. If you are not experienced in drawing up plans, there are many companies that provide gazebo plans either for purchase or for free.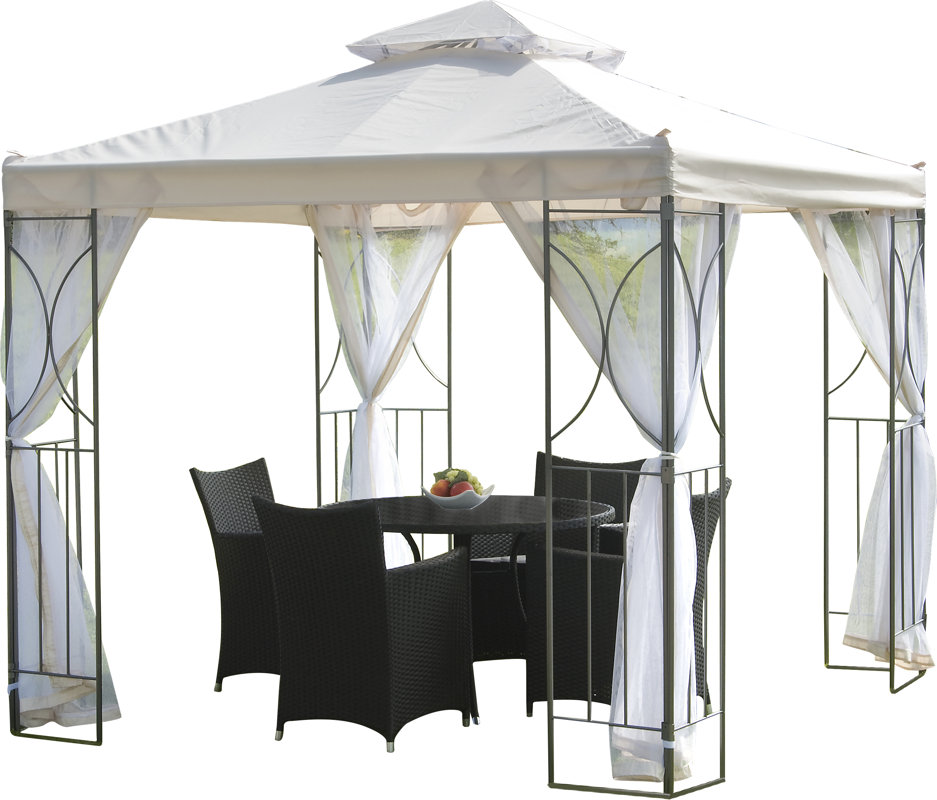 A more manageable approach for a DIY project is to assemble your gazebo from a kit. Gazebo kits are an excellent alternative to poring over plans, and buying and shaping the raw wood, though they do still need some carpentry skill. Kits come in an astonishing range of gazebo designs, so you are bound to find something that suits you.
You can find kits for a hot tub gazebo, a patio gazebo, and a wide selection of traditional gazebos. The gazebo kits are also very easy to assemble, assuming you have the basic skills — most of them come with clear directions, and include all the parts required to put it together. Hands down the best place to purchase is online in places like Amazon.com where you will almost always find huge discounts year-round and almost always free shipping too!
Hiring a contractor may not necessarily cost a great deal more than using one of the more expensive gazebo kits, and it means you can have your structure customized down to the smallest detail. This means that if you are dreaming of a unique gazebo that will amaze your neighbors, or if you have set your heart on a specific ornamentation or trim, you can have exactly what you want.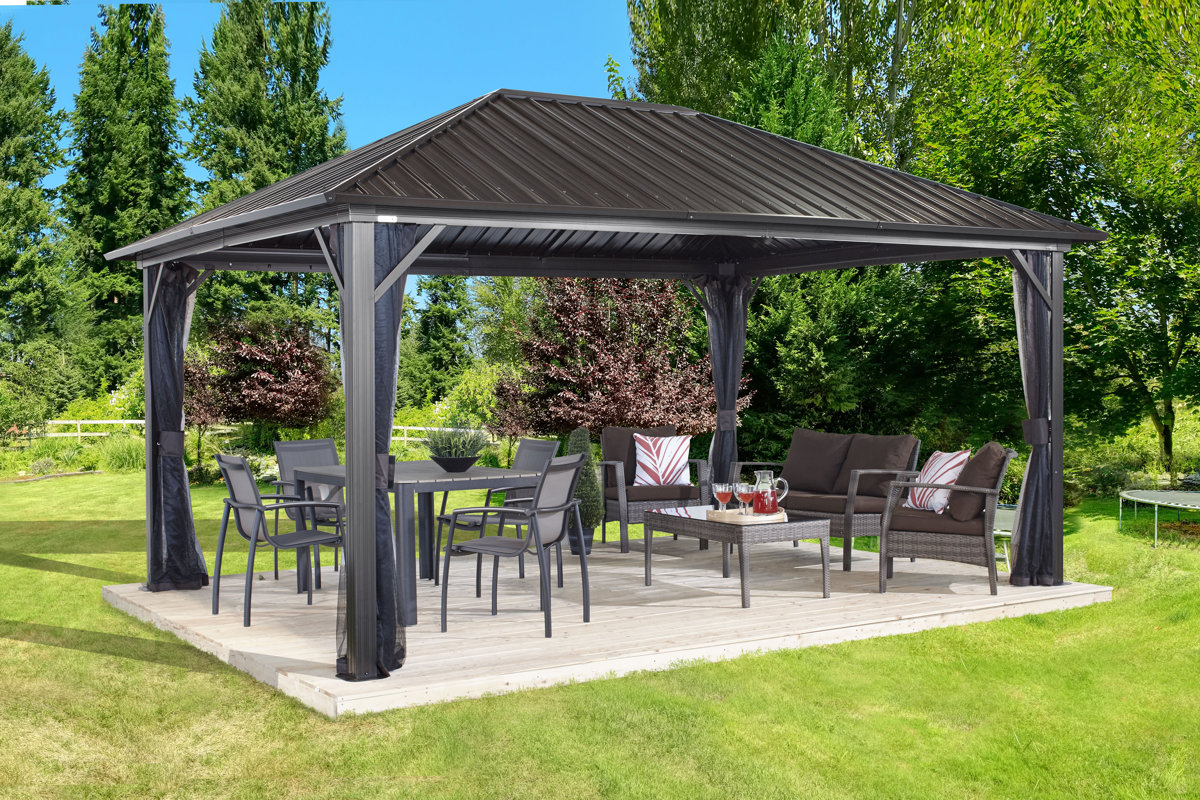 How to Choose Your Design
Whichever method you adopt, you still have to decide on your design, and there is such a vast assortment of gazebo designs to choose from that the decision can be very difficult. However, the most important consideration to bear in mind is that the style of your gazebo should fit in with the style of your house, garage and other permanent structures.
If it doesn't, it will look out of place. For instance, it's not ideal to use a traditional or classical design if you have a very modern style of house. As far as shape is concerned, you should think twice about installing a round gazebo, unless you have really set your heart on this design.
Not only does it not complement most house styles, but you have to have a very big structure to have enough space to fit your furniture in. A round table will fit very well into an octagonal structure, and this is what many people choose. A 14-foot octagon can easily accommodate six people, and leave ample room to move around.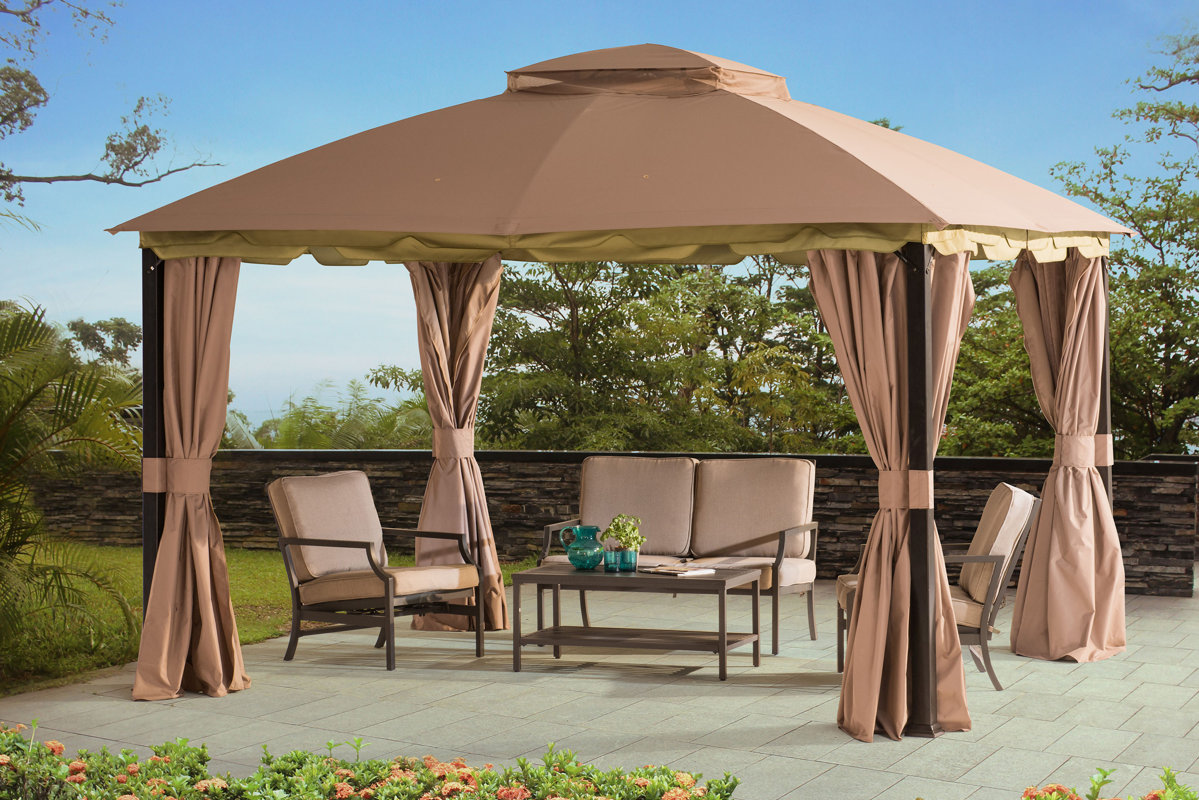 If you are doing the work yourself, a plain square or rectangle will be the easiest to construct, although a square gazebo does not work very well with a round table. If you want to include a couple of recliners as well as dining furniture, a rectangle may be the best option.
Alternatively, you can choose what is termed a rectangular oval — that is, a rectangle with the two short ends having two panels that are joined to a point — which increases your available space considerably.
One decision you have to make is between a hard top gazebo and a soft top, or gazebo canopy. A hardtop gazebo features a solid roof, made of strong plastic or aluminum. The roof will have other substances mixed in with it, such as polycarbonate and acrylic, for complete protection from snow and rain.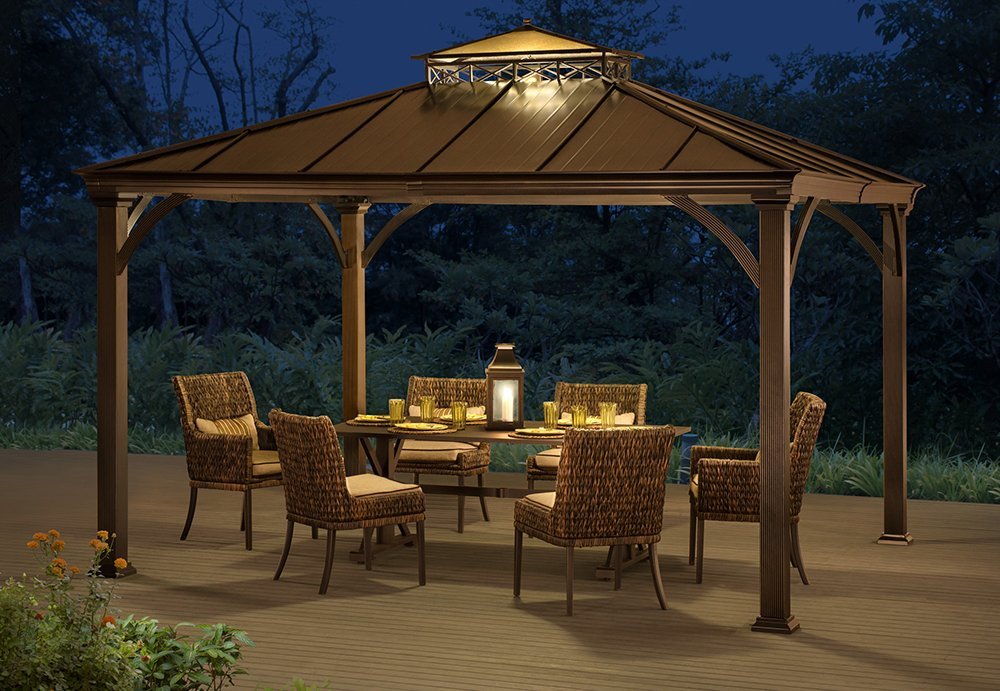 A gazebo canopy can provide a luxurious look to your structure. There are different types of strong fabric you can choose from, including canvas, nylon and polyester. This will protect you from the sun, but not of course from snow and heavy rain.
Either a soft top or a hard top gazebo can have a roof structure that is either single tier or double tier. The single tier structure resembles a pyramid, and has a vented opening at the peak, to allow free movement of air. The double-tiered roof has a second roof frame on top, usually smaller than the lower tier.
Patio Gazebo
Rather than having a free-standing gazebo at the end of the garden, you may prefer to install a patio gazebo, which is designed to sit on your patio, or be fixed to the floor. If you are building a new patio, you can incorporate a patio gazebo into the design. Otherwise, you can modify your existing patio to accommodate one.
Usually, a patio gazebo is installed either by bolting it to your patio surface, or by drilling holes in the patio floor, and cementing the poles into the holes. However, some kinds of patio gazebo simply sit on the patio surface. If you want one of these, for the sake of simplicity, make sure that it is heavy enough and strong enough to withstand strong winds.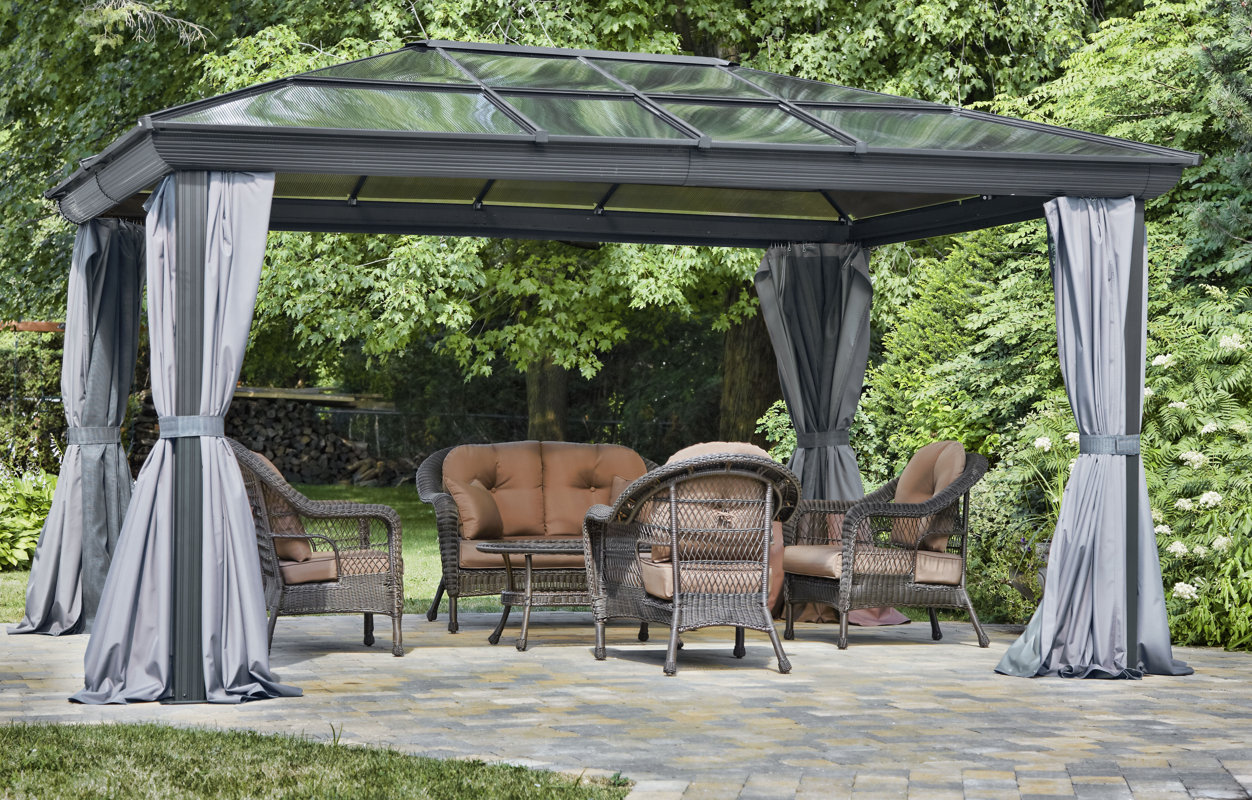 Hot Tub Gazebo
Yet another popular option is a hot tub gazebo. Hot tubs are becoming increasingly fashionable, and a hot tub gazebo can provide you with more opportunities to enjoy the experience without worrying about the weather. If you live in an urban area where houses are close together, you will also appreciate the extra privacy. An alternative to a hot tub gazebo is a spa gazebo.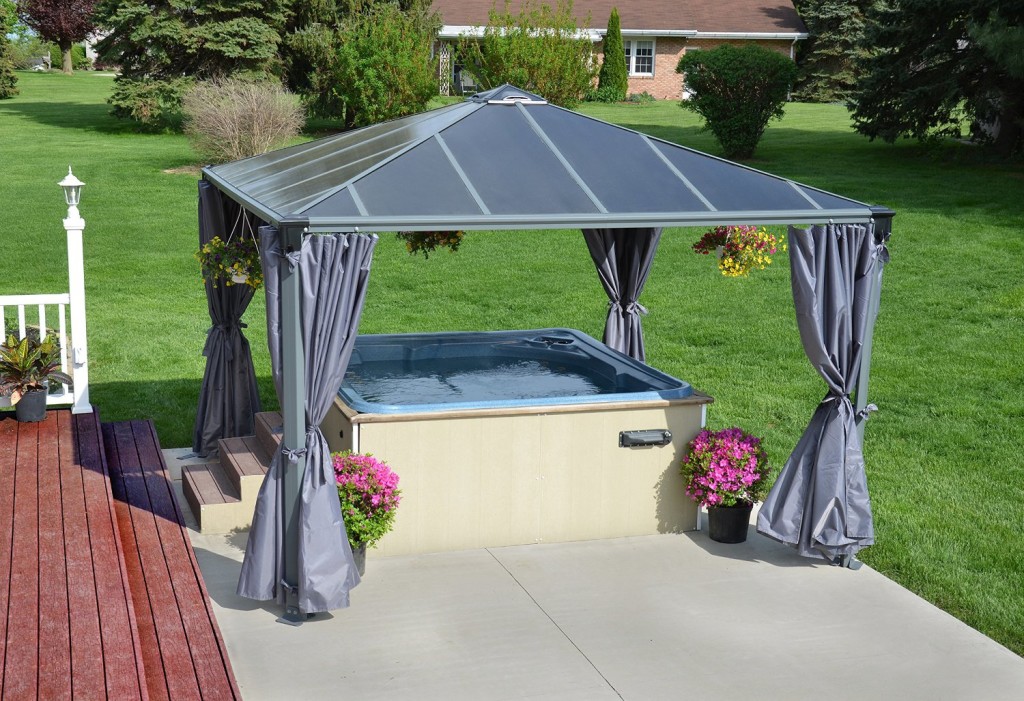 There are two basic types of spa or hot tub gazebo: open and closed. The open type has the benefit of enabling you to look at the stars while soaking. However, if you live in an area with frequent rainfall, a closed gazebo makes more sense, and gives you more privacy too. A hot tub gazebo is most commonly constructed of red cedar.
If you have an existing spa or hot tub, it's quite easy to find gazebo kits that enable you to build the structure around it. If you are installing a spa or hot tub gazebo from scratch, you need to choose the location carefully. It's important to ensure not only that it is easy and convenient to use, but also that it enables access to electricity, plumbing and ventilation.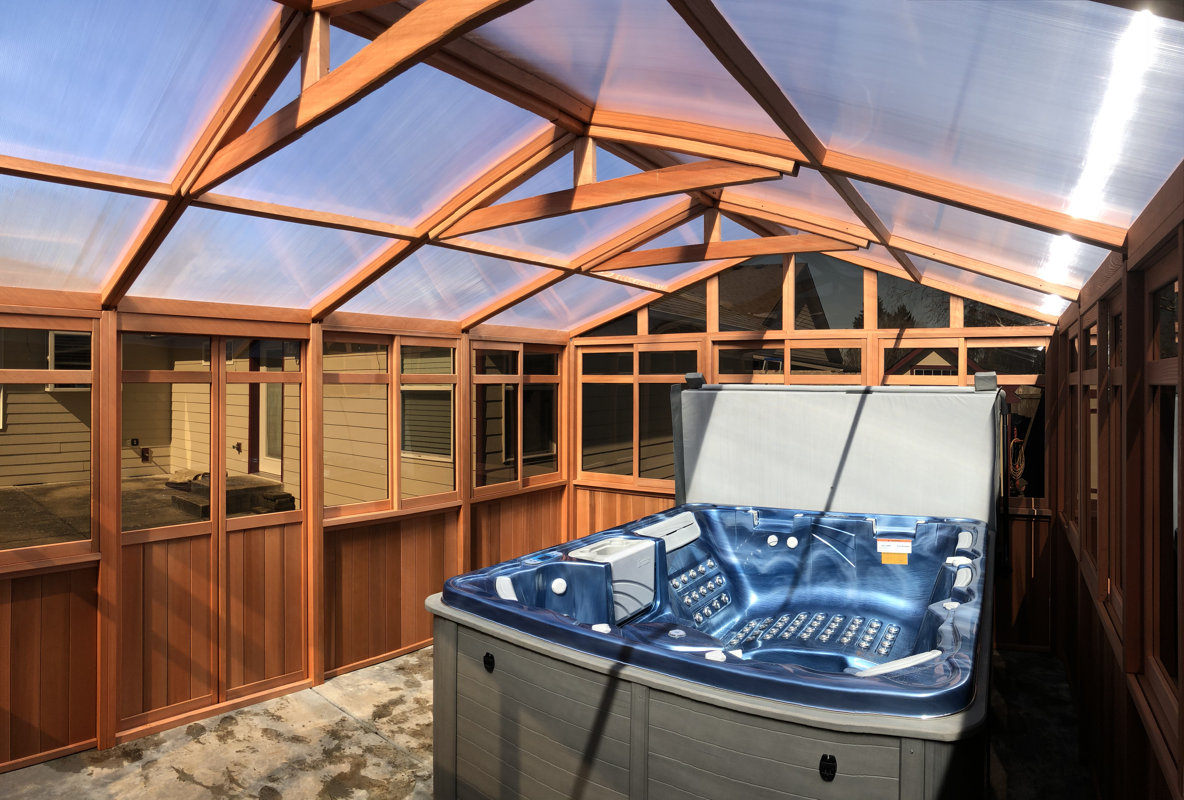 The 3 Season Gazebo
Unlike your typical gazebos, 3 season gazebos are entirely closed in by windows and screens. They can be any style or shape gazebo with any designated amount of sides. These can be a phenomenal way to enjoy the comfort of your gazebo even when the weather outside starts to change with the seasons.
With this type of gazebo you simply close your storm windows when it's chilly like in the early spring and late fall to ensure a temperature which is much more suitable. These windows will ensure your view is not inhibited either. And when it is warmer out, all you need are your screens.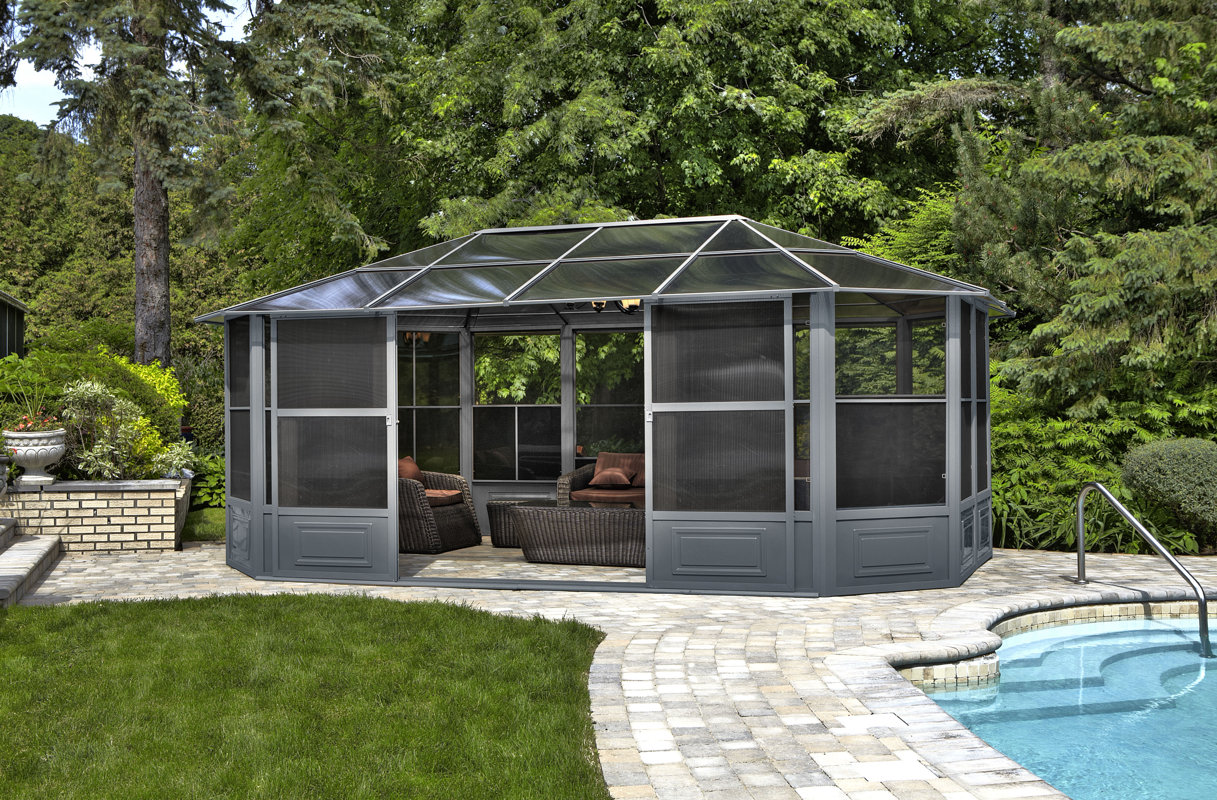 These gazebos are the best way to get the longest use of your outdoor space throughout the year in comfort. They also allow you to customize and decorate the inside of your gazebo much more than other options do. Because they are protected from the elements you can use furnishings inside one of these which would be quickly ruined otherwise and you can also leave them there permanently.
Some homeowners even use their 3 season gazebos as extra storage space in the colder months or just temporarily. An extra plus of this type of structure is that the screens of 3 season gazebos also keep out pesky mosquitoes and other biting insects which can quickly ruin an enjoyable evening in your favorite place to relax.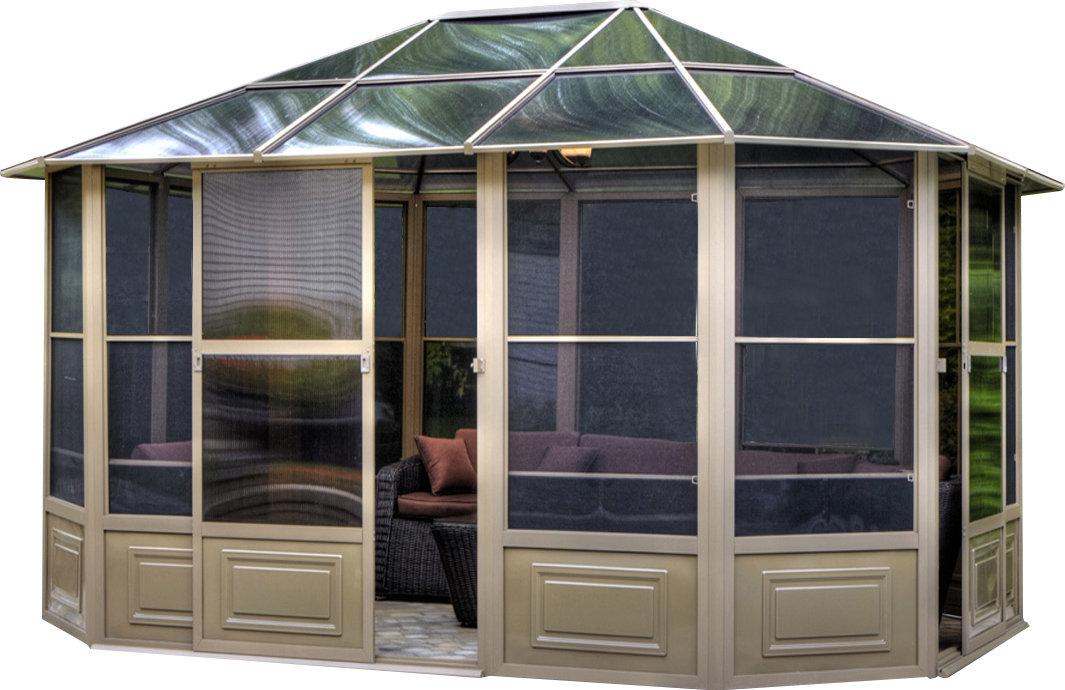 The Classic 8-Sided Gazebo
The enduring classic 8-sided version is what we most often picture in our minds when we imagine a gazebo. Their octagonal shape means that they are symmetrical when viewed from any and every angle which is extremely pleasing to the eye making it the perfect focal point or accent for any garden or yard.
It also means it looks fantastic when placed anywhere whether off to the side, in a hidden corner, in the center, or near the patio. While it does have 8 sides, they are not totally enclosed so that you can still feel totally open to the cool breeze and fresh air. This style of gazebo is raised off of the ground which adds a feeling of elevation as well making garden views that much better while you escape the summer sun.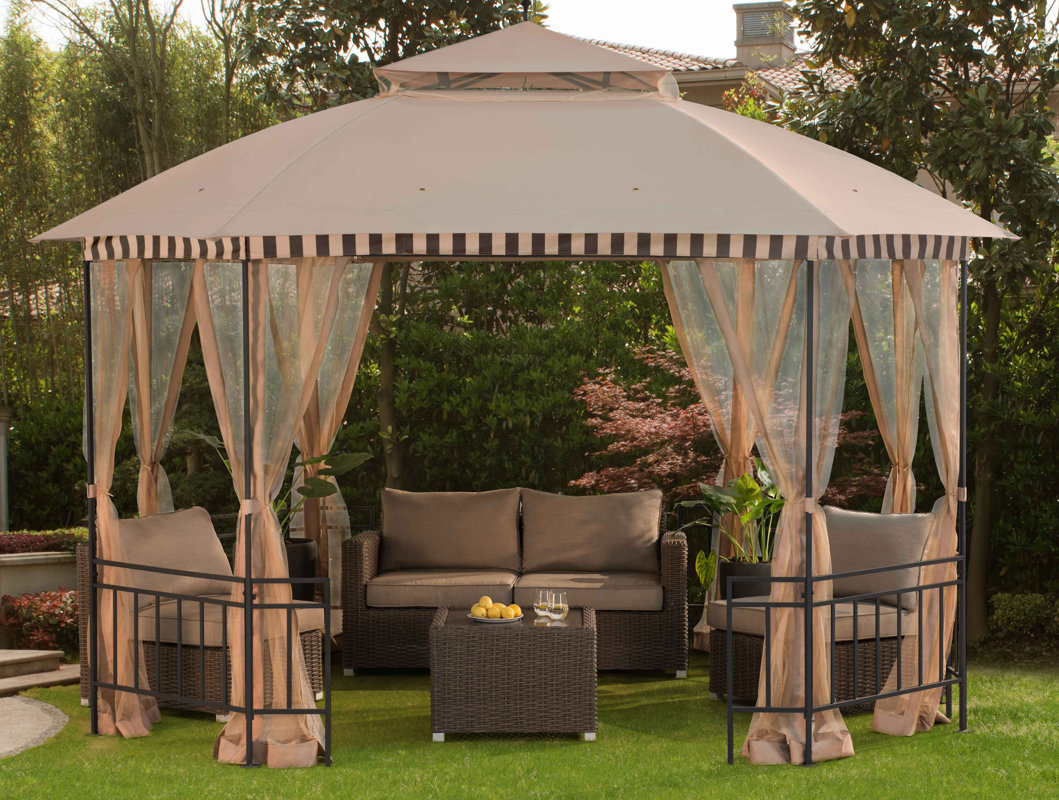 A Lattice Gazebo
Similar to the 3 season gazebo a lattice gazebo can be any shape. However it is partially enclosed by lattice walls. Some but not all, even have lattice roofs. Lattice consists of strips of wood, metal, or plastic which are crossed to form diamond or square shaped spaces.
The lattice walls can have round, square, or rectangular openings of varying sizes depending on the model you choose to purchase or build yourself. And while you can leave your lattice as is, and it will provide you with a shady spot, most people choose to use it as support for climbing plants.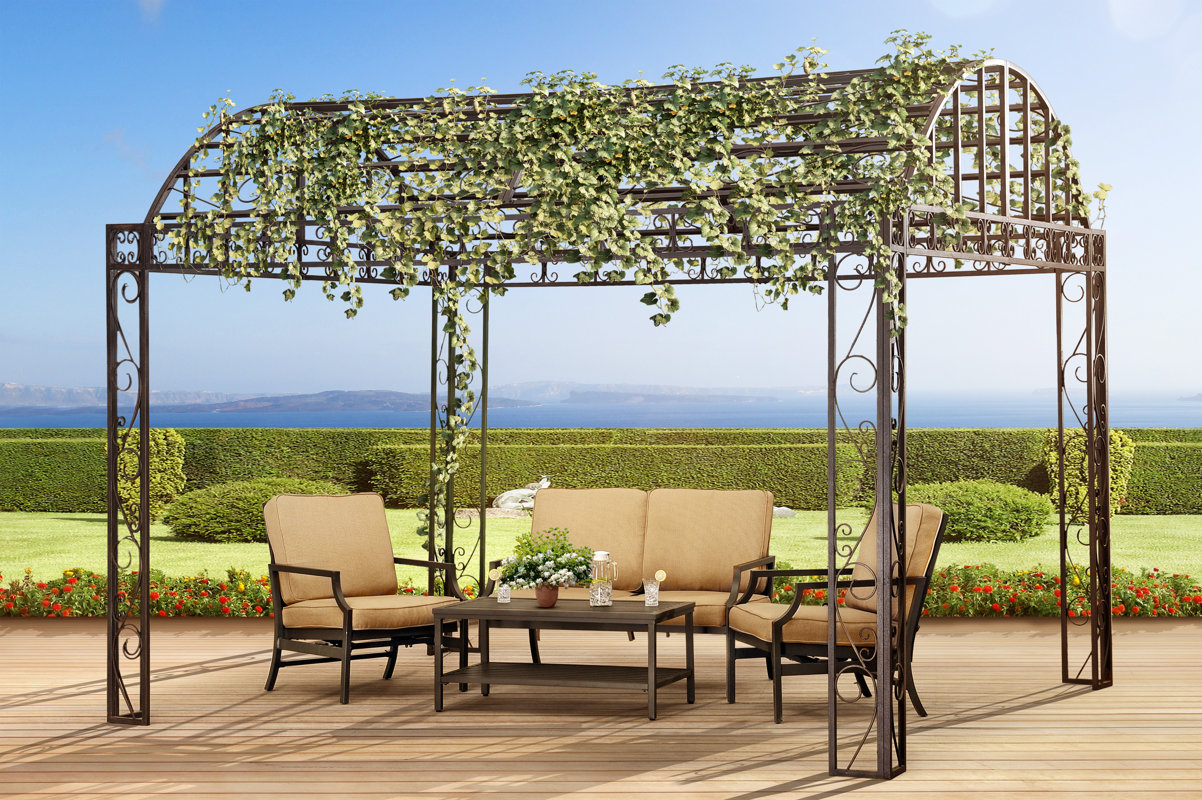 A lattice gazebo covered in plants is like a garden hideaway. It creates a space like no other. With walls that are alive they blend with the elements to make you really feel like you are part of nature especially because not only is it literally all around you and sometimes even above you, but you can actually reach out, touch it, and even smell it.
They can be exceptionally cool places to sit on a hot day and at night when lit from the inside, often evoke the feeling of being in a Chinese lantern, a unique and wonderful place to be and experience to say the least!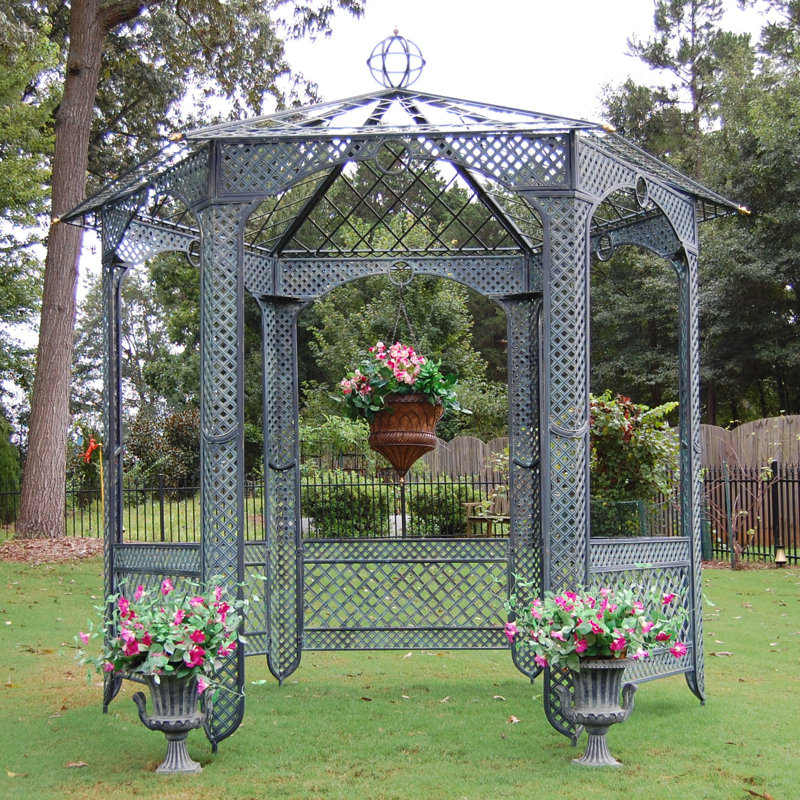 Location, Location, Location!
Choosing the right spot for your gazebo can have a dramatic effect on just how much you are able to enjoy it. By answering three simple questions you can quickly narrow down the options and focus in on where your gazebo will work the best for you.
How Do You See Yourself Using Your Gazebo?
This is the most important question you need to answer because its function will go a huge way in helping to determine where you will place your gazebo. If you ideally would like to use your gazebo for outdoor dining then it would be wise to pick a location closer to the house so you do not constantly have to run in and out for supplies.
If it is going to be a quiet spot to read, relax, or mediate, further back from your house will mean it will be much quieter and therefore a more convenient place to do all of these type of activities. Gazebos are also commonly used near pools and outdoor kitchens as a shady spot to get out of the sun that still allow you to be social because you're still close to all the action.
What View Would Be Ideal From Your Gazebo?
You also need to decide what you ideally want to be looking out at from your gazebo. If you have a water feature or pond, a gazebo placed next to either would be a phenomenal way to experience both to their maximum potential.
The sound and beauty of water with the comfort of a gazebo goes perfectly hand in hand. Many pond owners use their gazebos as place to relax while being able to watch their fish swimming. A quiet corner garden is another view that is a popular choice and it one with the sweet fragrance of flowers.
And of course if you are lucky enough to have a view of the mountains, forest, a river, or a lake these also make great spots. The most popular view people choose is actually that of their own house, so don't overlook this as an option either.
Choosing a space that has a view of your house will give you a chance to not only admire your home but to keep an eye on the kids as well. It can also be just a great way to see your property as a whole!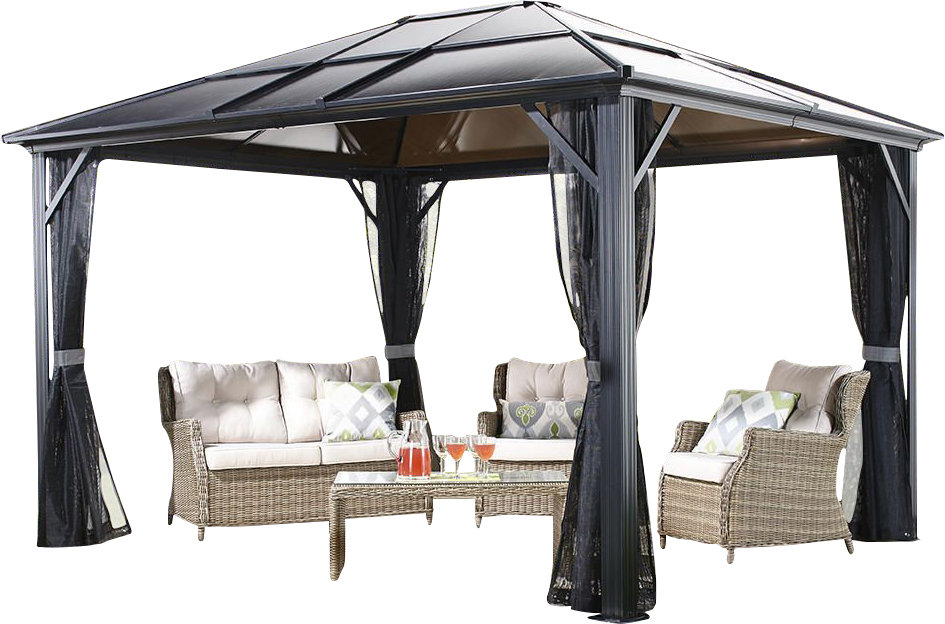 What Would Be The Ideal View Of Your Gazebo?
Just like you want to have the best view possible from your gazebo, for many homeowners having a view of their gazebo is just as important. This might sound silly but it's not at all. Gazebos are structures which add to the beauty of your property.
However, if your goal is privacy and you want to keep your gazebo in a quiet niche away from the house having a view of your gazebo from the house might not matter to you. If you have kids, this might be a different story as you might want to see them if they decide to play inside the gazebo. Or maybe not.
It's all a matter of your priorities and how you want to use your gazebo. Many home owners simply purchase gazebos as ornamental structures to enhance the look of their property so they want them positioned to fill in an empty space or love the look of a gazebo next to a garden full of spring flowers.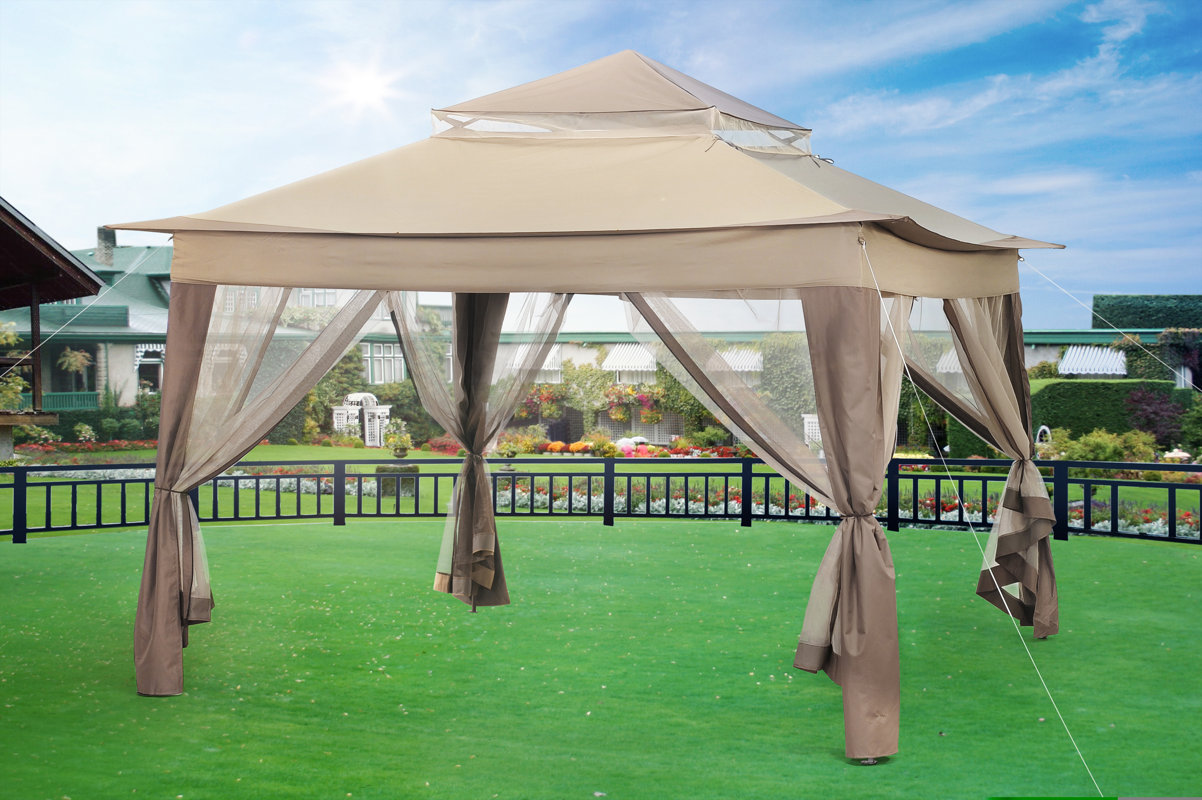 They can also function to block out a street view or unsightly neighboring lot substituting ugliness for beauty effortlessly. You might want to be able to see your gazebo from your kitchen window as you have your morning coffee, it's up to you.
So if you are planning on installing a gazebo, don't forget to ask yourself these three important questions. They will keep you happy, relaxed, and enjoying your gazebo right where it should be, in the best location for you.
Other points you need to consider are whether you want it wired, and whether or not you want screens or windows. Electrical wiring can greatly increase the usefulness of the gazebo, and lighting can make it look incredibly attractive from a distance. Screens will deter mosquitoes and other uninvited guests from joining your dinner parties, while the addition of removable windows will make your gazebo much more versatile for year-round use.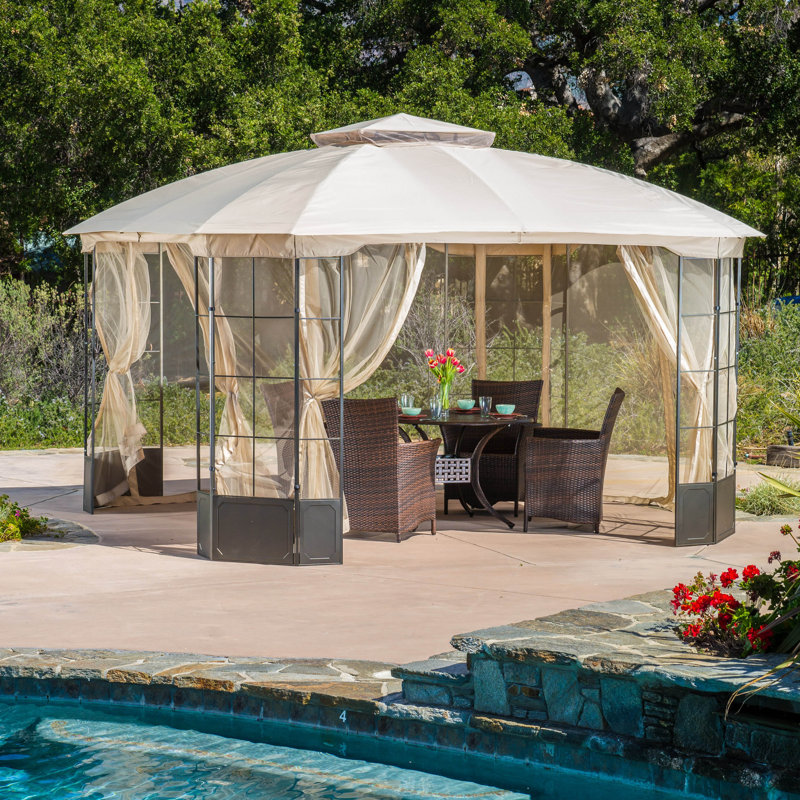 Don't Forget To Do These Five Things When Planning Your Gazebo
Purchasing or building gazebos can be a very exciting task. Just knowing the shady relaxation that awaits you in your outdoor structure can be thrilling. However there are five things people usually forget to do when planning their gazebos. By taking action and doing these simple tasks before you purchase, install, or build your gazebo, you will save yourself time, money, and frustration.
1)Check The Drainage And The Soil
A spot which gets flooded easily or every time it rains is not where you want to place your gazebo. It's a good idea to observe where the paths of water lead in your yard or garden when there is a heavy rain. While this might mean getting a little, or very, wet it will save you a ton of frustration and time, as a result of not installing your gazebo in a spot which becomes flooded.
If your gazebo will be close to your house you must also take into consideration your gutter downspouts, where they empty, and where the water that is emptied leads to as well. You will need to find a spot that has solid soil and does not accumulate water.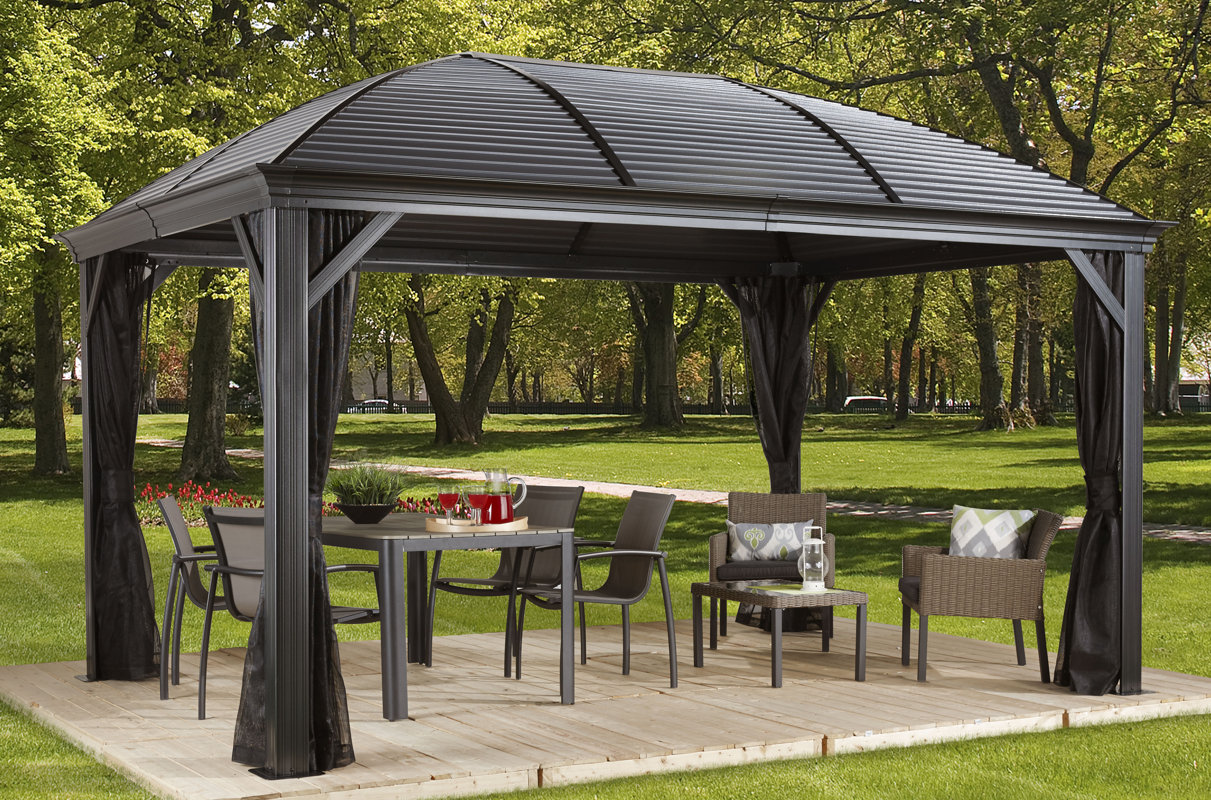 2)Find Out What's Underneath The Soil
Once you find a spot with solid soil that doesn't flood don't just start digging. You need to find out what's under the soil before you waste any time. There could be TV cables, electrical lines, gas lines, or plumbing drains beneath that perfect spot of yours'.
You don't want to damage any of these; it's just not worth the risk. Call your local utility company first, and they will come out and mark all lines if there are any. Best of all this will do so for free.
3)Check Your Local Building Codes
Building codes are the structural and safety outlines that we need to follow for all buildings and structures. Not complying with your local building codes can easily end in expensive fines which is something no homeowner wants. Be sure to call your local building department and find out what these local codes are. They many times are not the same as national or state codes, so it's always worth the call.
You might have to deal with regular inspections or need a permit, or maybe not. Either way you want to give them a call and go over your plan with them to make sure it doesn't need any modifications, and if it does what they are.
4)Check Your Local Zoning Laws
Your local zoning laws will tell you the restrictions you may have when it comes to your gazebo project. These can include quite a few important factors which can really impact your gazebo plans. They will tell you the size and height of the structures which can be installed on your property which can affect what type and maybe even the style of gazebo you ultimately choose.
The allowable lot coverage is another import restriction and one which will tell you the percentage of your property which can have buildings. This could potentially prevent you from installing a gazebo if you are over the limit. Zoning laws will also include easements, which are the restricted areas on your property that must not be built upon as they are allotted for utilities and or emergency access.
These can definitely influence where you place your gazebo. Another important zoning law can be how far your structure has to be setback from your property line; this too may impact your gazebo's final location. Anyway, make sure you call your local zoning department to find out.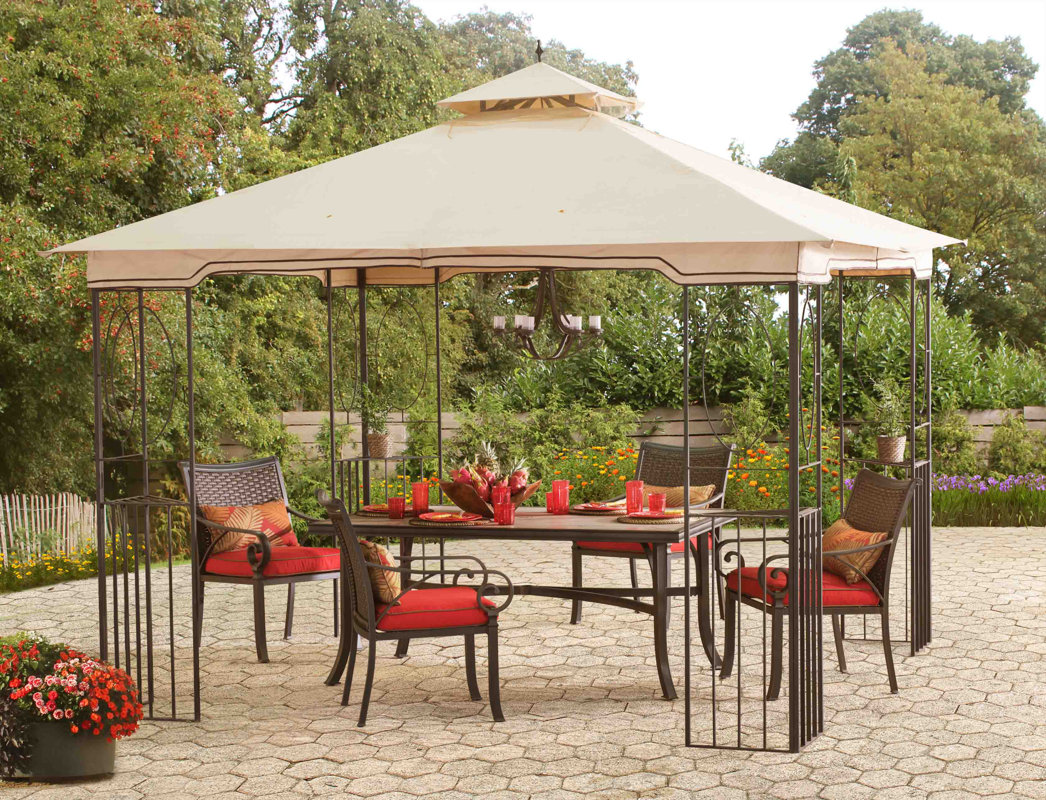 5)Talk To Your Neighbor(s)
The most overlooked action people forget to take is to talk to their neighbor(s) about their gazebo project. Many people don't even consider it. However, being that most homeowners don't like to have their gazebos right up against their own homes, it means that many times they are installed very close to property lines.
This can be a major source of friction and problems between neighbors, especially if they feel as if you are encroaching on their property. We are not all blessed with great neighbors and even if we are it's always respectful and also just a nice gesture to inform them of your plan.
While it's not necessary by any means, just the act of doing so can ease an uptight neighbor's tensions and save you and your family years of aggravation and problems. It's a simple gesture that can really be worth it!
Taking these five actions will put you ahead of the curve when it comes to dealing with potential gazebo problems. Not only will they eliminate the vast majority of potential ones, but they will make sure you don't end up dealing with any unpleasant surprises after your build or install your gazebo. So have fun in your gazebo planning process and get these done before you purchase, install, or start building to quickly put you on the road to gazebo success.
Buying a gazebo is a big decision, and takes a little thought, but you won't regret it. You'll love the stunning array of options available, and you'll delight in the beauty and comfort the gazebo adds to your home, as well as the way it opens up endless possibilities for your life. You may also, of course, receive a pleasant surprise when you find out how much value it has added to your property.
Click Here Now to start shopping for Gazebos!




Read More