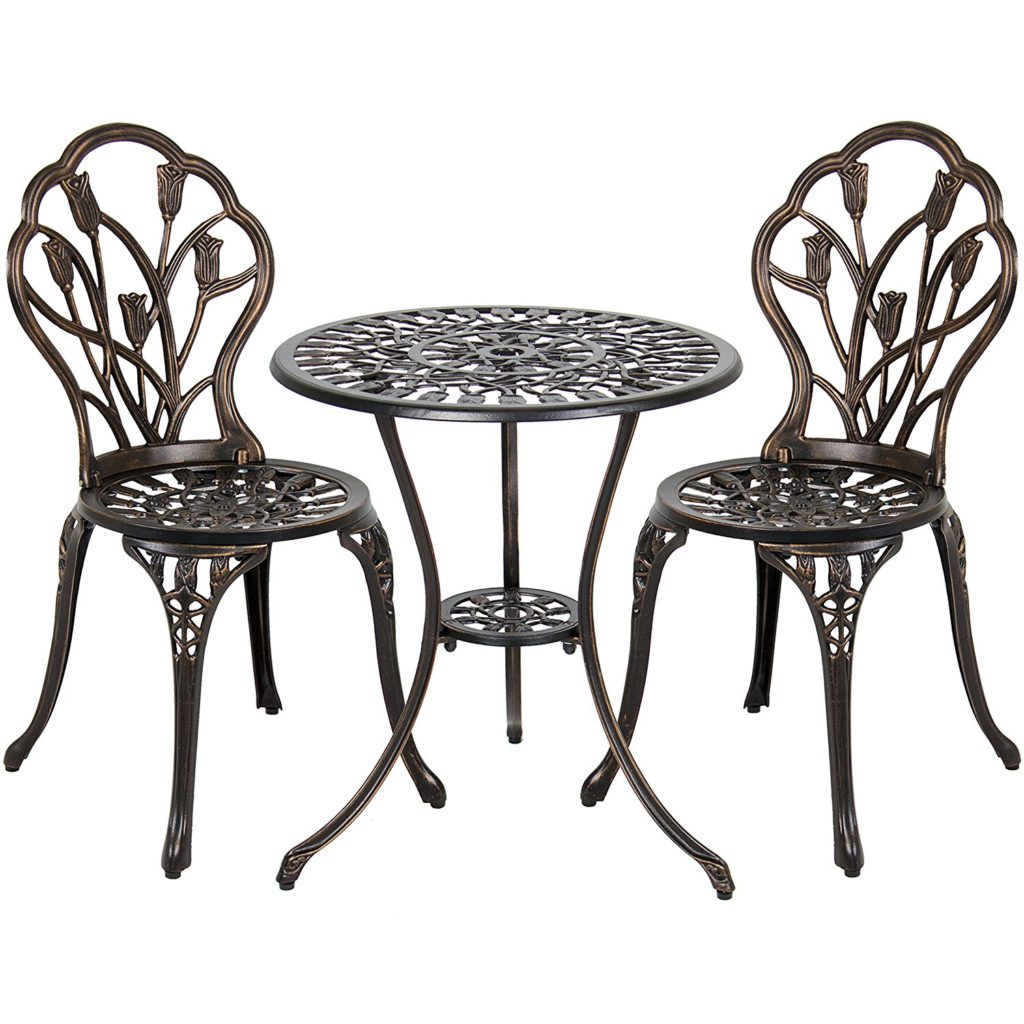 There are many types of patio and garden furniture you can choose, but if you really want to bring a touch of elegance and sophistication to your outdoor space, there's nothing to beat a bistro set. This is a stylish addition to any outdoor area — the pool side, a garden alcove, or a tiny apartment balcony. Whether you're an urban, suburban or country dweller, an outdoor bistro set can really enhance your life.
Special European Ambiance
The concept of the bistro set comes from the small tables outside the little pavement cafes, or bistros, in Paris — a fashion which started in the 19th century and spread across Europe.
These little cafes served wine and meals, and were places where people gathered to relax, and enjoy food and conversation. That's why a bistro set always brings a special European ambiance to any outdoor area, and the sight of them always creates a sense of enjoyment and relaxation.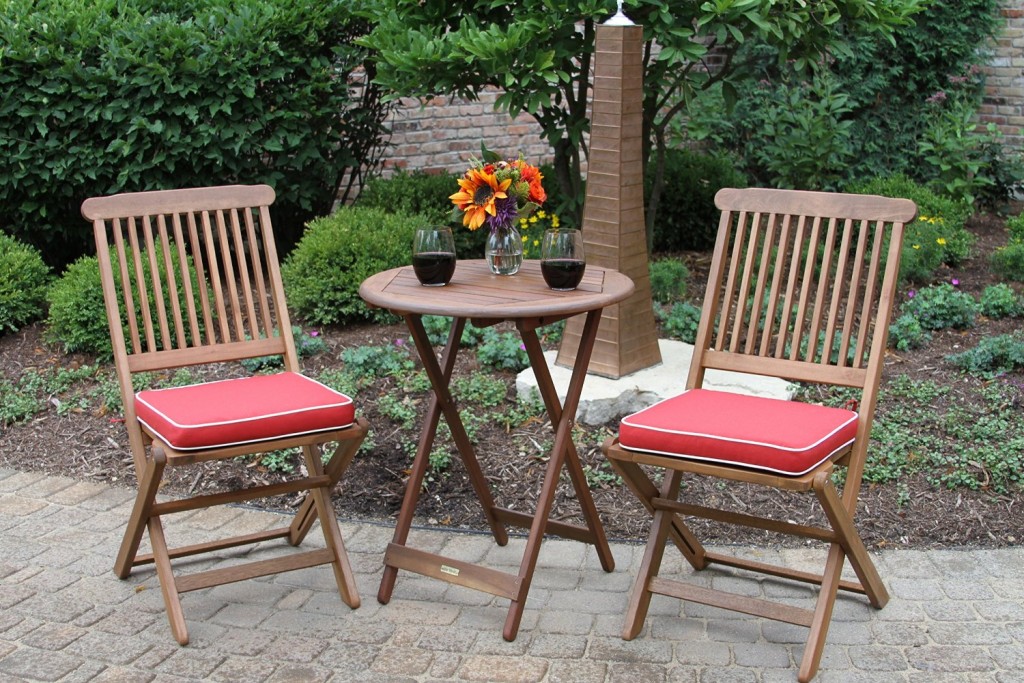 Not Just for Small Spaces
There is sometimes an assumption that a bistro table set is only for a small outdoor space, like an apartment balcony, or a porch. It's certainly true that a bistro set is ideal for these areas, as it not only fits into small spaces, but adds an instant touch of style and chic. However, a bistro set is certainly not limited to small spaces — it can be used anywhere.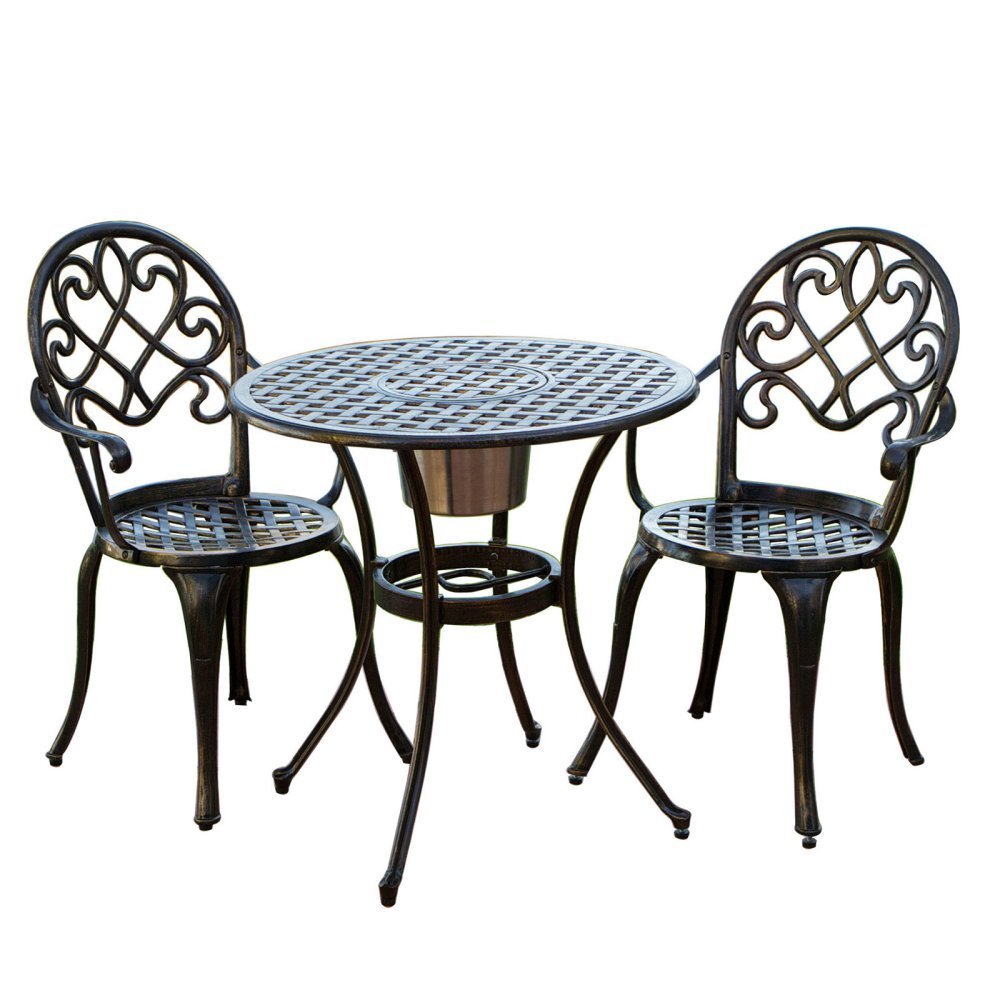 For instance, a bistro table set — or two, or three — beside the pool can add immensely to the enjoyment of a swim in the sun — what can be better than to follow a dip by sitting with a special person at a small table for a cold drink?
If you have a spacious patio with a patio dining set, a couple of bistro sets on the edge can make your entertaining more interesting, and provide a place for guests to have a more intimate chat. Place small circular outdoor rugs under the bistro sets, to mark out the spaces as special.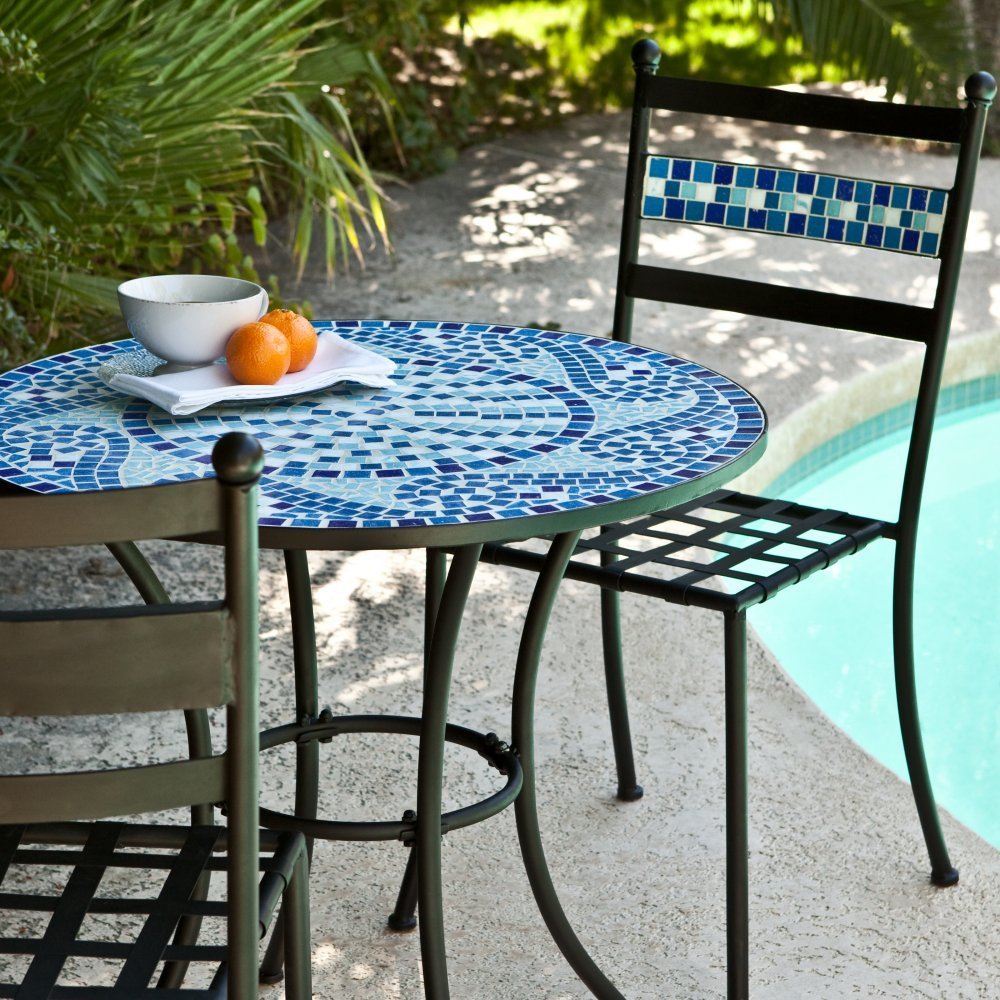 Unlimited Uses
There are really no end of uses for your outdoor bistro set. It can be a place for breakfast, lunch, pre-dinner drinks, after-dinner drinks, the mid-morning coffee break or the afternoon tea break — and it's perfect for a romantic candlelit dinner for two. But there don't even need to be two of you — it's an ideal location if you have a spot of work to do on your laptop.
Another ideal place to enjoy your bistro set is in your outdoor bar. If you are keen on lots of outdoor socializing, with cocktails and drinks, you can get a bistro table set with bar height tables and chairs. The normal bistro cafe table is 30 inches high, while the bar height table will be 36-44 inches, with chairs to fit, at about 22-31 inches. Some bar height bistro sets are adjustable.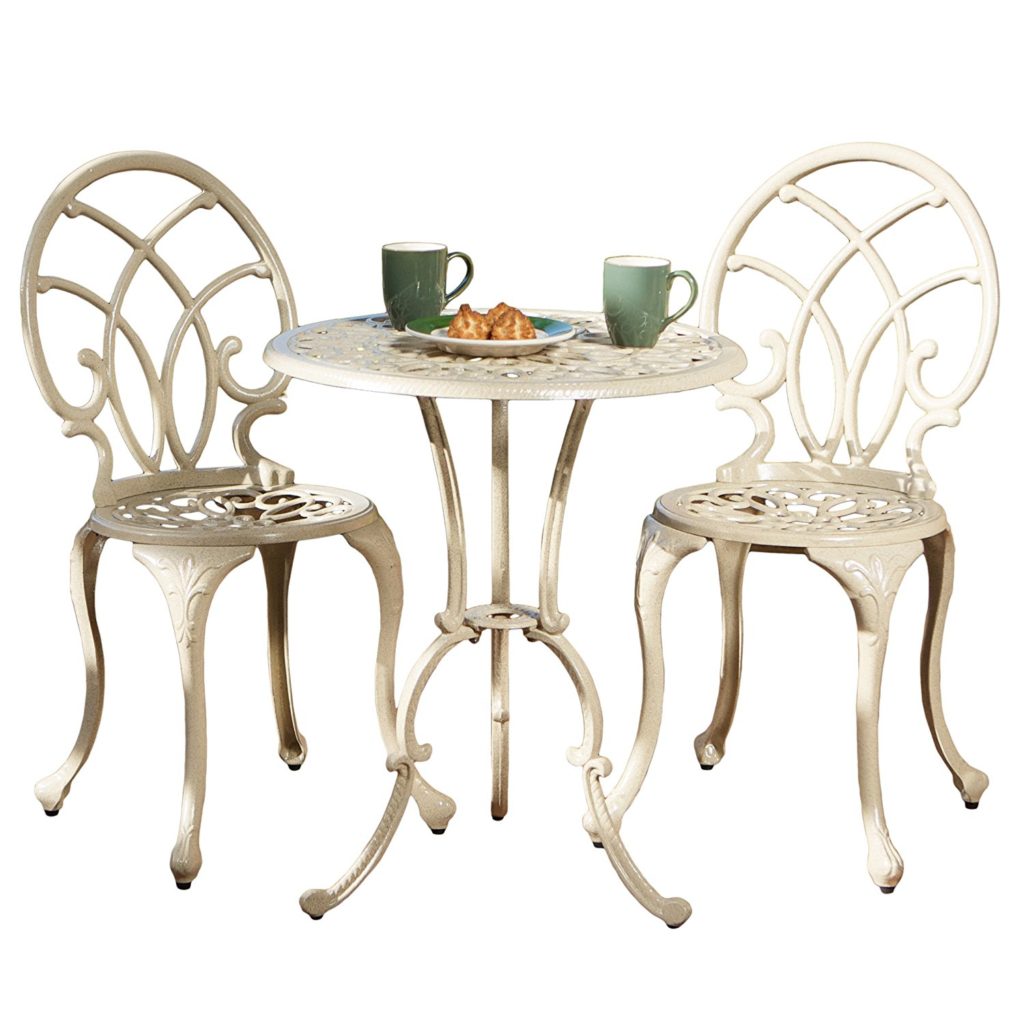 Astonishingly Varied
If you are considering buying a bistro set, your biggest difficulty will be making a choice, as there are an astonishing range of styles, materials and colors. There are two main types of bistro garden furniture. One is usually referred to as an opera table, and has a solid surface, often made of steel or resin.
The other type, with a perforated surface, is known as the bugey style of furniture, named after a region of France. Bugey tables and chairs are often seen in parks and outdoor cafes in France, and feature intricate patterns and designs.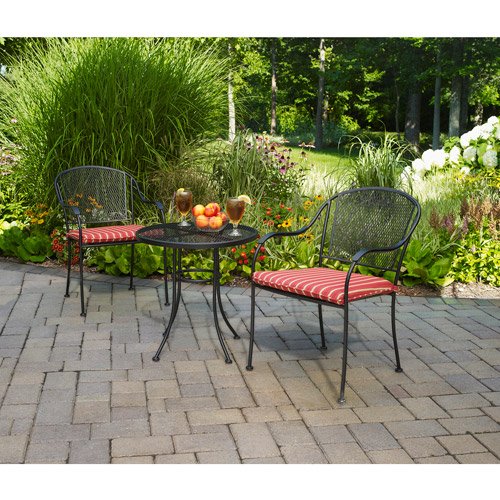 A bistro set can be simple or elaborate, traditional or modern. The most common type is a 3 piece bistro set, consisting of a table and two chairs, but you can also find sets with up to 4 chairs, or stools, for seating more people.
A bistro set can also be either foldable or nonfoldable — a foldable one is obviously easier to store, and ideal if your space is very limited. Most sets have chairs with backs only, but some have chairs with arms and/or rockers.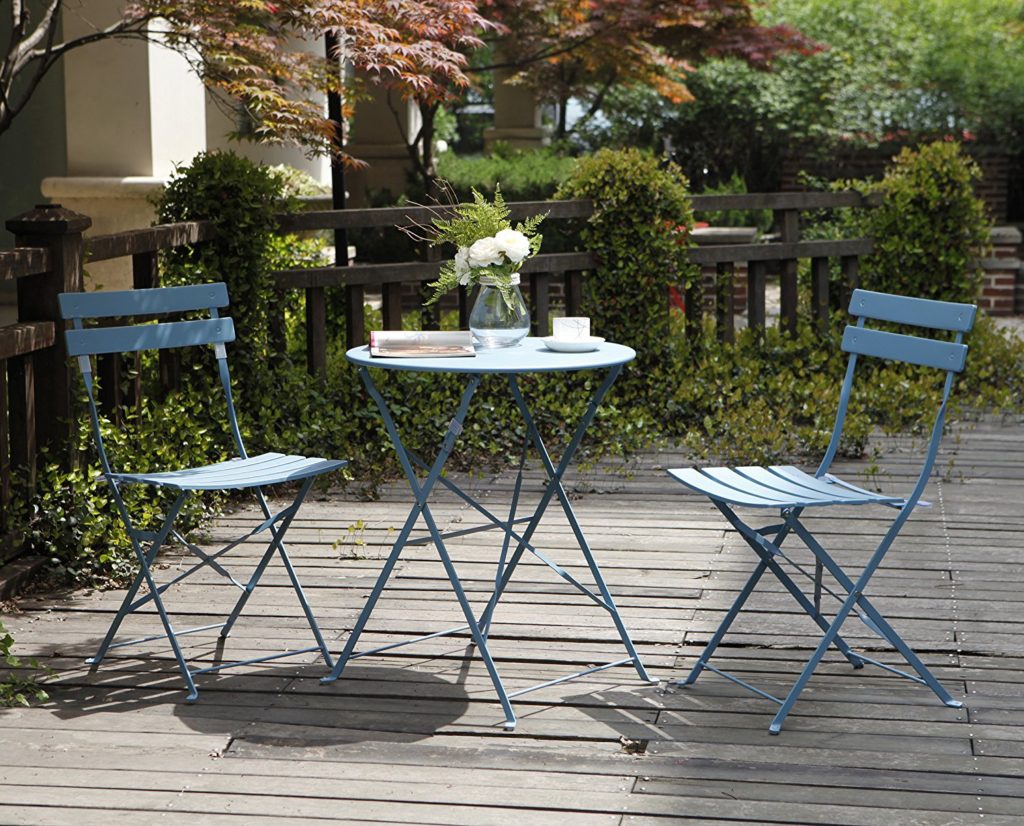 So Many Different Materials
You also have a wide range of options for materials, when choosing a bistro table set. Wrought iron, aluminum, wood, rattan and recycled plastic are among the most common materials, but they also come in cast iron, glass, mosaic and stone. Nowadays you can also find high-tech materials, like weatherproof powder-coated steel, and no-paint resin. The choice obviously depends on the look you desire, and the ways you intend to use your bistro set.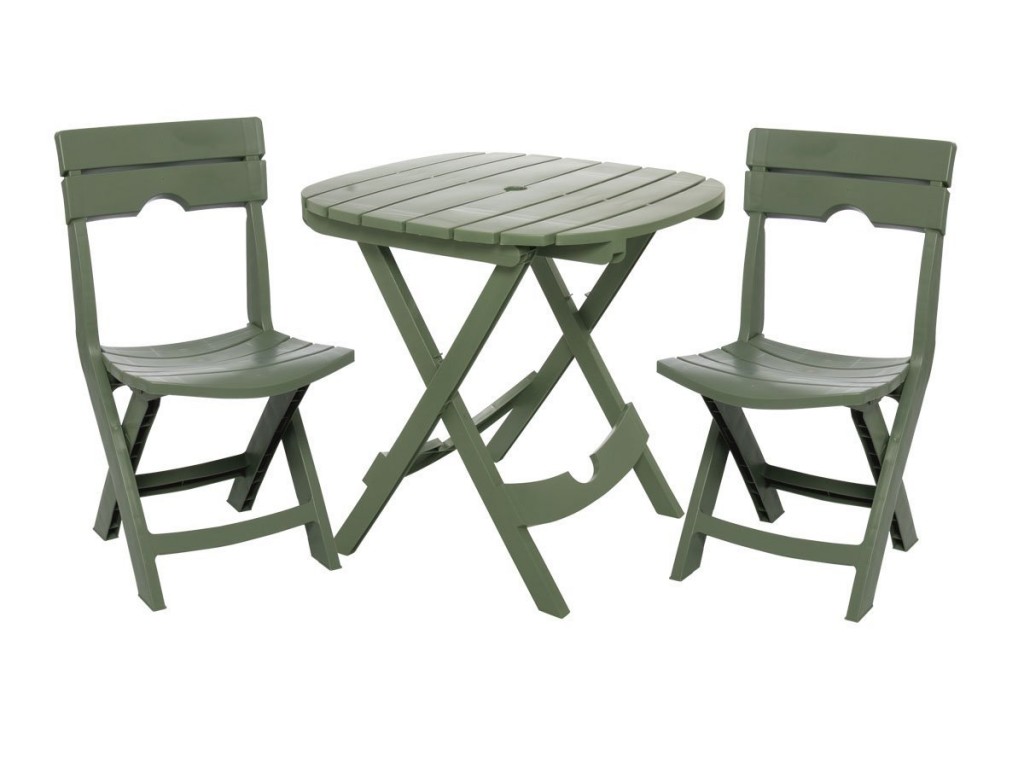 One of the Best Loved
Among the various materials on offer, the wrought iron bistro set is one of the best loved, because of its extremely elegant appearance. Many of the sets are embellished with an openwork pattern, like a butterfly motif or a leaf and flower design.
A wrought iron bistro set can withstand harsh weather conditions, although if you are planning to leave it out in the open all year round, you need to check it regularly for rust. A black wrought iron bistro set will look extremely stylish on your porch or balcony, whereas if you are placing it by the pool, or beside a focal point like a fountain, white will look enchanting.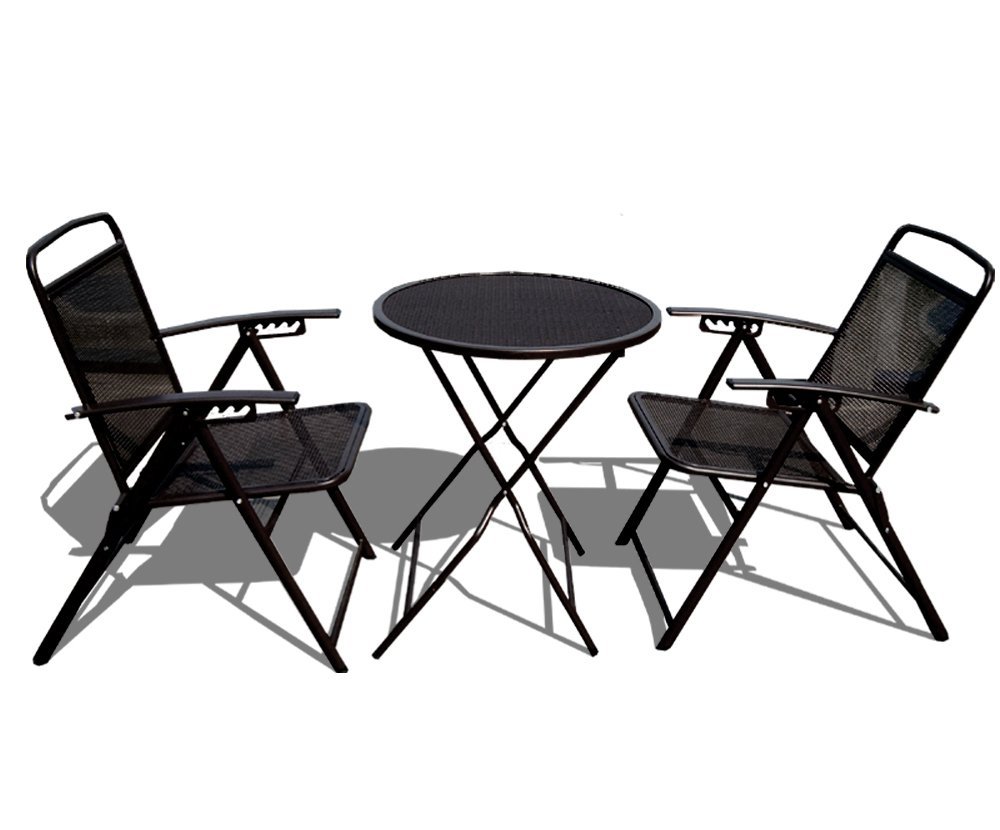 Rattan Adds Style
If you go in for rattan garden furniture, which always adds style to your outdoor space, you can certainly complement it with a rattan bistro set. Rattan is tough and durable as well as attractive, and usually stands up to the weather.  It is also very light weight and easy to move. However, if you want to be absolutely confident it will be weatherproof, you can choose a rattan bistro set with a resin or vinyl finish.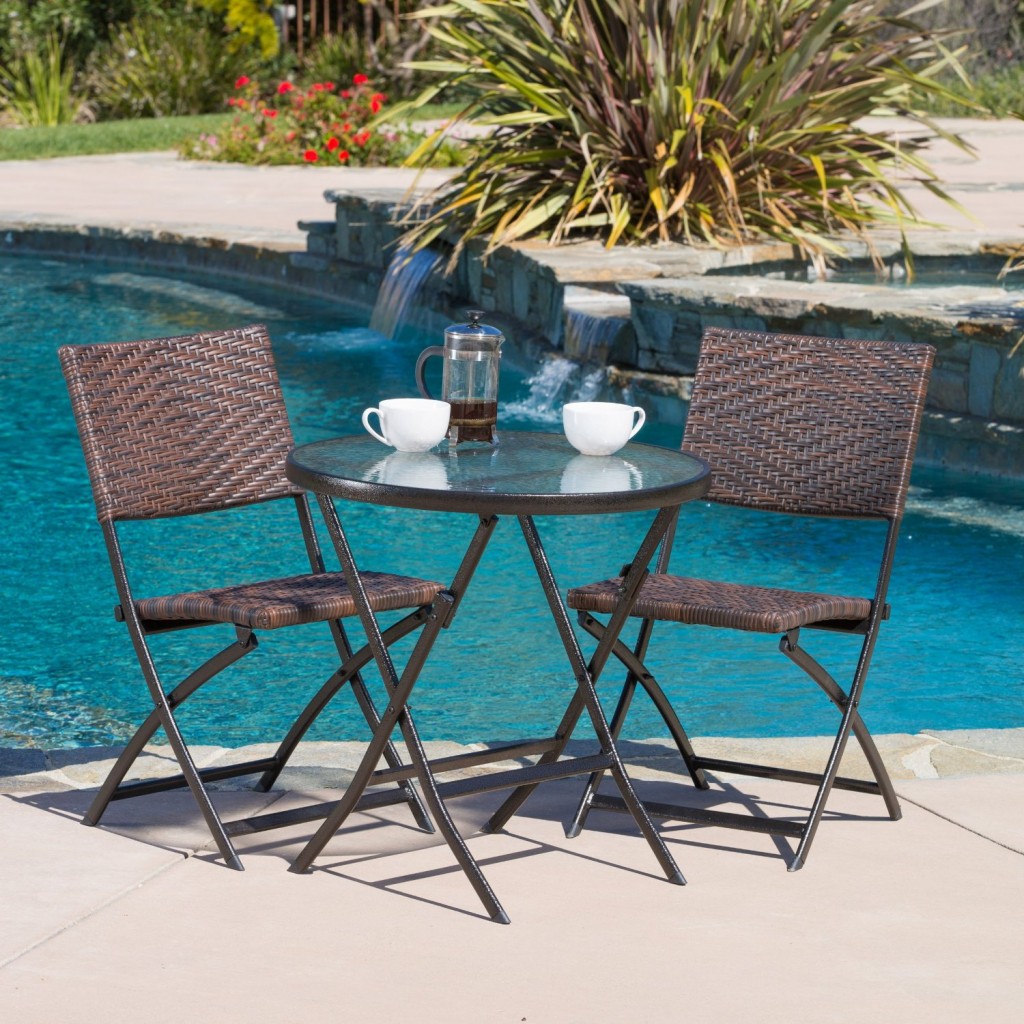 Timeless Appeal of Cast Iron
One less common, but especially beautiful, material for an outdoor bistro set is cast iron. A cast iron bistro set is robust and durable, and has an utterly timeless appeal. One particular benefit of a cast iron bistro set is its heavy weight, which means it can be left outdoors all year round and will never blow away, however strong the wind. Of course cast aluminum and wrought iron are excellent metal options too.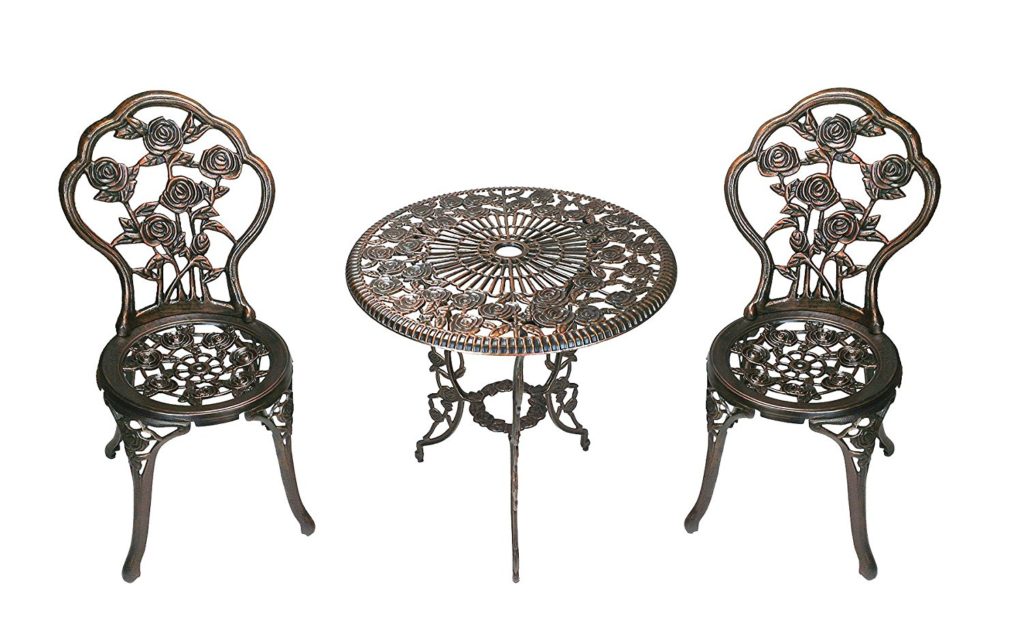 Perhaps you have always longed to visit Paris, but have never quite made it. Now your bistro set can bring a touch of Paris to your own back yard or patio. You can add accessories like plants, European linens, and a continental-style umbrella to create that special continental ambiance, and you and your friends can be on vacation every day of the year.
Click Here Nowto start shopping for bistro sets!