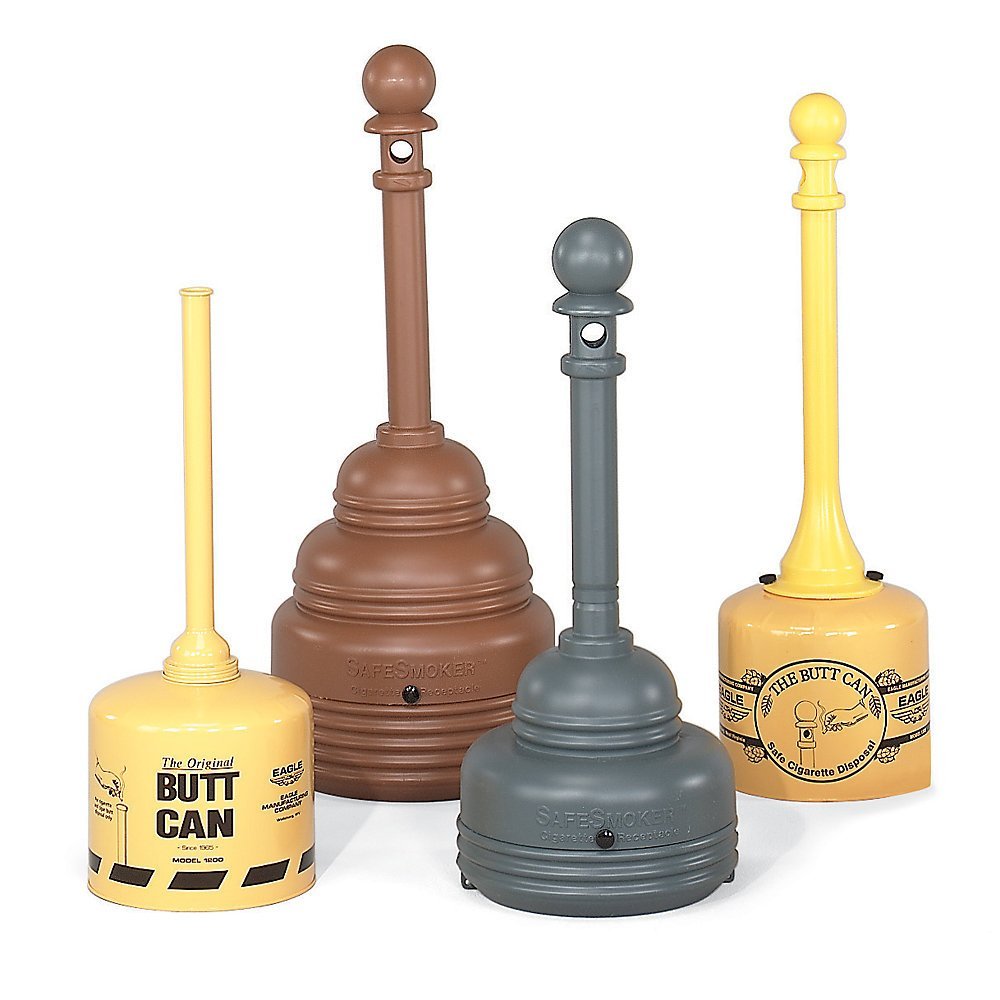 Nothing takes away from the look of your lawn, garden, or patio like cigarette butts. They smell, are unsightly, and contain a wide range of chemicals. So how do you manage the mess in a way that is both effective and looks great? With a cigarette receptacle of course!
Not Just Unsightly But Potentially Hazardous
Other than their ability to instantly take away from the curb appeal of your home, butts can also be dangerous. In fact the filters which are left in the butts hold a concentrated amount of these dangerous chemicals such as arsenic along with excess tobacco which they have filtered out to help protect the smoker. These filters are non-biodegradable and can be toxic to pets, wildlife, and young children. Harmful chemicals contained in the filters can also seep into the surrounding soil making it potentially hazardous as well.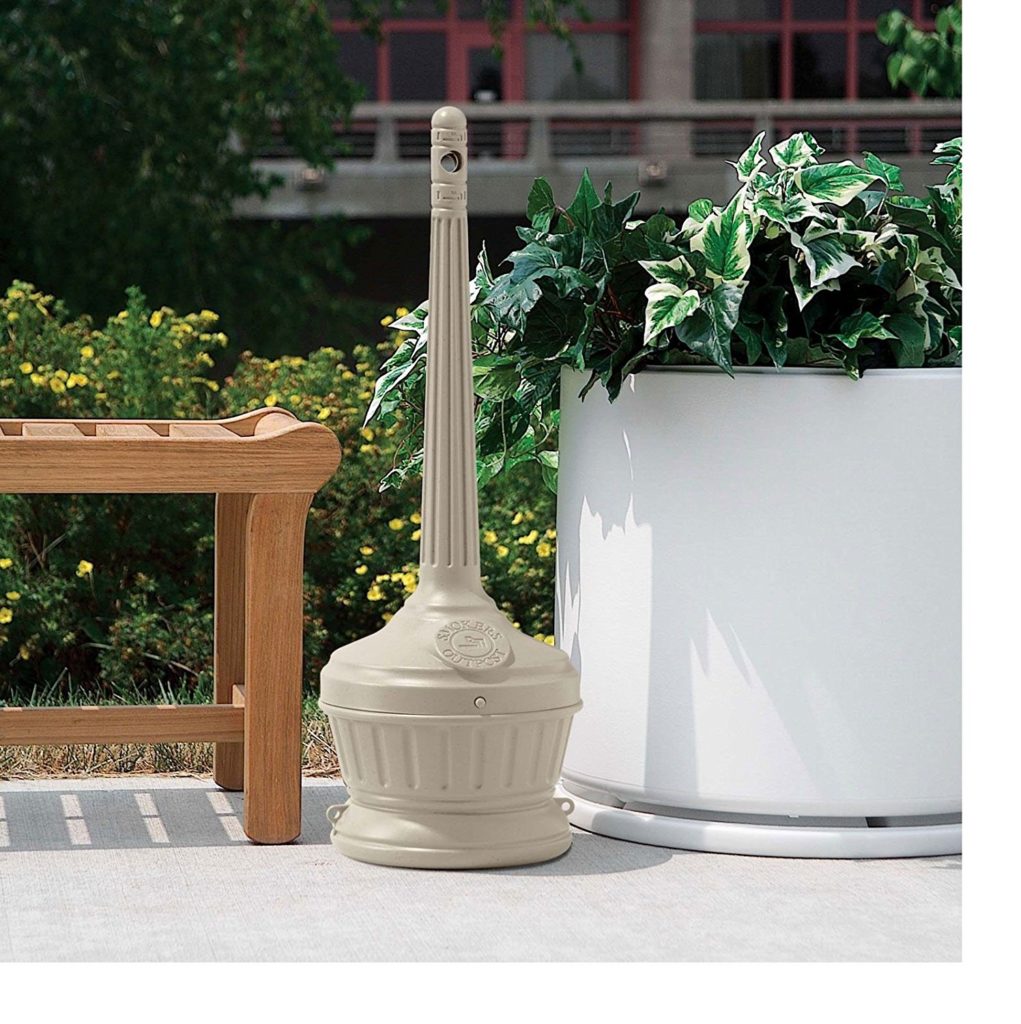 A Common Mistake
Many homeowners do try to keep their cigarette butts in some type of container.  Unfortunately the average DIY cigarette receptacle or outdoor ashtray doesn't get the job done very well.  Empty beer bottles, coffee cans, and buckets filled with sand may work but they can stink, are definitely not attractive, and easily fill up with rain and snow when the weather gets bad making a mess.
What Are They?
Instead of trying to use whatever containers you have on hand at home, a much smarter solution is an outdoor cigarette receptacle that is specifically designed for the job. While there are few different types depending on your specific needs they all basically function in the same way.  They provide you with a place to put your butts so that they are totally concealed from view and protected from the weather.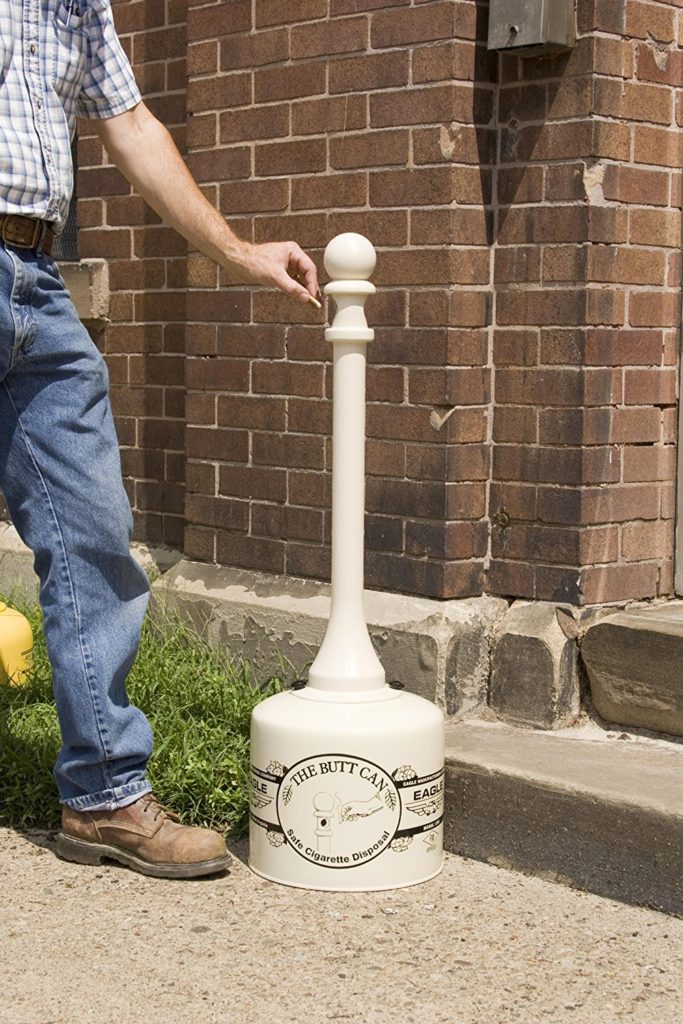 You simply place your used cigarette in the slot and it falls down to a container below where it remains until you are ready to empty the receptacle. The majority of cigarette receptacles are designed so that they restrict the amount of oxygen so butts will automatically be extinguished and also to keep the smell to an absolute minimum.
Best Spots For Homeowners
Of course where you place your receptacle depends on where you, your family members, or guests smoke.  Most often they are placed near garages, pools, on porches, patios, and decks.  In close proximity to an outdoor bar would be a natural choice as well. Owners of outdoor kitchens may want to think about placing one nearby so that they can take a smoke break.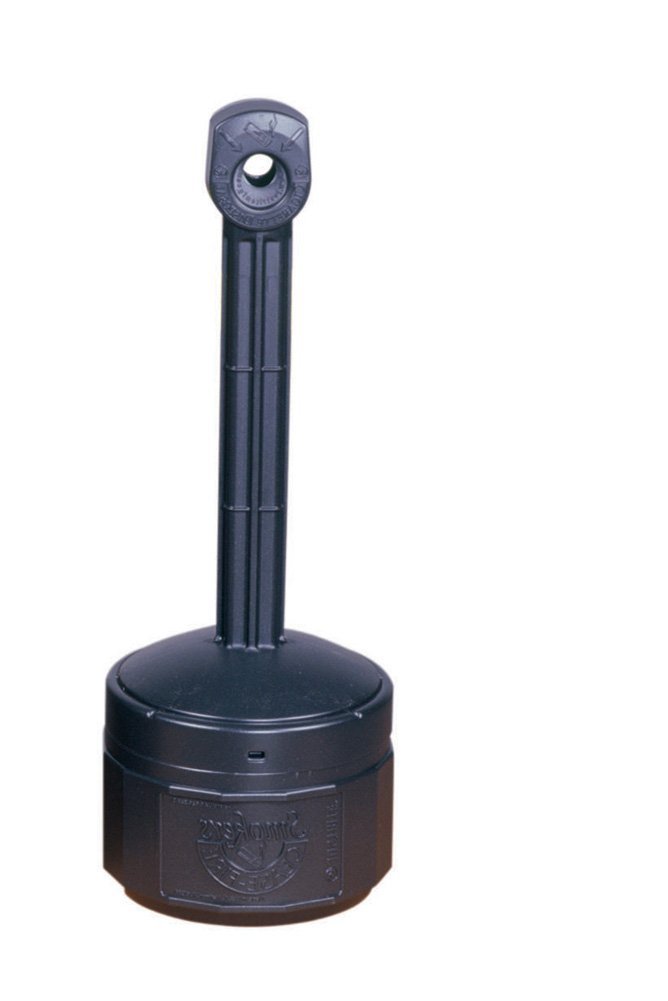 Alternatively you may want to encourage smokers to move a little further away by placing one on the perimeter or edge of your property. An easy way to do so is to put your cigarette butt receptacle near a quiet garden bench or gazebo.  Smokers who like to stay close to their house may want to add one on the wall or floor near their back or side door.  If you like to entertain and have parties and don't smoke yourself it's good to know that many guests who smoke really appreciate having a receptacle since it means they won't have to inconvenience their host.
Ideal For Businesses, Commercial Areas, And More
There are many other places that can benefit from an outdoor cigarette receptacle too.  Just about all businesses and offices have employees and customers who smoke and by adding one you'll be ensuring that that the property stays clean which is always extremely important.  Owners of rental homes also can use them to make sure renters keep their investment and the surrounding area looking how it should.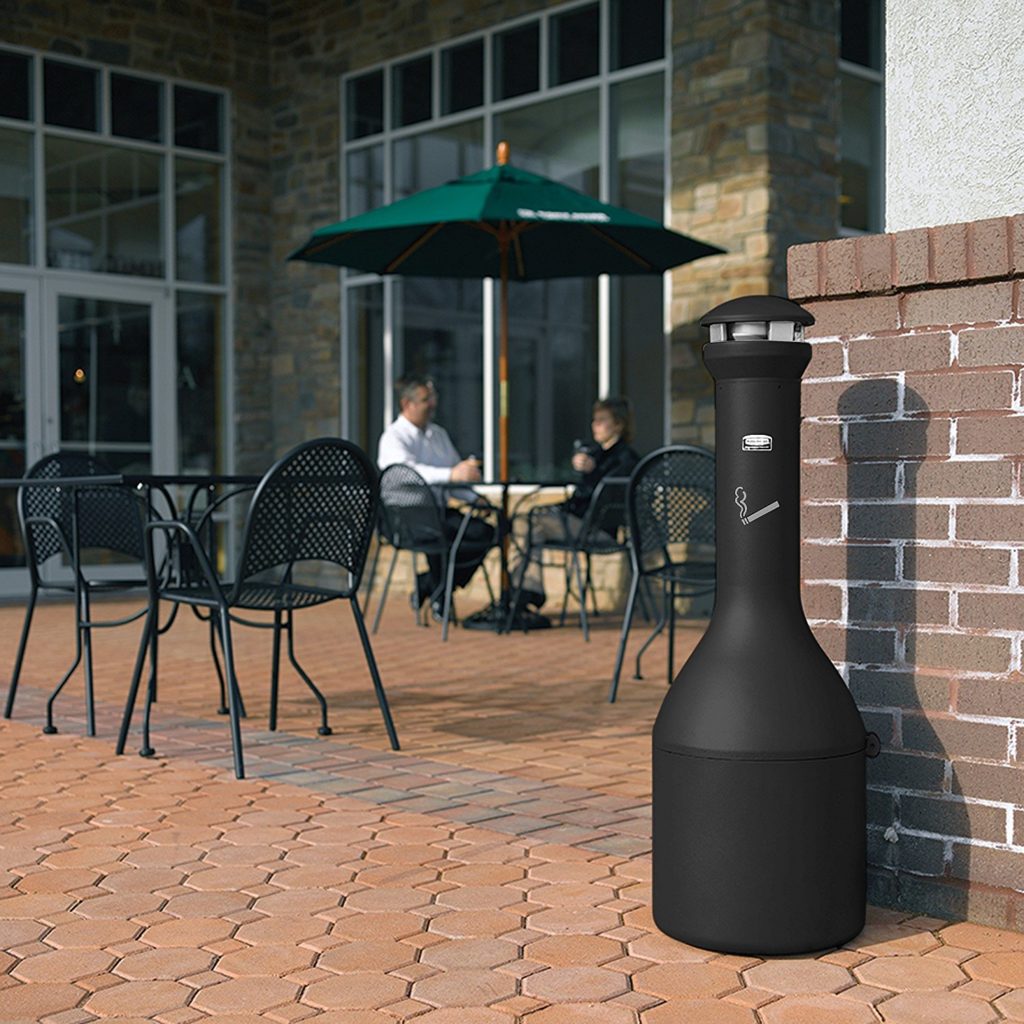 On The Wall
For those who are looking for something small that is also quite sleek a wall mounted cigarette receptacle is often the best choice. These can actually be attached to walls, columns and posts which make them a popular option for outside doors, on decks, and garages.  Since they are more discreet than free-standing units and can be secured firmly in place they are a favorite of small business owners, and for use outside condominiums, townhouses, and apartment complexes.
When shopping for one you'll find that the majority are made out of metal and are either square, rectangular, or tubular in shape.  Colors normally include silver, black, and gold.  Some receptacles also come with a key so that they can be locked to keep out vandals or those who shouldn't have access.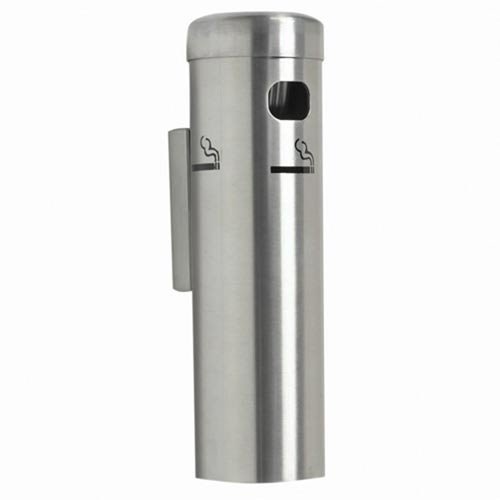 Free-Standing
A free-standing cigarette receptacle is the other way to go.  These come in different capacities so that whether you are looking for something home use on the patio or in a commercial or business space you can find something that fits your needs.  The amount they can hold will usually be described in gallons similar to with other types of outdoor storage.
Both metal and plastic units are an option with metal typically being more costly.  While metal receptacles most often are bronze, silver, black, or gold those made from plastic can be just about any color.  A lot of consumers actually wonder why plastic receptacles are able to remain undamaged by lit cigarettes and that's because both metal and plastic options have a galvanized bucket in the base to contain them.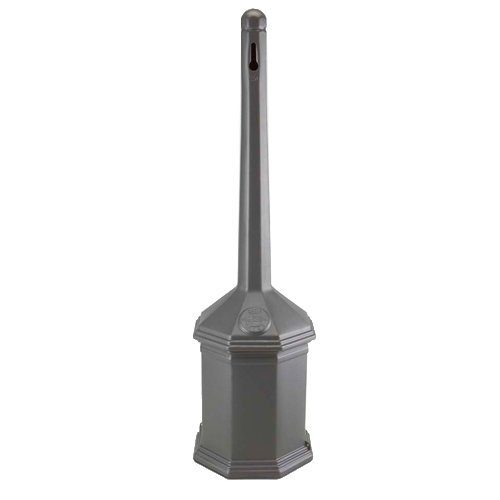 While the basic shape of these are fairly similar with a long neck and wide base, there are different variations to suit both your personal taste and the style of your space.  Some look just like chess pieces while others resemble the base of a light post like the smokers outpost cigarette receptacle shown below.
For something a little slimmer you may want to consider a smokers pole cigarette receptacle that doesn't have a wide base but instead stores butts in its long neck.  But there are also free-standing choices that are made to resemble different materials such as terra cotta, have tables attached, or may even be designed to look like fence posts, decorative columns, or lawn art.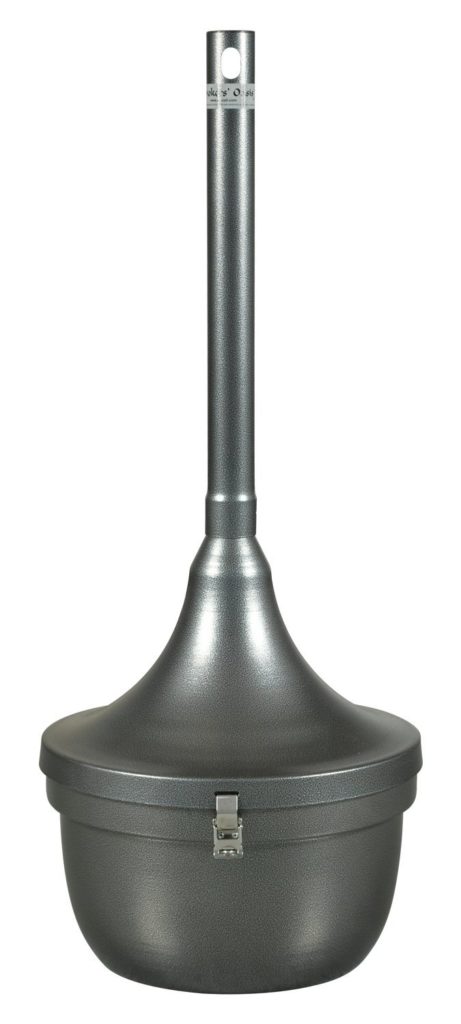 Top Brands
Fortunately there are a handful of brands that produce high quality products that can be used to keep whatever space you place one clean for years into the future.  Eagle offers their well-known Butt Can and Safesmoker cigarette receptacle lines which are very reliable and wallet-friendly.  Commercial Zone and Ex-Cell Kaiser both are popular choices as well that are high-grade and extremely attractive.
Justrite one of the world's leading providers of safe fireproof storage of all types also produces reliable top-rated units as well that also happen to be easy on the budget.  With that being said it's easy to understand why a Justrite cigarette receptacle is the best-seller on many of the top online retail sites.
When it comes to sleek receptacles for high-end establishments Aarco has some fabulous looking ones for both the wall and that are free-standing.  Industry giant Rubbermaid is in the business of helping to keep butts off the ground too. For home and especially commercial use a Rubbermaid cigarette receptacle is a smart investment that will sure to be efficient and aesthetically pleasing.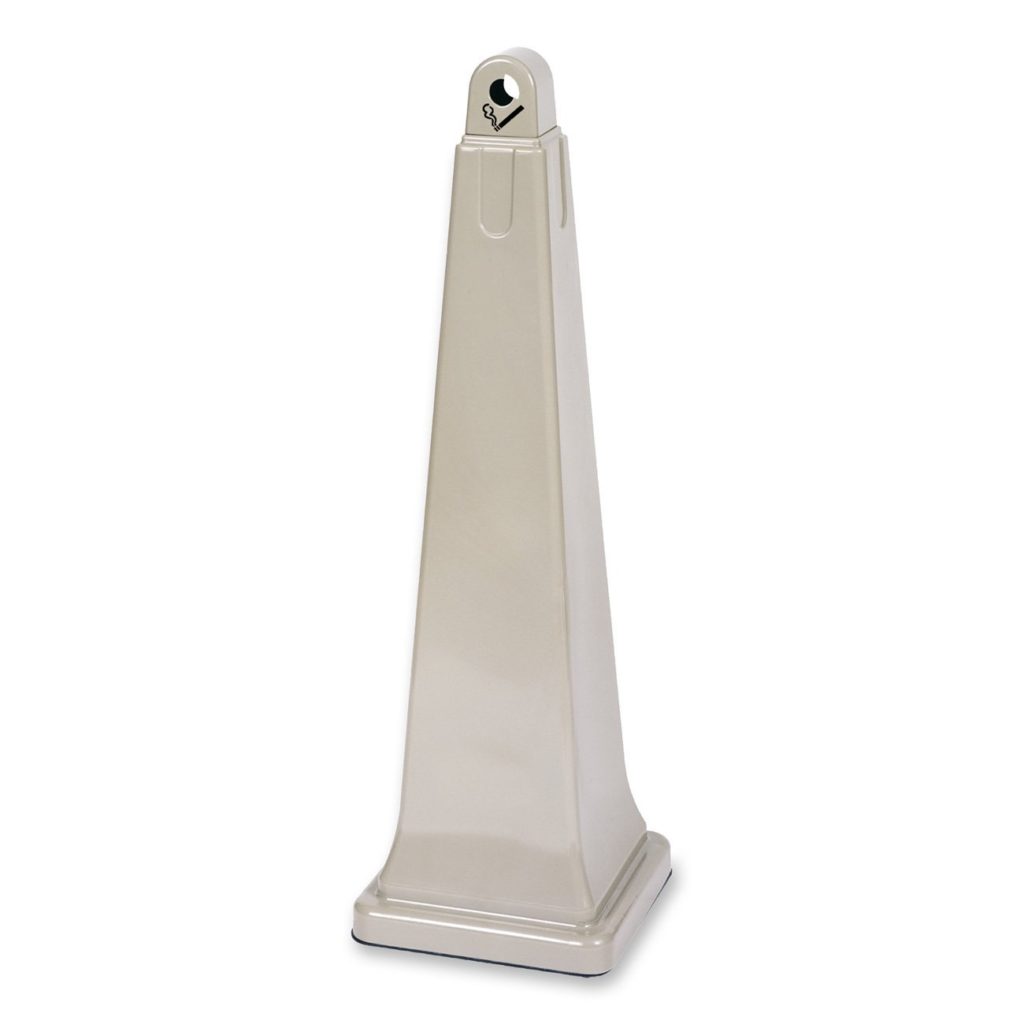 Whether you're fed up with dealing with unsightly cigarette butts littering your lawn, pavement, or filling up your flower pots a receptacle is the simplest solution.  By adding one you'll also be making sure your outdoor space is safer for pets and kids while helping to keep harmful chemicals from polluting our environment.
Click Here Now to find the best cigarette butt receptacle for any outdoor space!