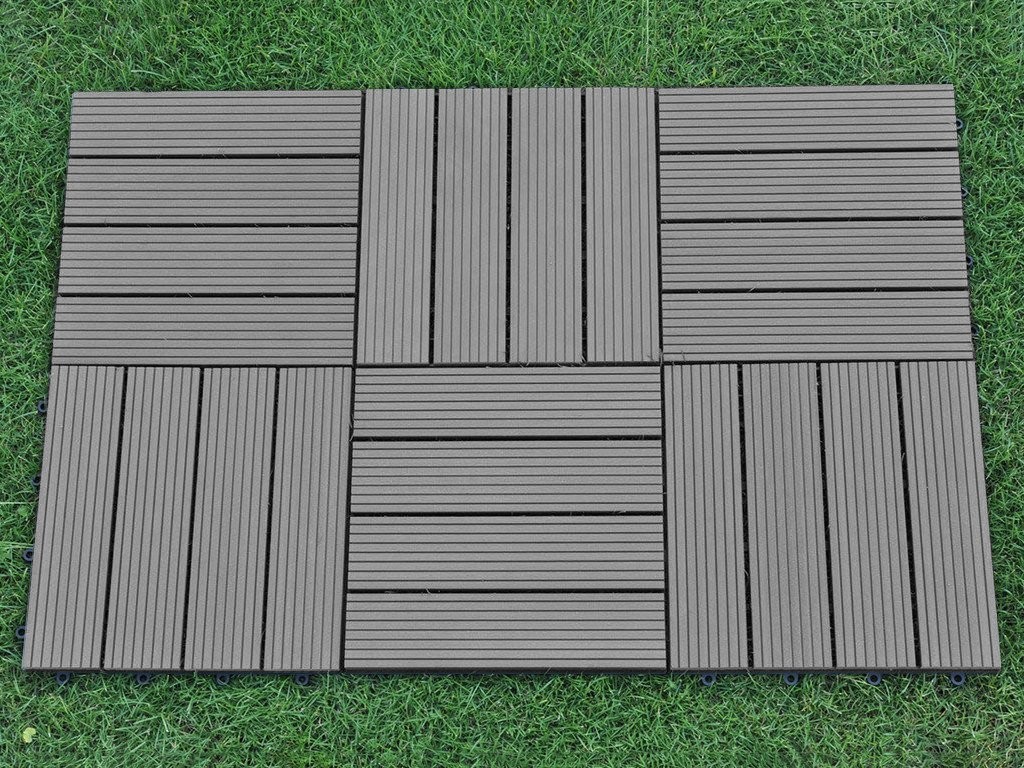 Installing a new deck or patio can often be an expensive project.  However, you don't have to drop all your cash to get the look of a  brand new one.  Deck tiles are a much cheaper alternative that can help you accomplish your goals with much less money and time spent.  In fact, they are a DIY lover's dream!
Not Your Typical Tile Or Materials
These are not the small ceramic or porcelain tiles like you'd see indoors.  Instead, these are large square tiles normally ranging from 12"X12" up to 24"X24" in size.  Some are made from real wood while others are a composite or combination of materials.
Wood
Wood deck tiles can be made from a wide variety of types of wood. Many of which, not only happen to be very pleasing to the eye, but also very durable, and with properties that are suited for outdoor use. Of course each type of wood has its own unique characteristics.  Teak deck tiles are well-known for their honey brown color, and naturally being insect and water-proof.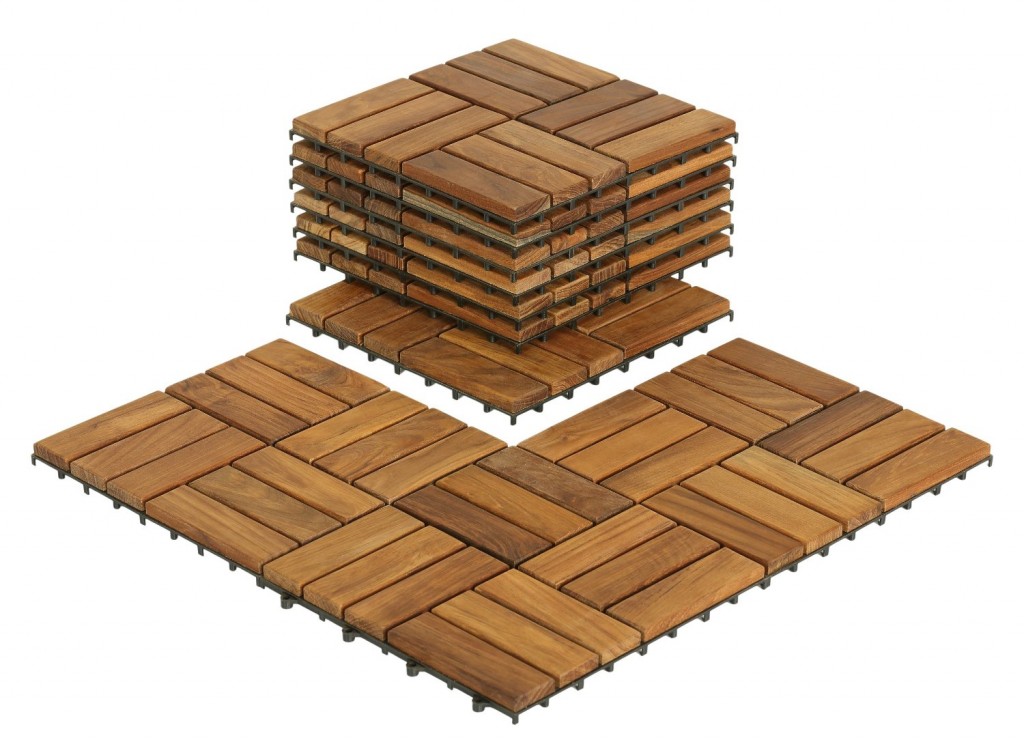 A popular substitute for teak are tiles made from eucalyptus.  They are less expensive due to their wide availability, but are also naturally resistant to water; decay, along with bugs and other pests. Acacia deck tiles are tough as nails making them a good choice too.  Western red cedar looks great both finished and unfinished, and ipe wood with its natural weather resistance and toughness can be used for years into the future.
Composite
Composite deck tiles are the other main choice.  These are often a favorite of people who want something that looks and feels very similar to real wood but that requires virtually no maintenance.  For that purpose they can work perfectly since most are actually a mixture of recycled woods and polyethylene or resin.  Many even have a texture that looks just like the natural variations in real wood. It depends what you are looking for, some are meant to mimic the look of wood very closely while others aren't.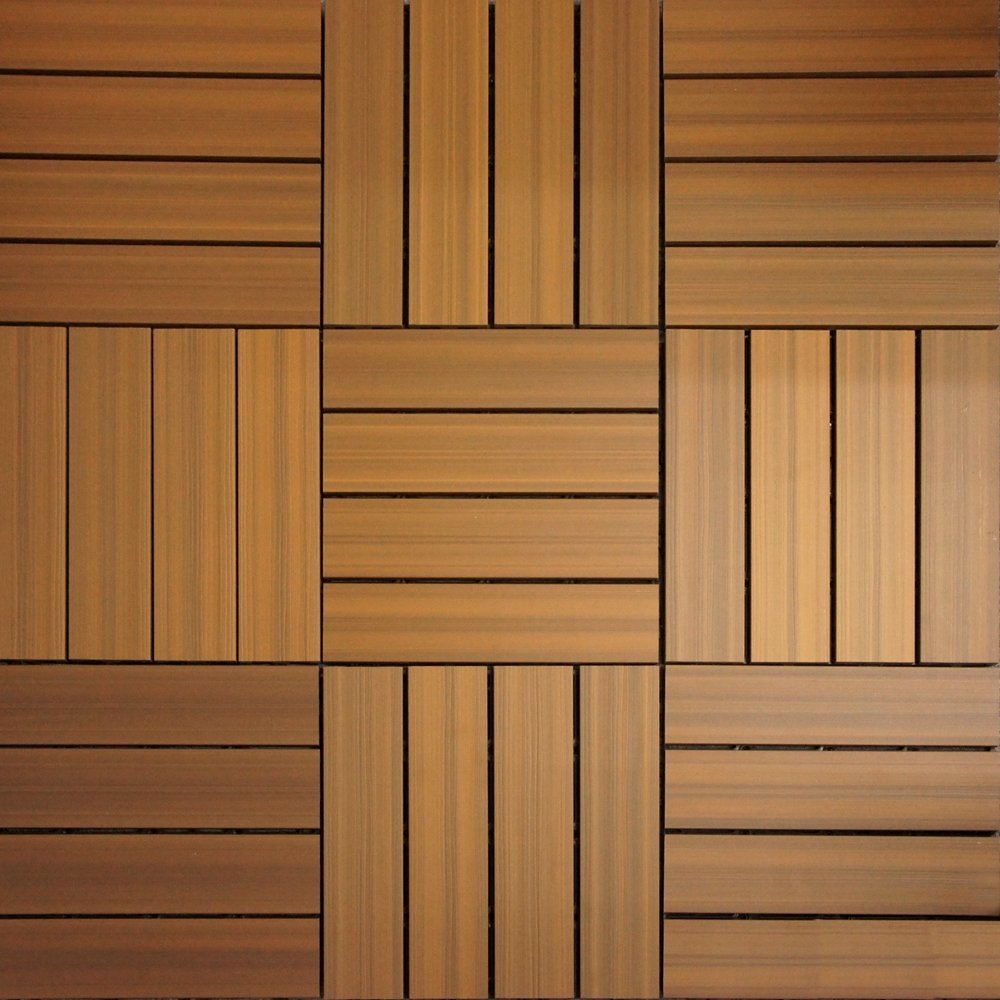 DIY Installation In Minutes
While installing most other types of tiles takes time, patience, and dealing with adhesives and grout, deck tiles don't need any.  All you need to do is place them down on any flat surface and lock them together.  Because they are interlocking deck tiles can be attached or removed in seconds.  So if you want to reconfigure them, use them somewhere else, or replace an individual tile it's no sweat.  It also allows you to place tiles down at different orientations to create patterns effortlessly. Not having to pay for installation saves you money upfront and you'll get to admire your completed project not long after taking it out of the box.
A Fast Facelift For Any Flat Surface
Because they can be put down right on top of any flat surface without any preparation needed, these tiles can be used to give a range of areas a quick facelift that can dramatically improve the look of your space outdoors or in.  Of course they can be used on decks, patios, and concrete slabs.  But also you can place deck tiles over grass or on the ground if it is flat.  This gives you the ability to create a new patio space wherever you would like or even a garden path or walkway.  It's not hard to think outside the box with flooring that is so functional; you can even put deck tiles to good use indoors in areas like basements and laundry rooms.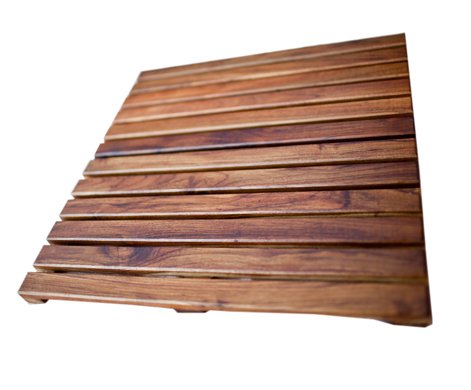 Other Popular Applications
For outdoor structures such as gazebos and pergolas deck tiles are a simple flooring solution that will make your experience much more enjoyable and also help you to stay clean. You won't have to deal with dirt or grass, especially when it's wet or soggy.  Surrounding outdoor kitchens, may be a use worth thinking about as well.   Around the pool, hot tub, or portable spa wooden deck tiles can add a tropical feel and many composite options actually are designed to provide some serious grip which is always important in slippery spots.  Some, similar to rubber tiles, are even manufactured so that water will drain through them as opposed to pooling on top helping to keep the area as dry and safe as possible.
Those who are renting or thinking about moving in the near future can really benefit from using deck tiles since you can simply pick them up in a matter of minutes and bring them with you.  For this reason they are a popular way to customize a balcony whether on a home, apartment, or condo.  If you have an oddly shaped space it's no problem either, as most tiles can easily be cut to fit.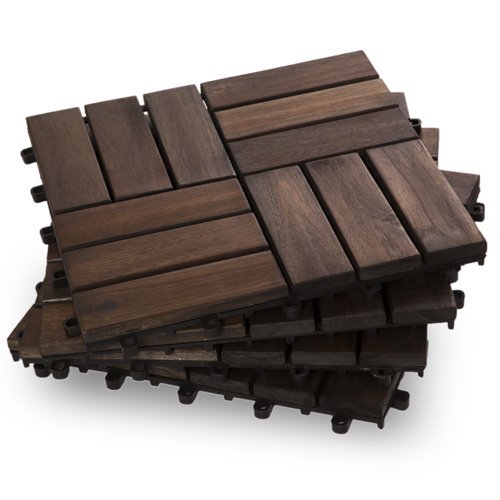 For a fast and easy upgrade that won't cost an arm and a leg, deck tiles are a superb choice.  A no mess, no fuss installation that you can be proud of, yet remove or replace at any time, is a rare and advantageous combination.  And the fact that zero skills are required always helps too!
You can find the best deals on deck tiles anywhere by CLICKING HERE!