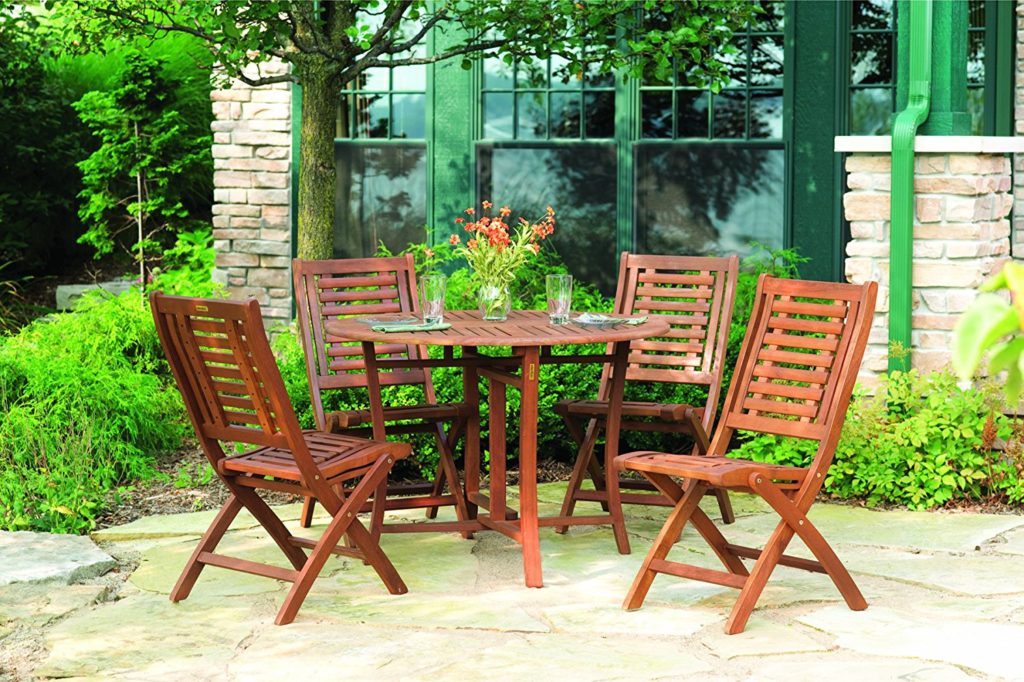 Open-air living and dining are an integral part of today's modern relaxed lifestyle. For this reason, most homes nowadays have patios or other outdoor dining areas, which have become valued spaces for enjoying a meal or a relaxed drink. Patio tables of all shapes and styles are an essential part of creating this inviting space for alfresco dining and entertaining, as they provide a central point around which the other outdoor furniture is arranged.
Choosing your Patio Tables
When choosing your patio dining tables and other furniture, rather than just picking pieces on a haphazard basis, you should first decide on the overall look you want for your outdoor area. Your patio furniture will be much more enjoyable for you if it has a coordinated look, and fits in with the style of your home and garden — for instance, classical, Victorian, rustic or contemporary. Choosing the wrong style could destroy the very ambiance you hope to create.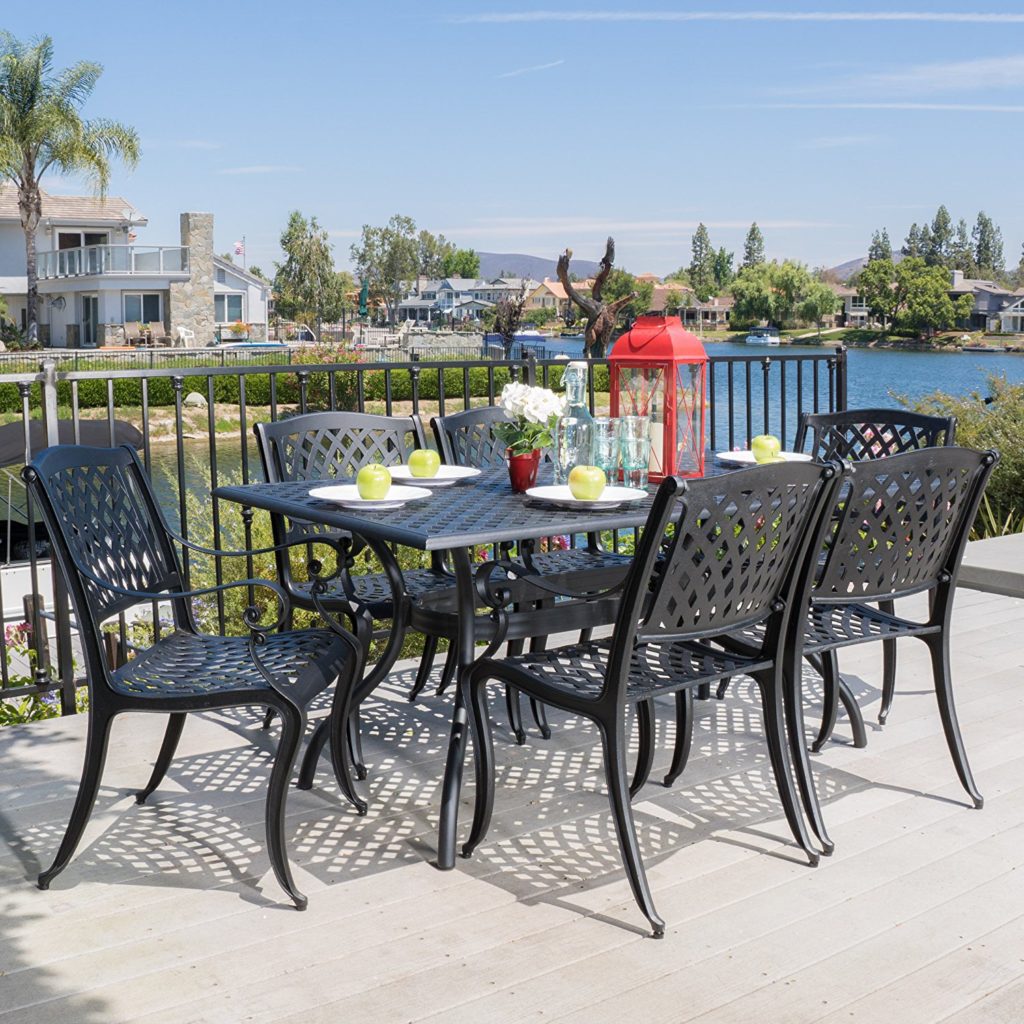 The other factor to be considered, of course, is the available space. It seems obvious, but if you fall in love with a stunning outdoor dining set which is too big for your patio, there won't be enough room for people to move around comfortably, and the relaxing effect will be canceled out. On the other hand, small bits of furniture on a large patio can make it look bare.
It's advisable to write down your measurements before ordering, rather than just guessing. However, as well as looking right, your patio furniture obviously has to be functional too, and suitable for outdoor use. Patio tables come in a wide range of materials, some of which require more maintenance than others. In addition, some are more suited to particular climatic conditions than others.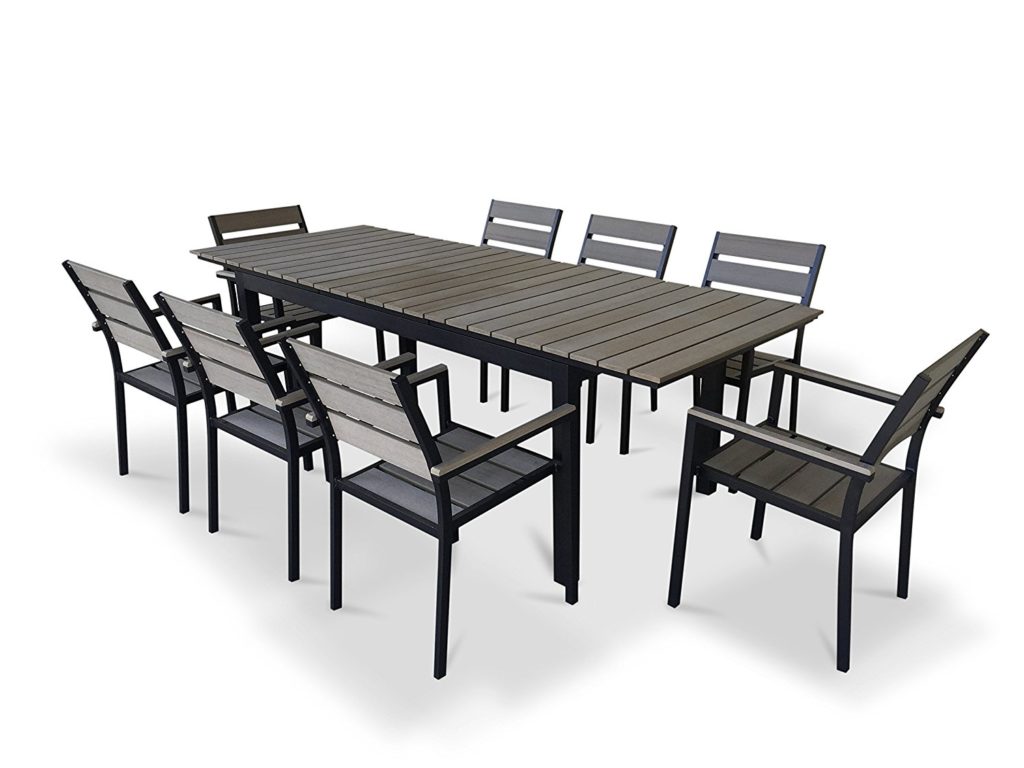 Favorite Materials
The materials of which patio tables can be made range widely, but among the most common are wood, teak, metal, wrought iron, rattan or wicker, and plastic or resin. Wooden patio tables and chairs are an extremely popular choice, thanks to their dignified and imposing appearance, and the way they can blend in with any style of garden. The most frequent choices for wooden patio tables are eucalyptus, cedar, redwood and teak.
Teak for Beauty
For many people, teak patio furniture is the number one choice, even though it's the most expensive. It's the only type of wood patio furniture that can withstand all weather conditions without needing a protective varnish. Teak patio furniture comes in a beautiful natural honey-brown shade, which doesn't need painting or staining, and ages into a lovely antique gray color.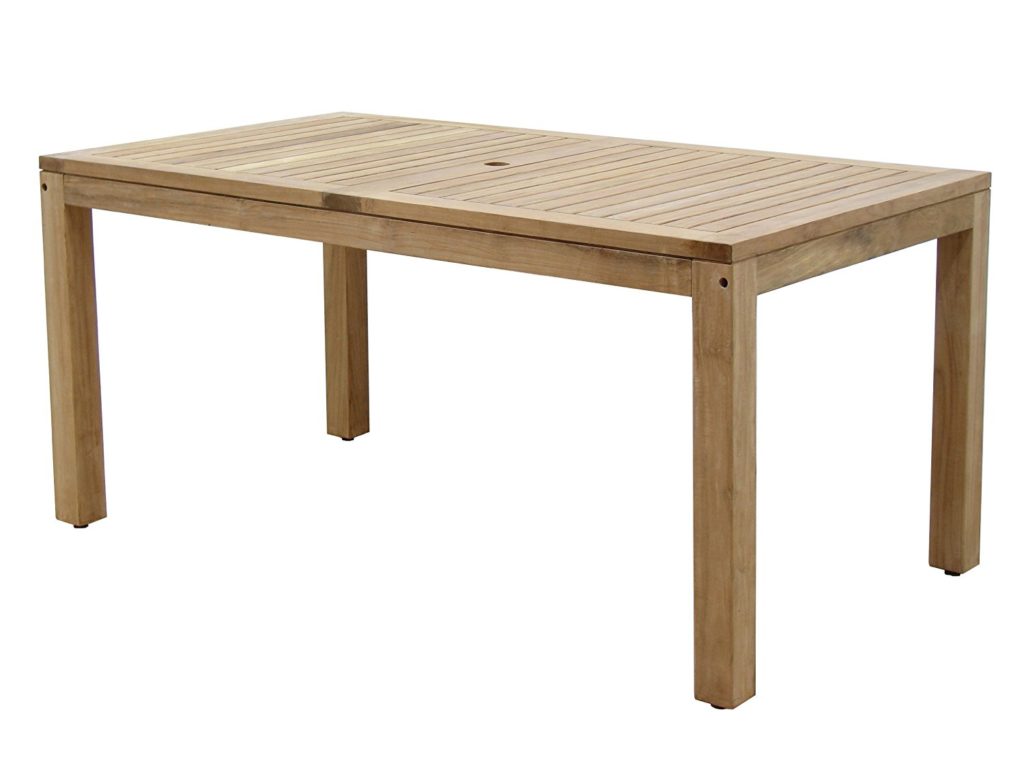 It is also incredibly tough which means that while you might pay more for it up front, it provides excellent value as it can often last up to one hundred years, unlike the vast majority of other options. You can certainly find some magnificent teak patio furniture sets, though they come at a price.  A 5 piece set for example on sale might be around $1,500 however larger ones with more pieces can cost much more.  But that being said with teak you really do get what you pay for!
The Elegance of Wrought Iron
Another sought-after material is wrought iron patio furniture, much loved for its elegance and beauty. It's still expensive, though not as costly as teak. If you are buying wrought iron patio furniture, ensure it's powder coated — that is, treated with a spray of resin and ground pigment — otherwise it will rust.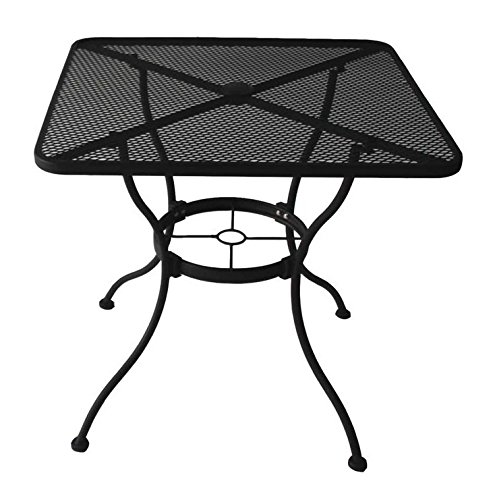 Plastic Makes Things Easy 
A growing trend nowadays is for plastic patio tables and chairs, which until recently were considered cheap and not very classy. However, most plastic patio tables nowadays are made either of HDPE — high-density polyethylene — which is a tough and heavy plastic resin, or of Envirowood or Polywood, synthetic wood substitutes made from recycled plastic bottles.
These plastic and resin patio tables are made to resemble painted wood, so they provide the appearance of wood without the maintenance problems, as well as being very environmentally friendly.  The fact that plastic and resin patio tables come with so many benefits means that they are often not in fact cheap — they can be more expensive than metal ones.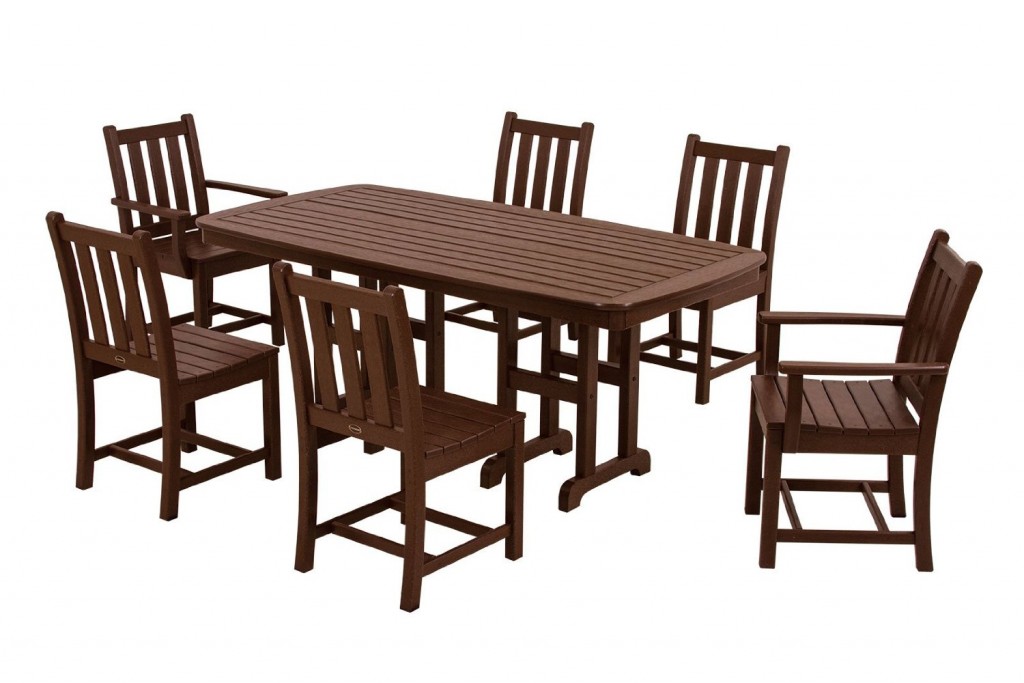 People Love Rattan
Many people also love rattan garden furniture, which enhances any outdoor space because of its rustic and natural look, as well as being exceptionally elegant and stylish. However, natural rattan, or wicker as it's sometimes called, is not always durable and doesn't stand up well to many types of climate, so synthetic rattan garden furniture can be a better choice — it looks just as good, but is more durable.
It's lightweight makes it very easy to move around or put away and, it is surprisingly tough.  Many sets can look really modern and some are even designed so that all the pieces form a cube when put together.  Rattan has been and will be one of the hottest patio table materials on the market for a long time to come.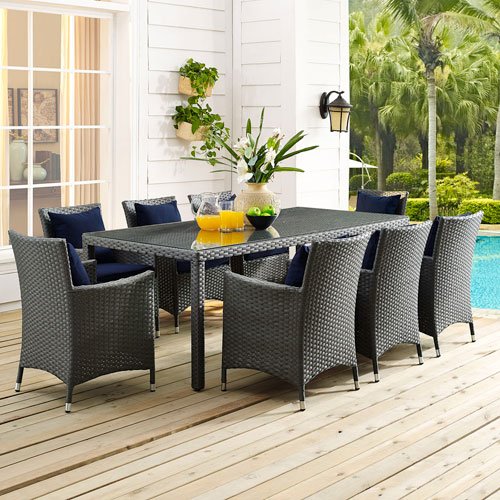 Importance of Side Tables
As well as patio dining tables, you need some patio side tables, or end tables, scattered among your patio lounge furniture. Not only do they serve a decorative purpose, by holding plants or ornaments — they are also necessary for placing drinks, coffee cups or refreshments beside the chairs.
Patio side tables are available in as many different materials as patio dining tables. They can have either a traditional or a modern look, and can either coordinate with the lounge set, or serve as decorative individual pieces.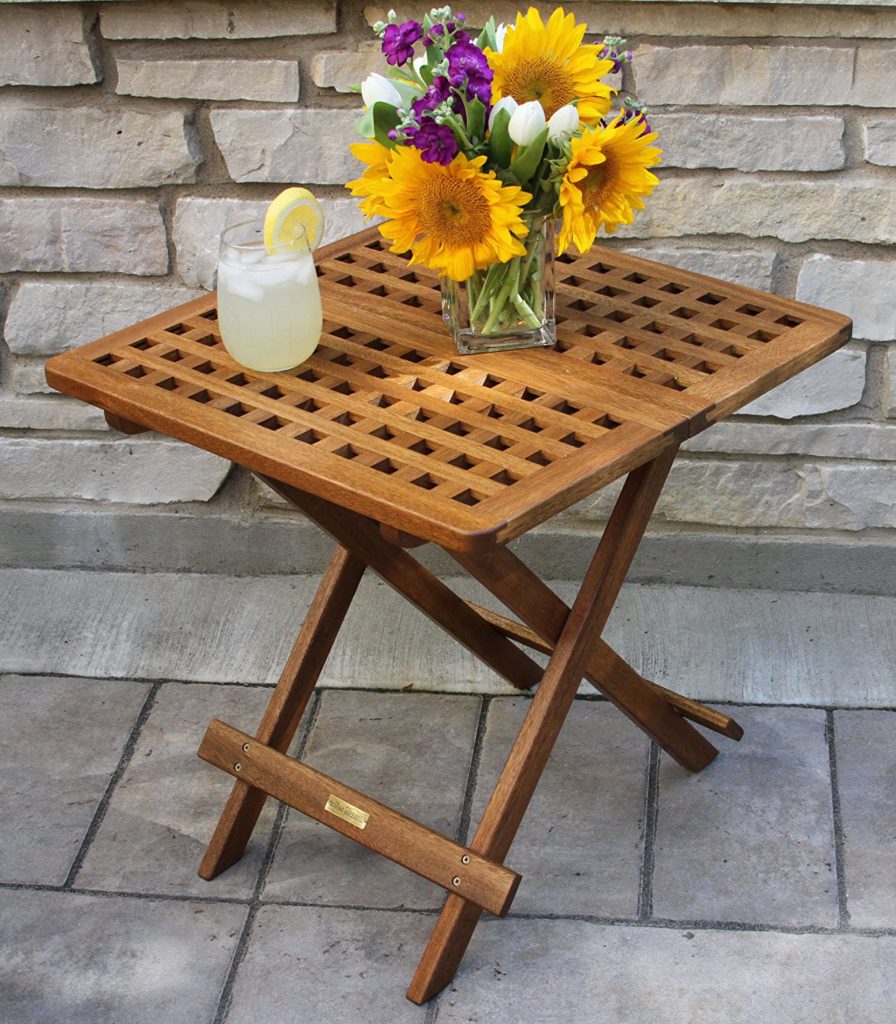 Different Shapes
Patio dining tables are found in many different shapes — round, square, rectangular and oval. Some of the most expensive and impressive patio dining tables are rectangular, providing a formal look, but round patio tables may fit better into your available space.
Round patio tables also make it easier for conversation to flow, especially as there may be competing noises out of doors. If space is tight, but you sometimes host bigger gatherings, extending patio tables can make a lot of sense. Alternatively, you can use a table with a folding leaf, or drop-leaf.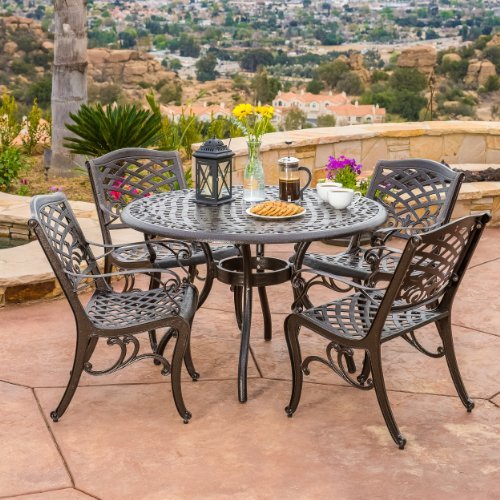 If you are like most people, the patio is becoming an increasingly important part of your life and of your social interactions, and will nowadays be a natural extension of your indoor space. Patio tables make an essential contribution to this part of your life, and are needed for eating, drinking, reading, chatting, or just sitting and relaxing. Make sure your patio tables fully complement your lifestyle and coordinate with your home and garden, to ensure that you create the perfect ambiance for your outdoor space.
Click Here Nowto start shopping for patio tables!