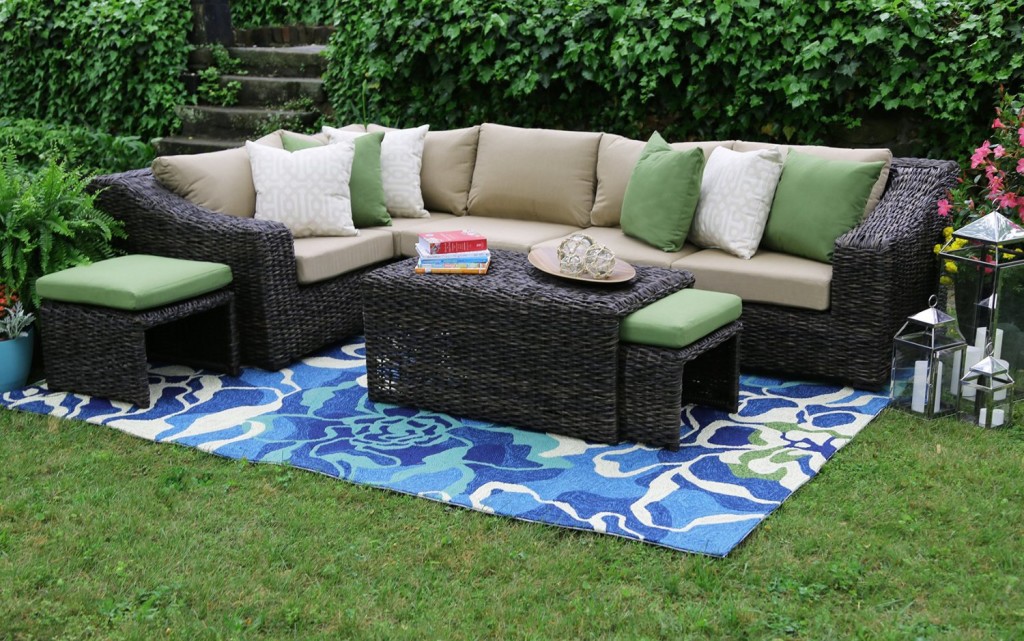 The outdoor furnishings which you select for your garden or patio need to be welcoming, relaxing, and to project an image of elegance and charm. More and more people are finding that nothing enhances their outdoor space as perfectly as rattan garden furniture. It comes in an almost infinite range of designs, it's incredibly versatile, and it adds a touch of style to even the most ordinary patio or lawn.
What Is Rattan Furniture?
Rattan, from which most of this furniture is made, is a unique palm plant found in parts of south-east Asia, and characterized by its slender stems and vine-like growing patterns. As its grain grows vertically, instead of fanning out like most hardwoods, it is considered one of the strongest woods in the world. To make rattan furniture, the straight wood is steamed, bent into the desired shape, and then dried — once dried, it retains its shape permanently.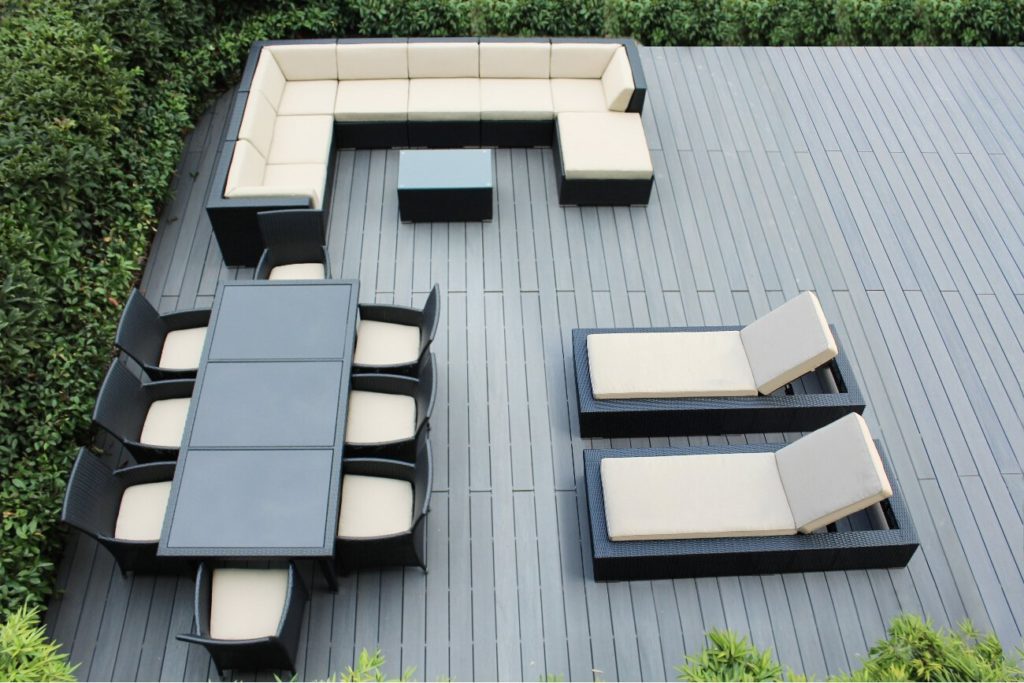 Why Is Rattan Furniture Popular?
There are actually many reasons why rattan garden furniture is just so popular, however the top reasons are:
Stylish Looks That Instantly Add To Your Outdoor Space
More than any other reason, most homeowners are immediately drawn to the look of rattan.  Its woven texture and exotic appearance are incredibly appealing and of course very stylish as well.   Rattan furniture is so good looking in fact, that even the addition of one or two pieces, will greatly enhance the look of your garden or patio.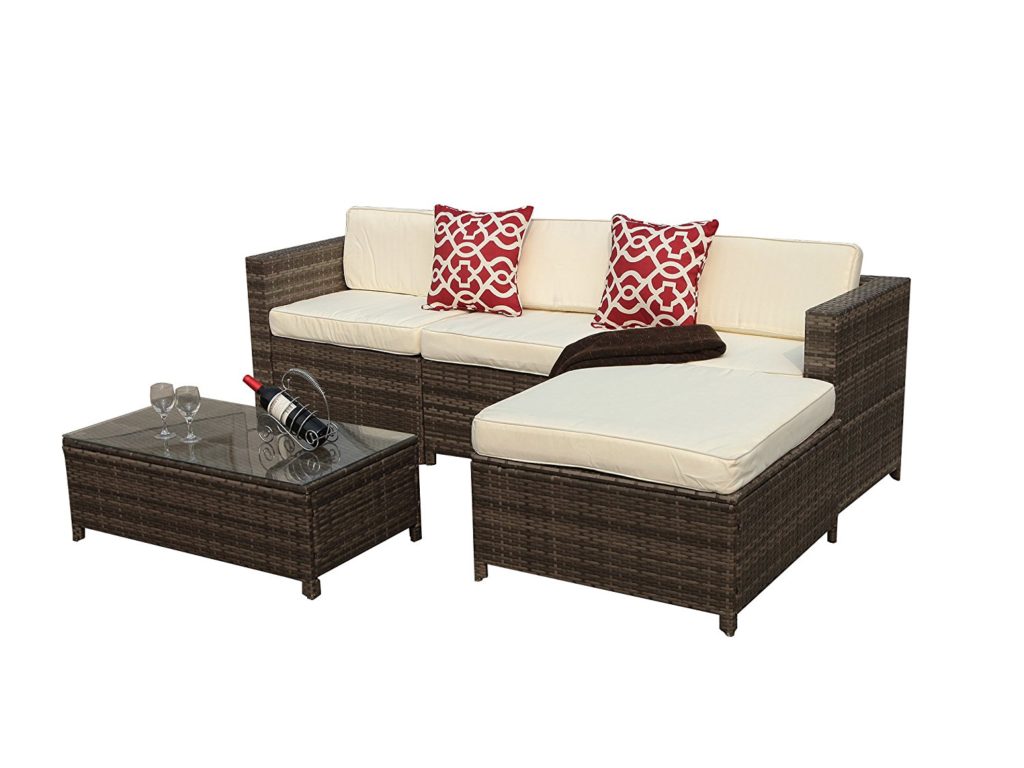 Its Versatility
Unlike many other types of furniture, you can enjoy the beauty of rattan and the impact it makes just about anywhere because it is so versatile.  This wonderful material works with spaces of all styles and types and in all locations.  It doesn't matter if you use it in your gazebo, next to a pond, near a garden, on a deck, or even on a balcony, it will look fantastic and really add to the look of the space as a whole.  And from more traditional to very modern in style it works with everything.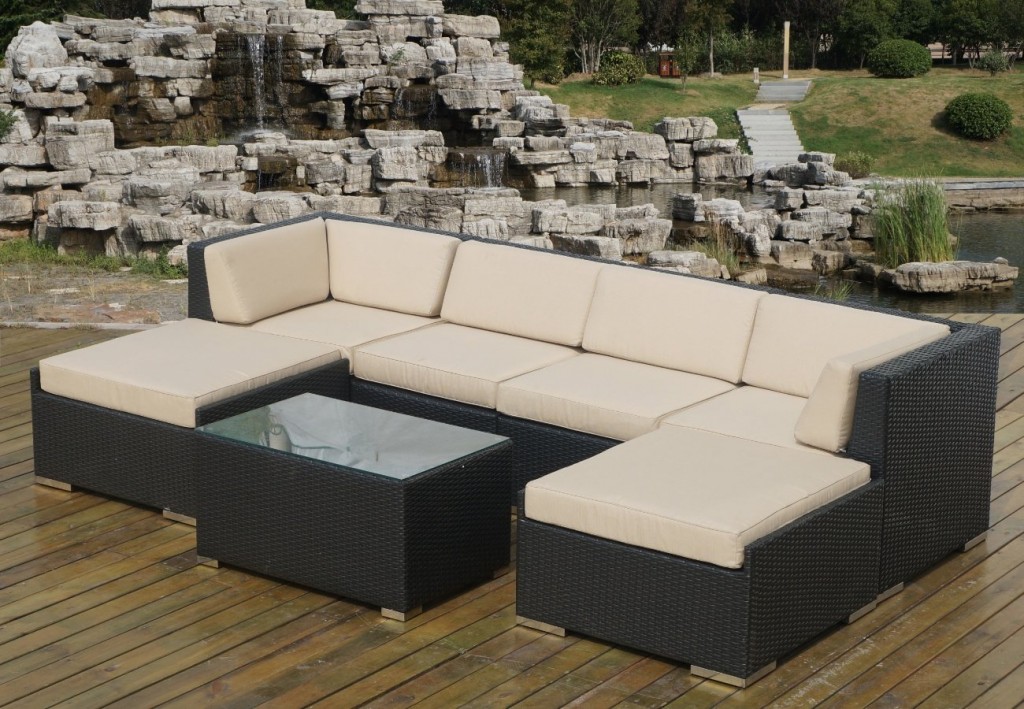 The Unusual Advantage of Being Light In Weight But Extra Strong

While virtually all other very tough outdoor furniture materials are heavy, rattan is light as a feather.  This remarkably rare pairing of both strength and almost weightlessness makes it the top and only choice for many people.  Since rattan is one of the strongest woods in the world it is perfectly suited for use outdoors.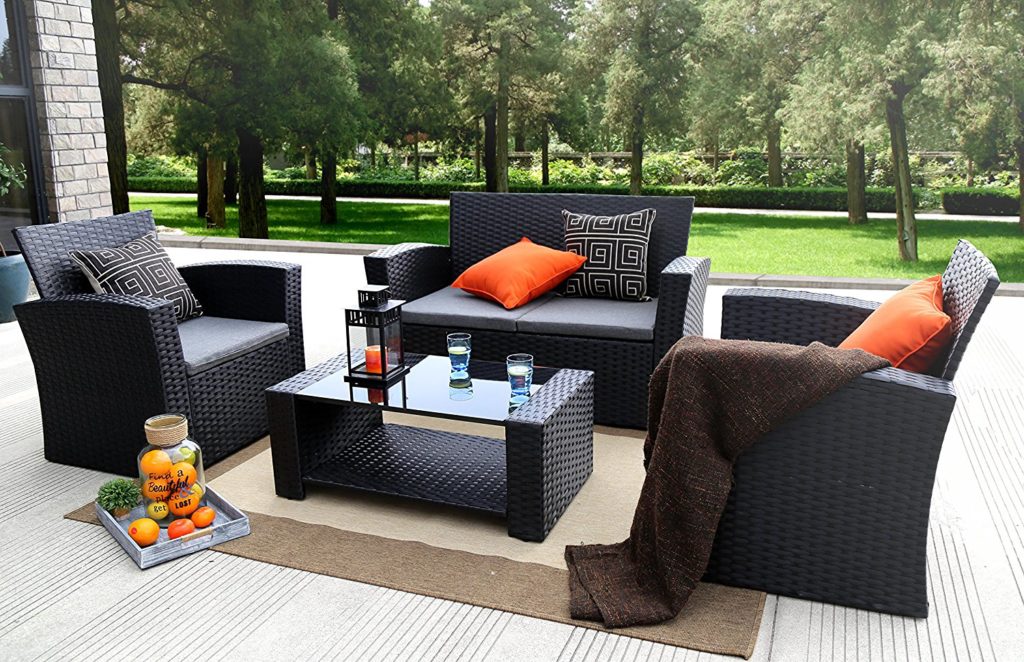 Unlike other durable options like teak or wrought iron patio furniture its is so light that even a three-seater sofa is east to move, which  may seem hard to believe until you experience just how lightweight it is first hand.  You won't have to worry about hurting your back, dropping and damaging the furniture itself, or having to enlist the help of family and friends when moving it to another location or re-arranging it.  With rattan garden furniture it's a breeze.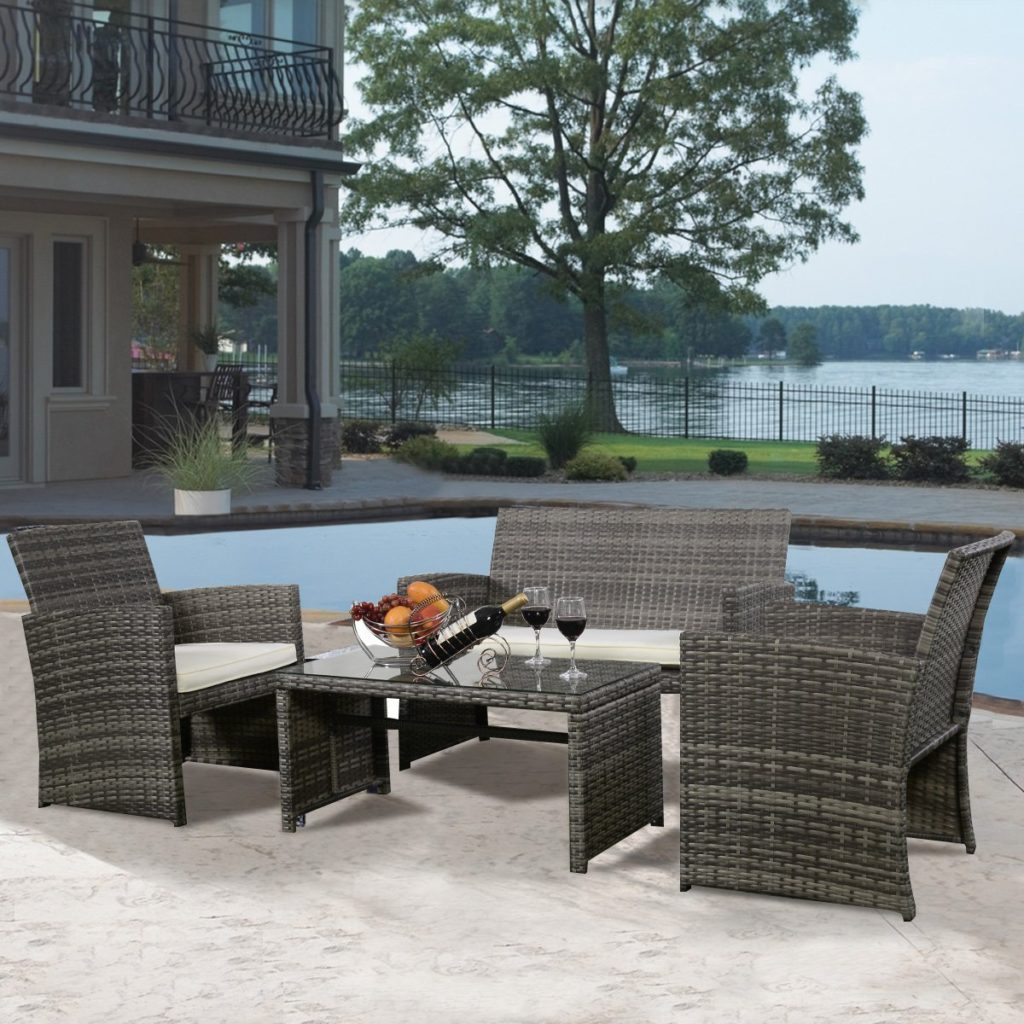 Easy To Maintain
Different from other woods which can be notoriously difficult to take care of, with rattan it is simple.  By following a few easy rules and very basic maintenance (listed further down) you'll ensure your ability to enjoy this phenomenal natural product for years after your purchase.
Seemingly Endless Variety
Because the many advantages above are so appealing to consumers, rattan is always in demand which along with its ability to be shaped into almost any form has pushed manufacturers to produce it in an endless variety of shapes and sizes. This allows anyone regardless of how picky or demanding they are to find something they not only like, but love.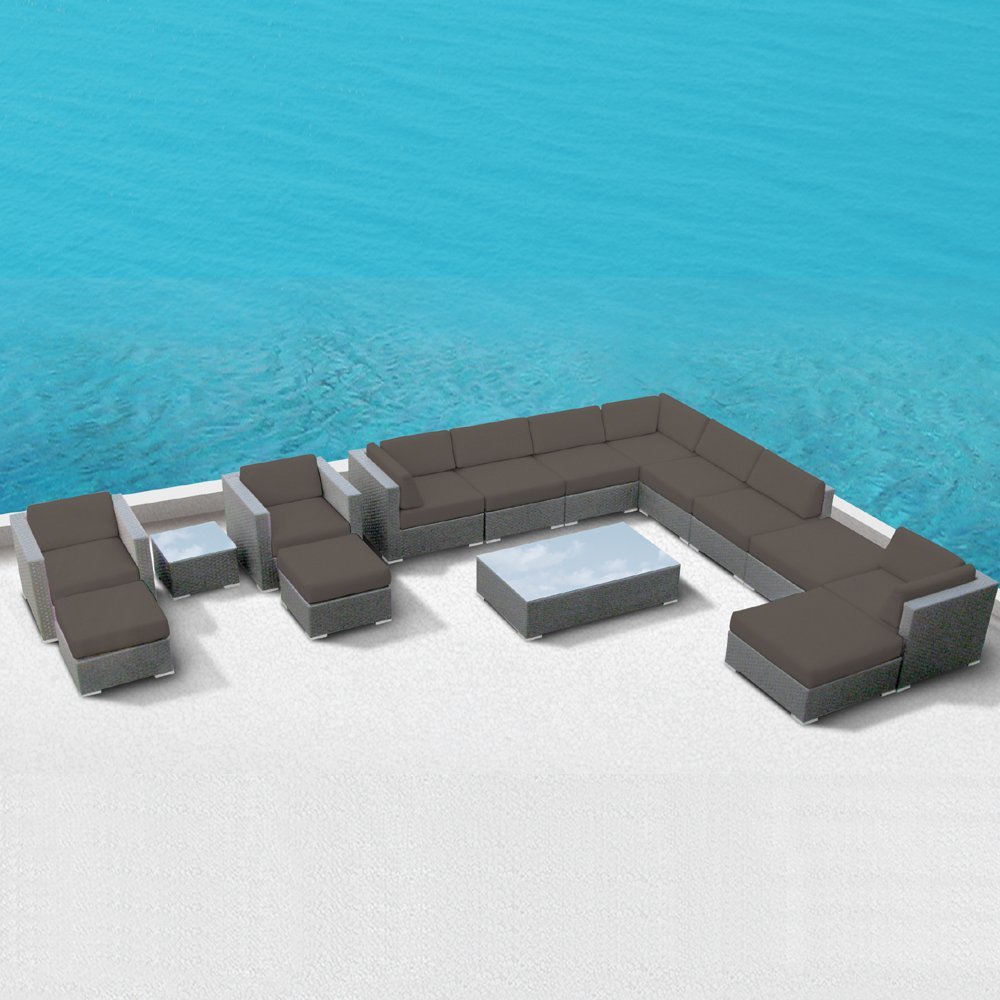 Varieties Of Rattan Furniture
As well as the confusion caused by using both terms wicker and rattan to refer to the furniture, further confusion is caused because a lot of furniture advertised as rattan is actually synthetic rattan, or rattan effect garden furniture. The reason synthetic rattan is produced is that natural rattan furniture does not always stand up particularly well to the climate of Britain or  the northern USA, and can be affected by mold if it gets wet too often. Synthetic rattan is usually impervious to the elements and more suitable for outdoor use.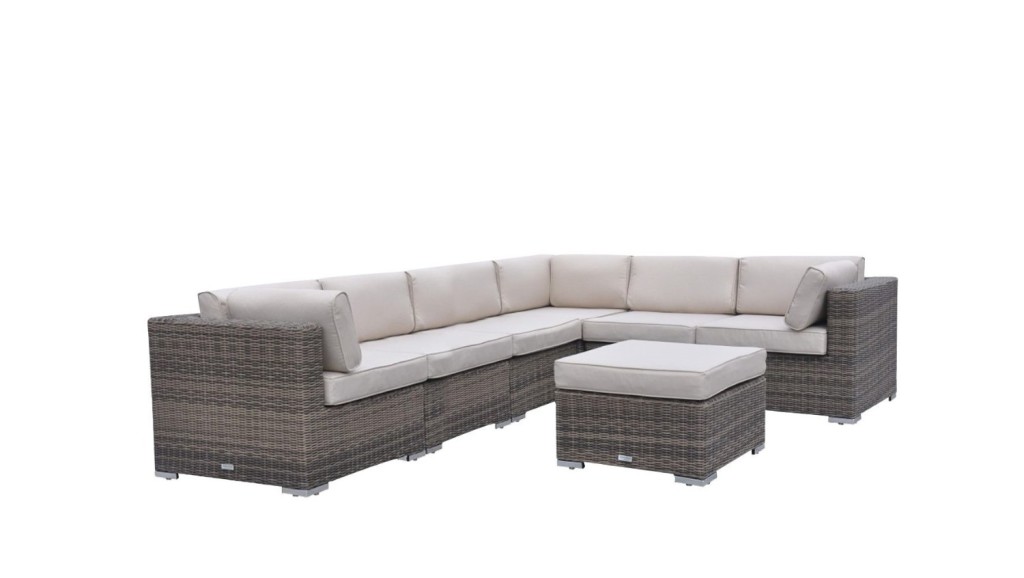 Rattan effect garden furniture is often made from polyrattan, plastic, polythene or a polyethylene alternative which is designed to look identical to natural rattan, but is much more resistant to the weather. It is even lighter and stronger than natural rattan, extremely flexible, and can be woven into an infinite range of shapes, providing even more variety in your garden. Some types of polyethylene weave are also resistant to ultraviolet light so they will not fade.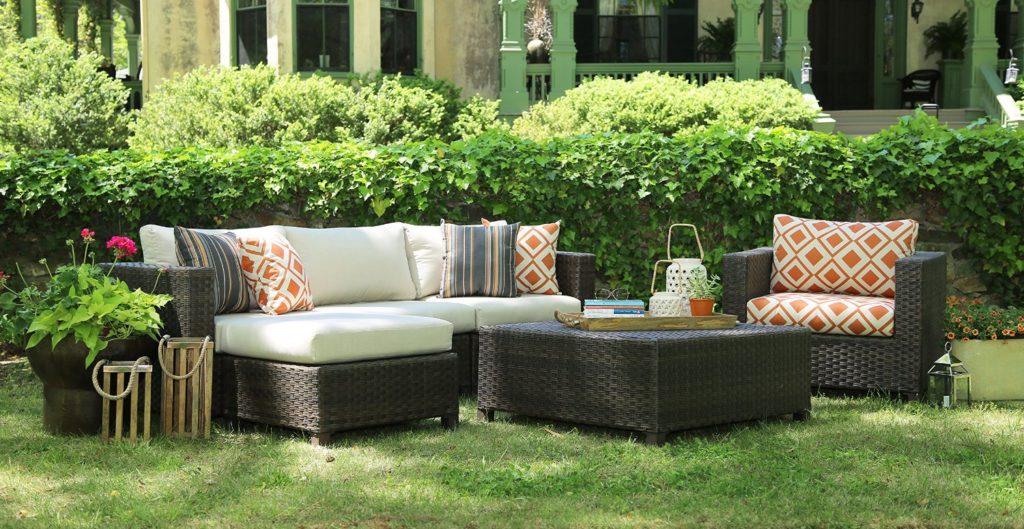 Rattan effect garden furniture is usually cheaper than natural rattan furniture, as some people consider natural rattan to be more prestigious. While some homeowners think that the natural product looks better, many others consider the two  to just about identical, so it is really just a matter of personal preference. If you prefer natural rattan, you can make it more weather-proof by spraying it with a thin coat of water-sealant or lacquer.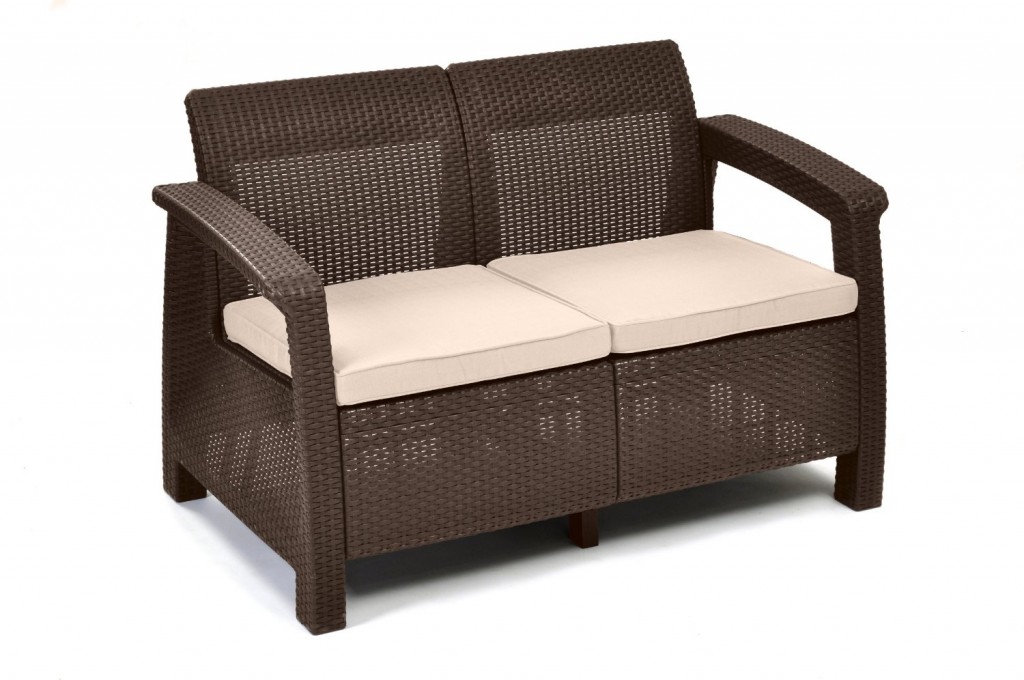 Rattan Garden Furniture Sets
For anyone considering purchasing more than one piece of furniture, sets are the best option.  They often end up much cheaper per individual piece than if you were to buy them separately. Because rattan is available in such a variety of types of furniture, you will also see this reflected in sets, as there are ones which include all kinds such as outdoor chaise lounges, day beds, bistro sets,  sectional sofas, tables, chairs, and more in all shapes, sizes, and styles.  Going with a set also guarantees that all your furniture will match perfectly.  This can save you time and money trying to mix and match if you do end up purchasing more later on.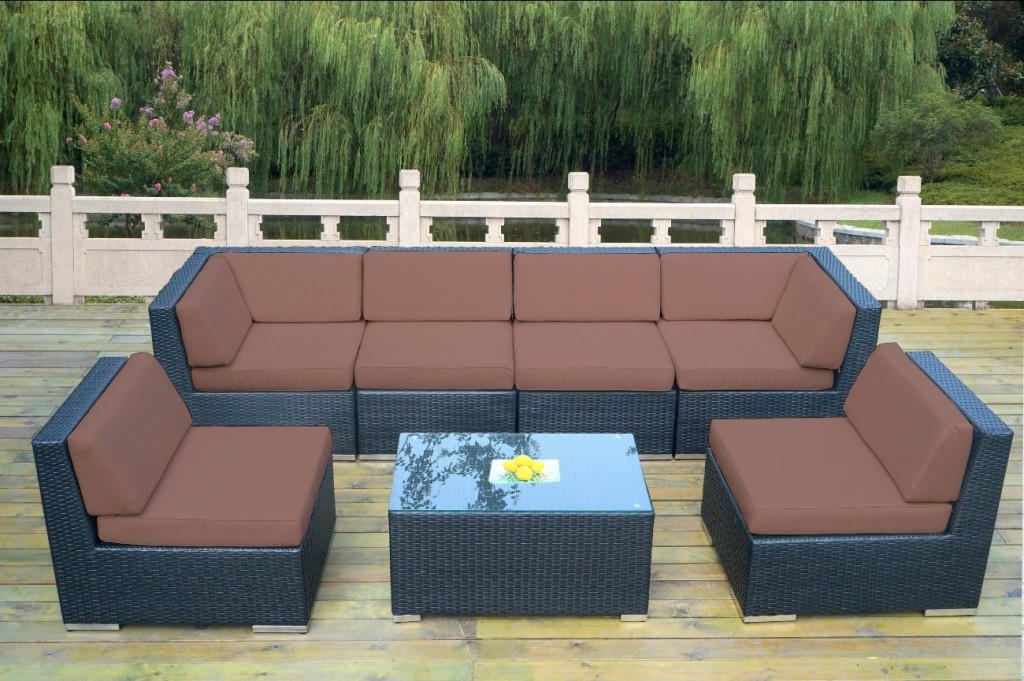 Rattan garden furniture sets can range from two or three pieces to up to around twenty in a very large set with multiple types of furniture included.  It really depends on what you need and what you're looking for because there is definitely something for everyone and that can work well in every outdoor space.  Smaller sets with a few chairs and a table or maybe even a love seat are an easy way to add to the functionality and look of your garden or patio without having to shop around for any other individual items. Just take it out of the box and you are ready to enjoy.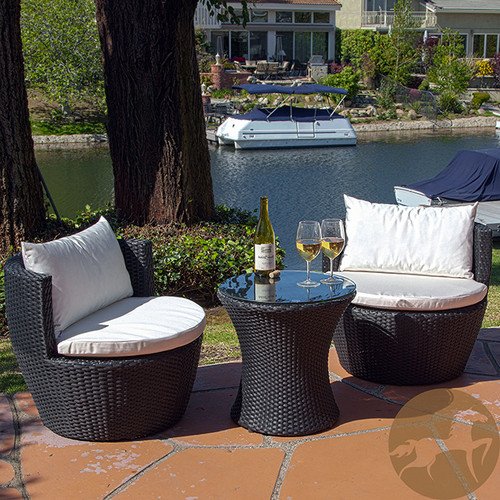 For a larger space you might want to choose a set with 6 seater rattan garden furniture sofa or maybe something even bigger.  There are some sets with really huge sofas and couches available as well, most of which come in sections which means you can move the individual pieces around to form any configuration that fits your needs.  Dining sets are great options for anyone who loves to eat outdoors on a warm summer's night. And of course the biggest sets like the one shown below which includes a nine piece sofa set, nine piece dining set, and two piece outdoor chaise lounge set, will have everything you need to make a large space look spectacular while staying comfy.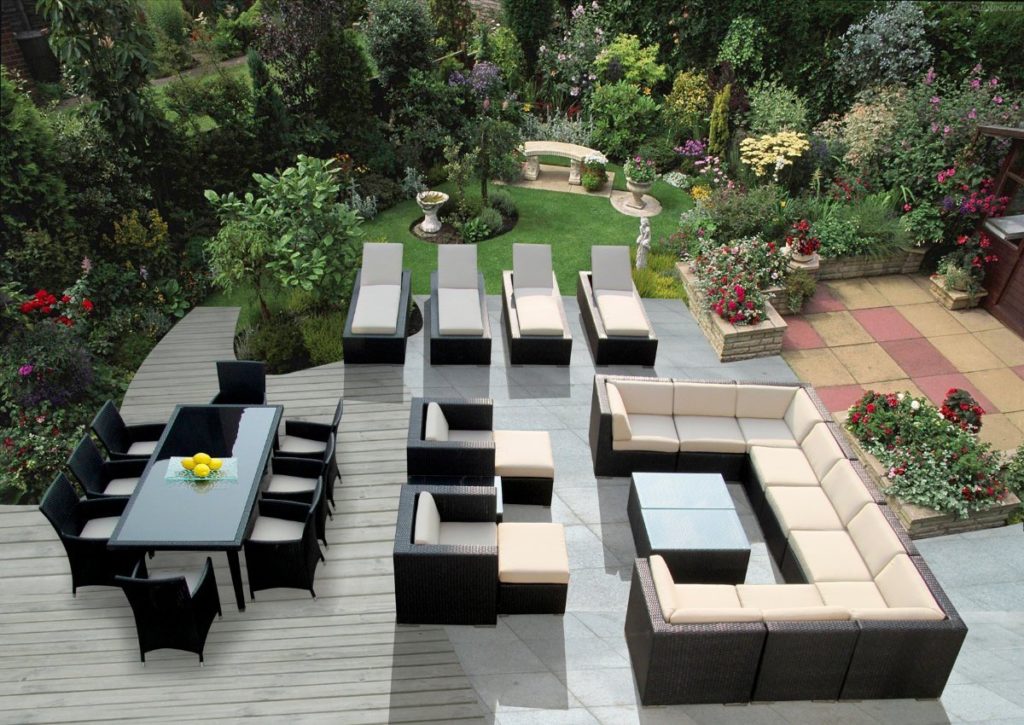 Rattan Cube Garden Furniture
If it's a set you are after, then rattan cube garden furniture may be just what you are looking for. The design of these sets is particularly chic and stylish, and brings a highly sophisticated look to your patio or garden.  These sets are called cube furniture because of their shape. A set will usually consist of a rectangular or square table with a glass top, with a set of distinctively-shaped chairs, which when stowed under the table form a cube shape.
Some sets also have footstools which can be fitted under the chairs, before the chairs are fitted under the table.Apart from the impressive appearance, there are many other benefits to rattan cube garden furniture. The design is ergonomic and space-saving, and the sets look neat and tidy when not in use. Because most sets are made of synthetic material, they can be left in the garden all year round, and this also means they come in a variety of colors.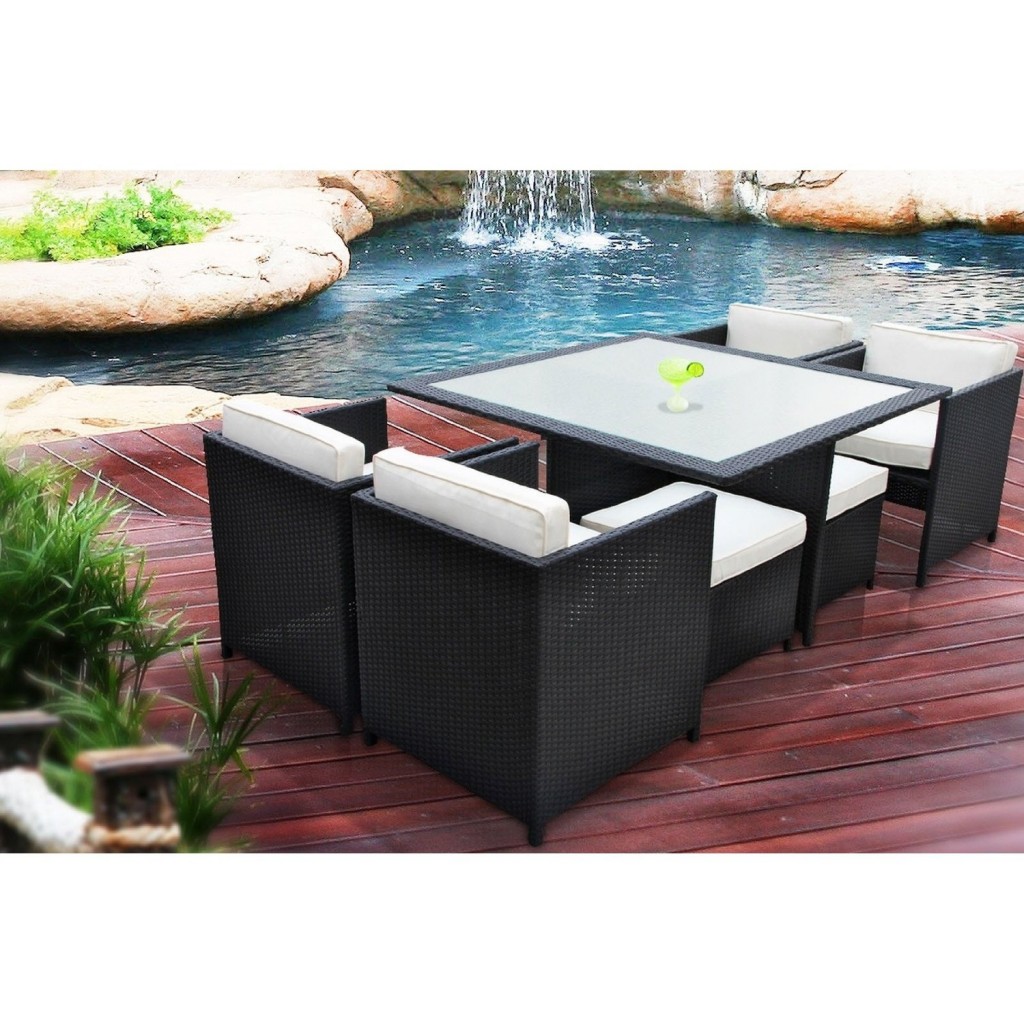 Round Rattan Garden Furniture
Even though the majority of furniture available is square or rectangular in shape there are plenty of circular-shaped options if you are looking for something round, particularly in sets.  Many people just find the look of curves much more appealing, and in fact round furniture is often the top choice to use in a patio or garden which is round-shaped itself as it will work to accent it.  Round rattan garden furniture also goes very well in corners, facing focal points, and can even be used as a focal point itself.  Just be sure that if you do use it as a focal point you include a round table to echo its shape on a smaller scale for the best effect. You can also use it to create your own private nook by having your furniture face a wall other area which closes it off.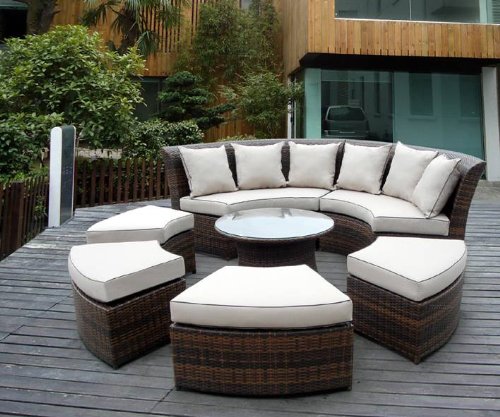 The most common type are round sectional sofas and couches.  These usually come in sets of at least three pieces but can include much more depending on what you're looking for.  There are many which will actually form a full circle and include a round coffee table for the center as well.  Some sets use a combination of different types of furniture to make a circle as opposed to sections of a sofa, for example it could be made up of love seats and ottomans; it's just up to the particular set.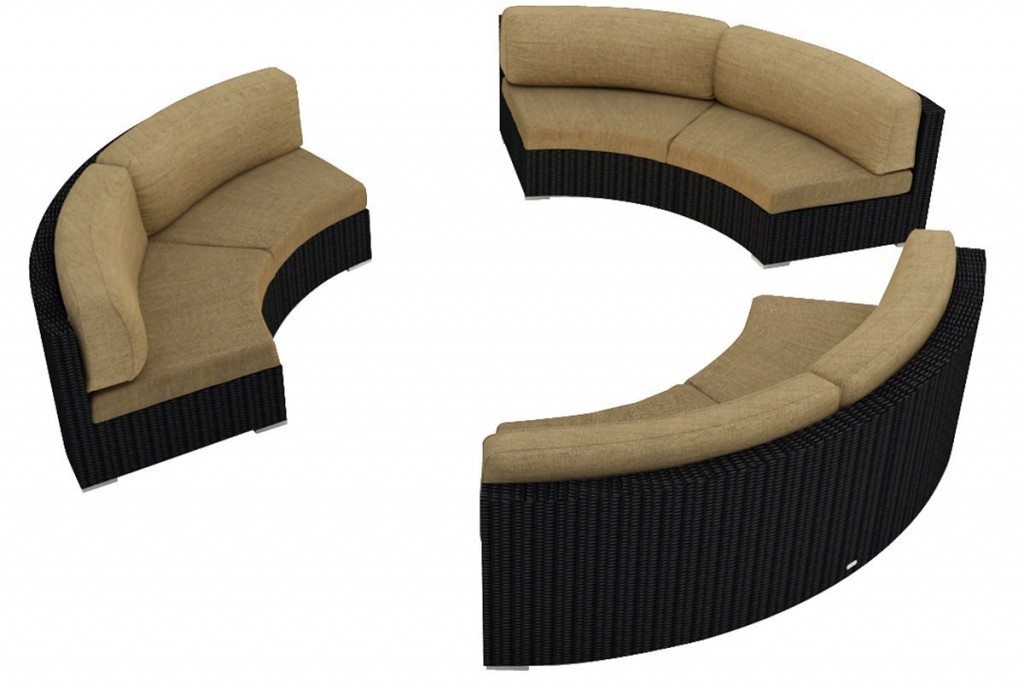 Day beds are another fun round rattan garden furniture option.  Because they are really like a blend of a couch, bed, and chaise lounge all in one, day beds are the ultimate way to relax outdoors.  On the deck, next to pool, on the patio, or in the garden, a rattan day bed will make unwinding look good.  Large enough to fit the whole family but small enough to be a romantic spot for two, a day bed is an investment that will be enjoyed and used to the fullest by every member of the household.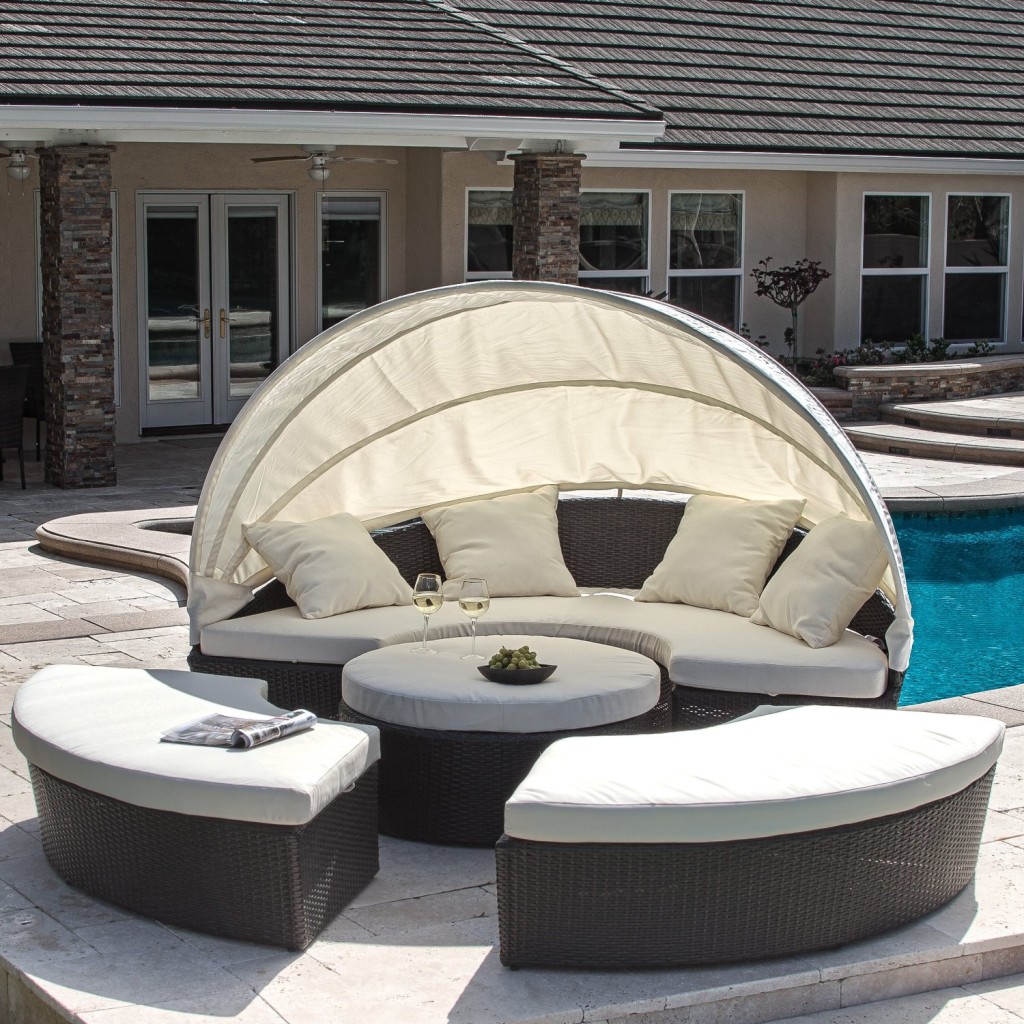 While some are one piece others are made up of a total of two or three as they include one or two ottomans that can be pushed together to be used as one unit or separated for extra seating when you have company, which is always very convenient. Sometimes adjustable canopies are included as well and are ideal for blocking out the sun, transforming them into a shady spot in seconds, and just adding to their already upscale look.  If a canopy does not come with your set, you can almost always purchase one separately from the manufacturer anyway.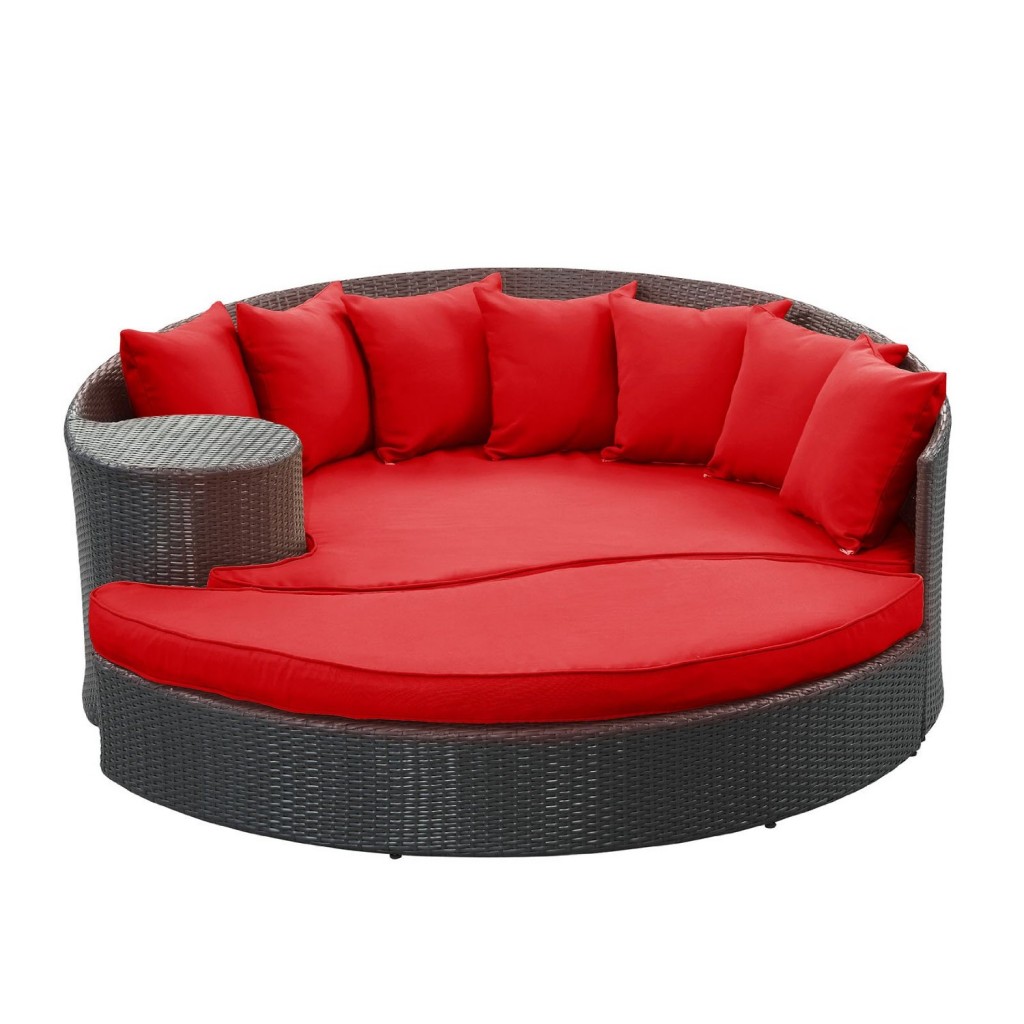 Egg Rattan Garden Furniture
Just like the name suggests this is furniture that is shaped like an egg.  There are actually two main types of egg rattan garden furniture. The first are outdoor swing chairs which have an egg shaped chair suspended from an aluminum or steel post and base.  Normally they come with cushions and can be made for either one person or two and often times can be really modern looking in style.
While more expensive than a hammock, egg rattan garden furniture is considered even more comfy, much easier to get in and out of, and a lot safer too.  They make for an cozy spot to read a book, take a nap, drink some coffee, or just take in the outdoors that will quickly become everyone's favorite place to relax.  The second type of egg rattan garden furniture which is not as common, is similar in concept to cube furniture as it is made up of a set of a table and chairs which instead of a cube  fold up to form an egg.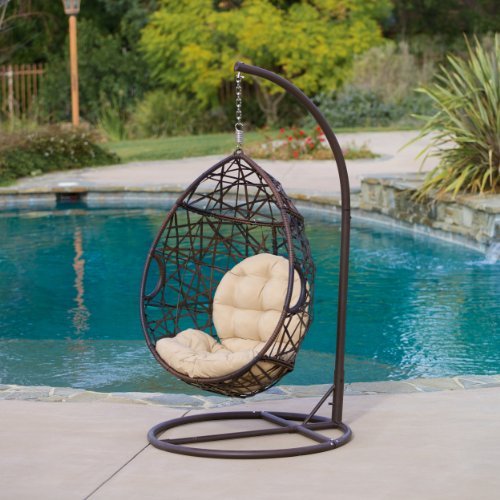 Rattan Garden Furniture With Storage
A wonderful way to get the most from your furniture is to choose pieces which also offer storage.  Fortunately because there is such a high demand for rattan there are quite a few options available. These can be both real rattan wood or rattan effect and are an attractive and intelligent way to save space.  In some cases no one will have any idea that the furniture they are sitting on or resting their things on is actually holding your extra accessories.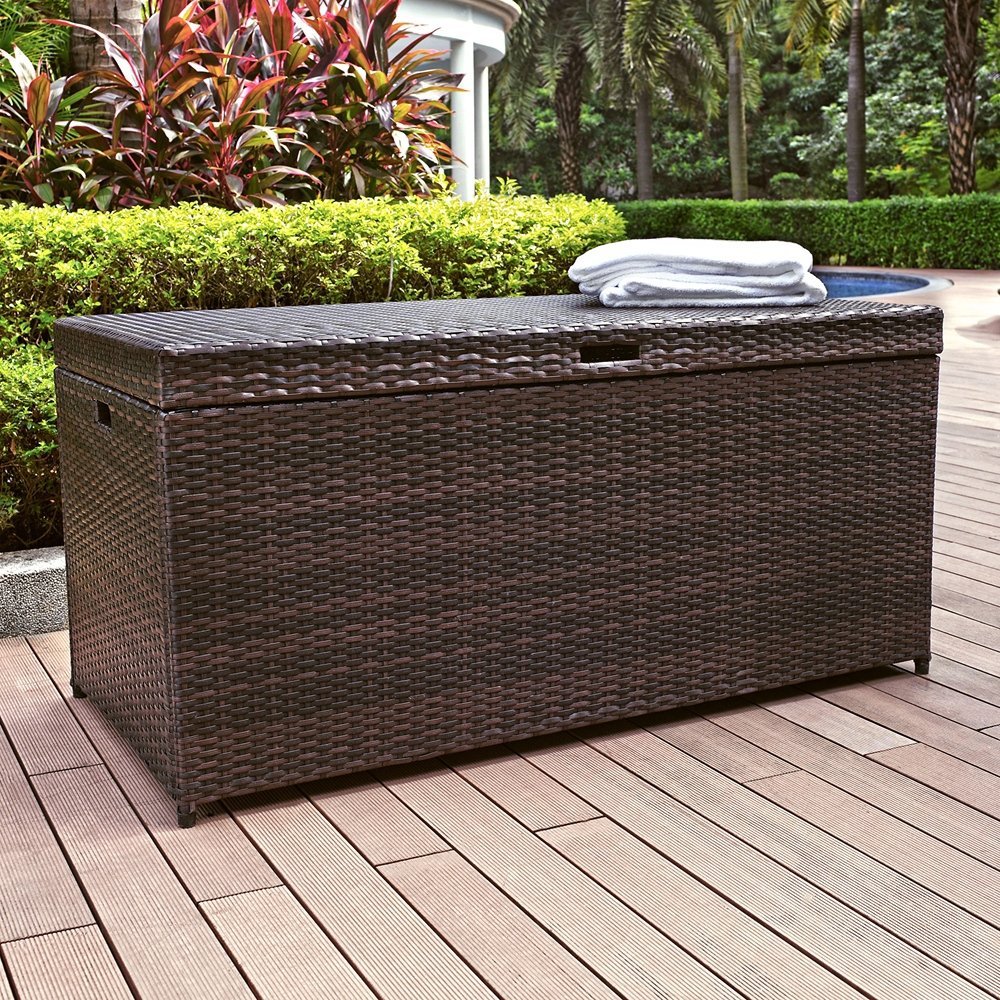 For a large amount of storage many homeowners choose what is called an outdoor storage bench.  These are simply a garden bench which has a hollow base that opens up to reveal a hidden storage space.  Deck boxes are another really popular option that can hold a ton of stuff and there are some very high quality choices made from both authentic wood and resin.
Many of these rectangular boxes have over one hundred gallons of storage space and some also lock as well.  A lot of deck boxes are actually also made to function as a backless bench to provide you with extra seating if you happen to need it.  Both rattan deck boxes and storage benches are perfect for keeping pool supplies, garden accessories, sporting goods, outdoor toys, and also provide a safe and dry place to store the cushions and pillows for your furniture itself when not in use.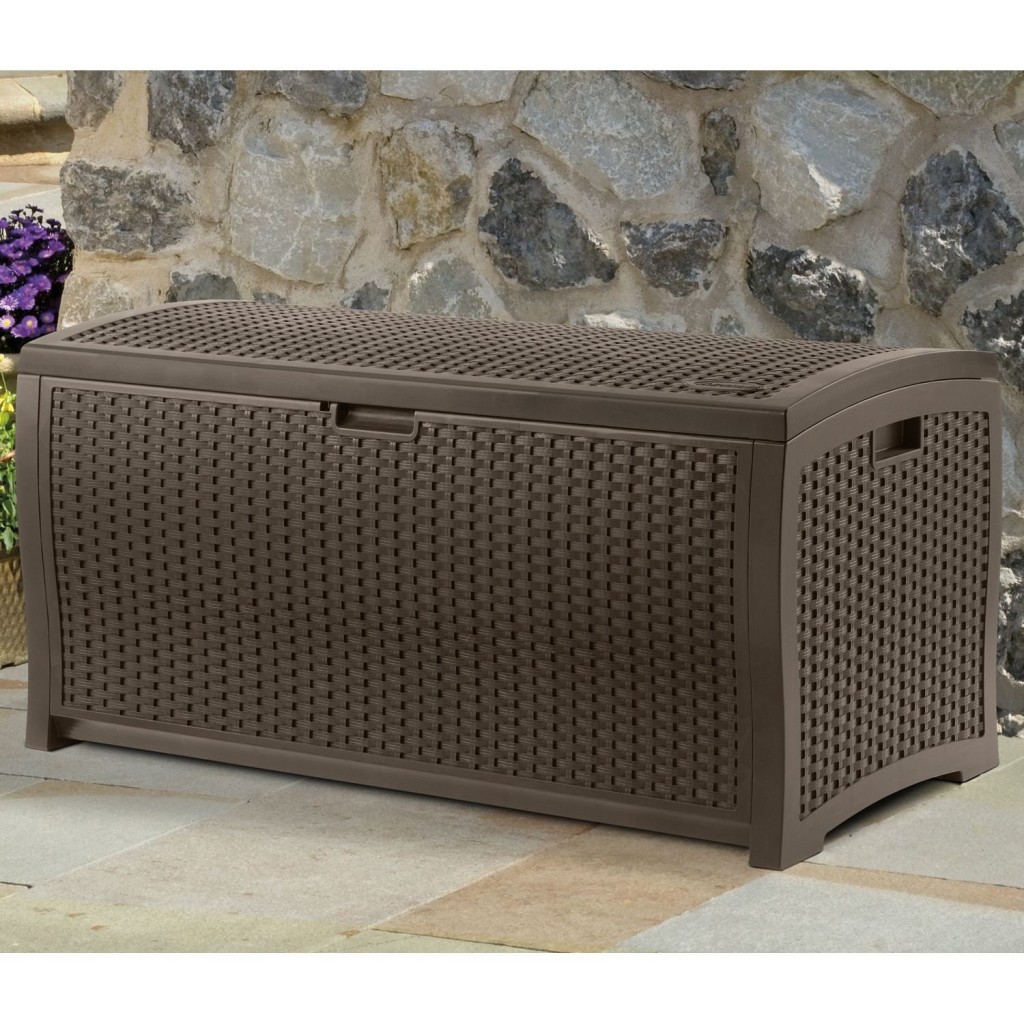 For medium and smaller sized storage there are plenty of gorgeous coffee tables on the market which have an empty space inside to keep extra things.  Storage seats are also very functional and are a favorite of anyone who likes to grill or has an outdoor kitchen as they are just the right size for keeping extra charcoals and cooking accessories and do so in an attractive and practical way.  But of course they can be used to hold anything from cushions, to small garden tools, or even dog food.  Many people actually end up liking  their storage seats and coffee tables so much they end up using them indoors.
There are also many storage options for specific items that are made in rattan or resin to match your rattan garden furniture or that just look fantastic by themselves.  Rattan coolers, outdoor bars, privacy screens, and hose reels, are just a few of the many choices available.  Trash bins like the one shown below made from resin are particularly popular as they add to the look of your outdoor space while normal bins typically take away from it.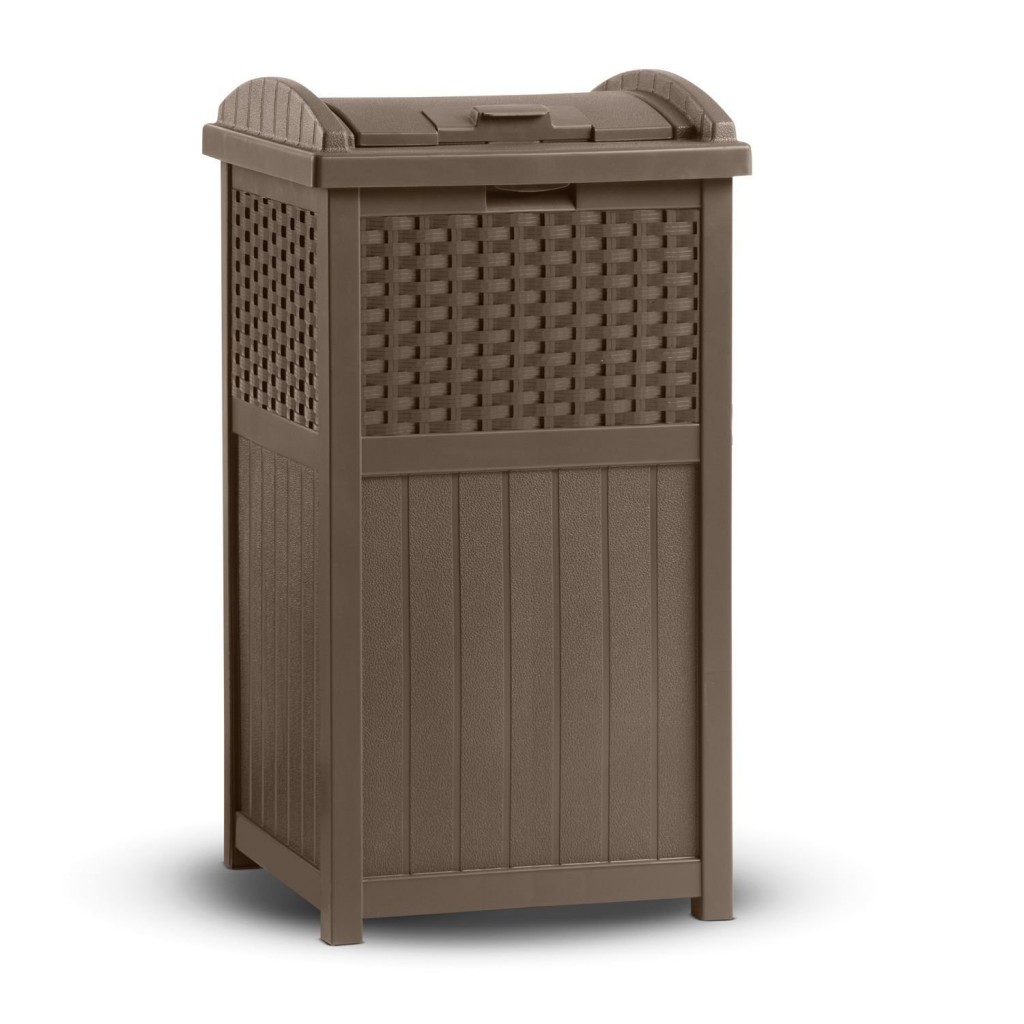 Typical Rattan Garden Furniture Colors
Normally you'll find both natural and rattan effect furniture available in quite a few colors.  This typically means neutral ones such as: black, brown, gray, or white.  Luckily for homeowners neutral colors like these are actually the easiest to work with because they go well with any existing color scheme, style, or environment.  But, in the end of course it really is up to your own personal preference.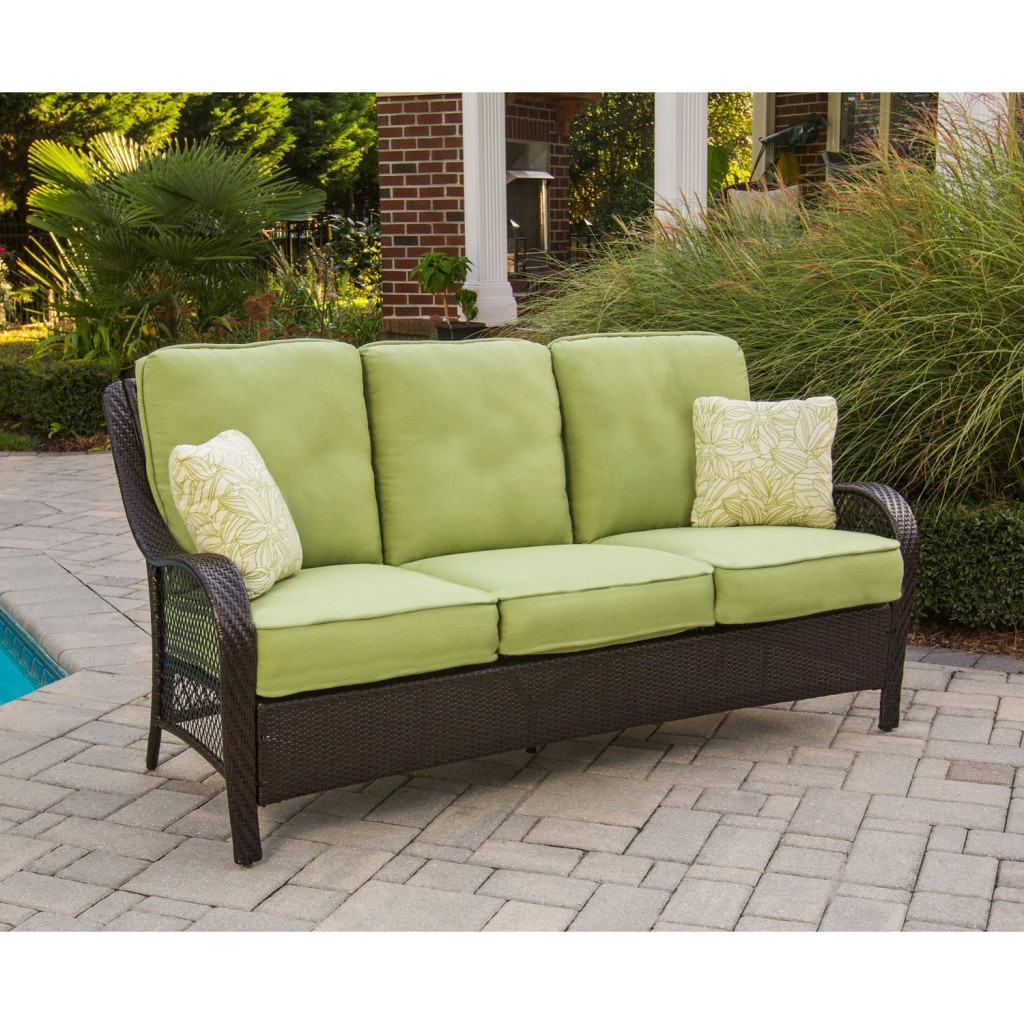 Both black and also brown are easily the most popular.  For this reason they are also the most widely available.  Black rattan garden furniture can be strikingly attractive, distinguished, and also look very modern.  Brown is this wood's natural color and therefore appeals to many people whether in its original shade or stained.  While it does work just about anywhere brown rattan garden furniture looks particularly well in a yard or garden with other natural elements and can really function to make it look cohesive.  Gray can make for a weathered look and white a very clean one which can range from more classic all the way to modern depending on the specific model.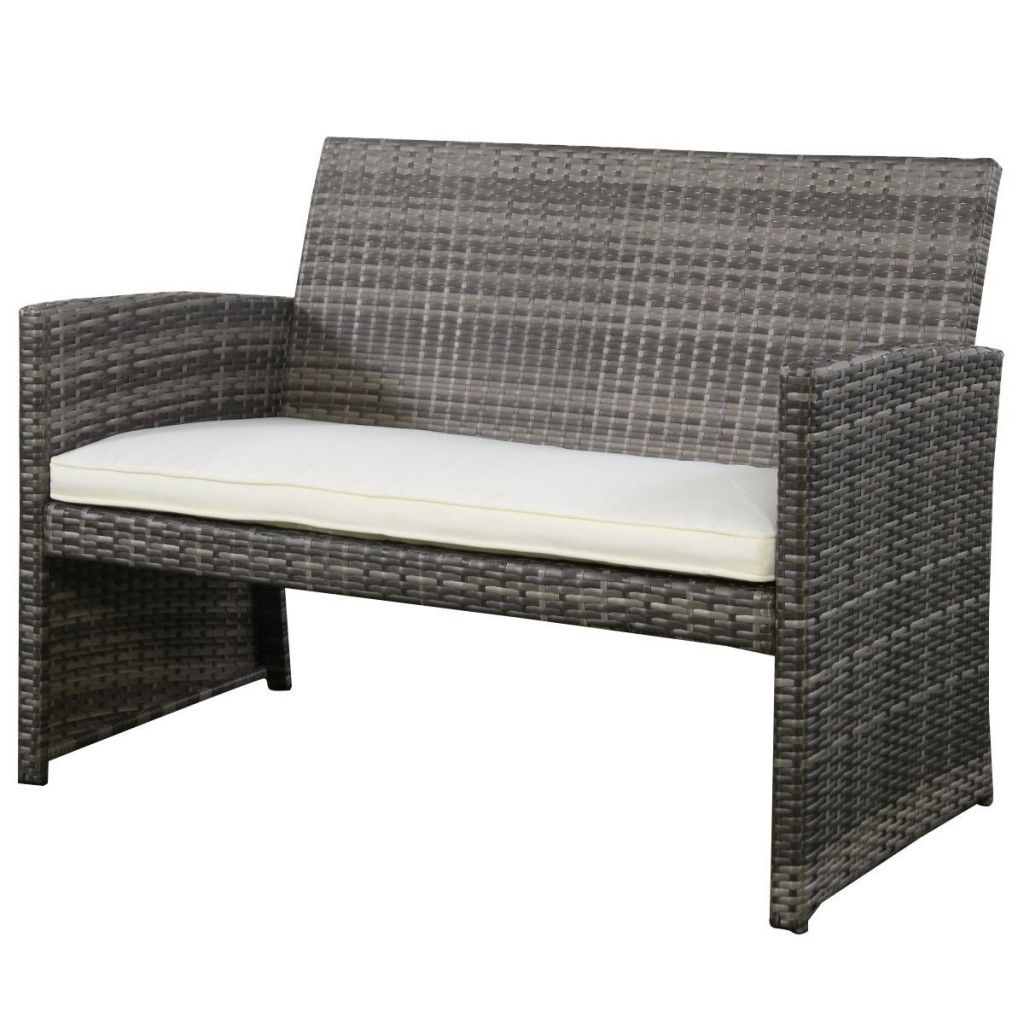 Cushions and Pillows For Style And Personalization
Most types of rattan garden furniture will come with comfy cushions and pillows as well which gives you yet another opportunity to make some more color decisions.  The majority of which, are solid colors however the colors they do come in have quite a large range.   This allows for some fantastic combinations.  Many homeowners choose to go with something more subdued such as gray, black, cream, ivory, or tan while others are more attracted to more striking pairings with turquoise, orange, red, or lime green.  Turquoise cushions and pillows can look particularly stunning when used with either white or black rattan garden furniture. Black cushions tend look amazing with gray rattan.  The contrast of black on white or white on black is always a stylish choice as well. But, like most things, it is ultimately up to you.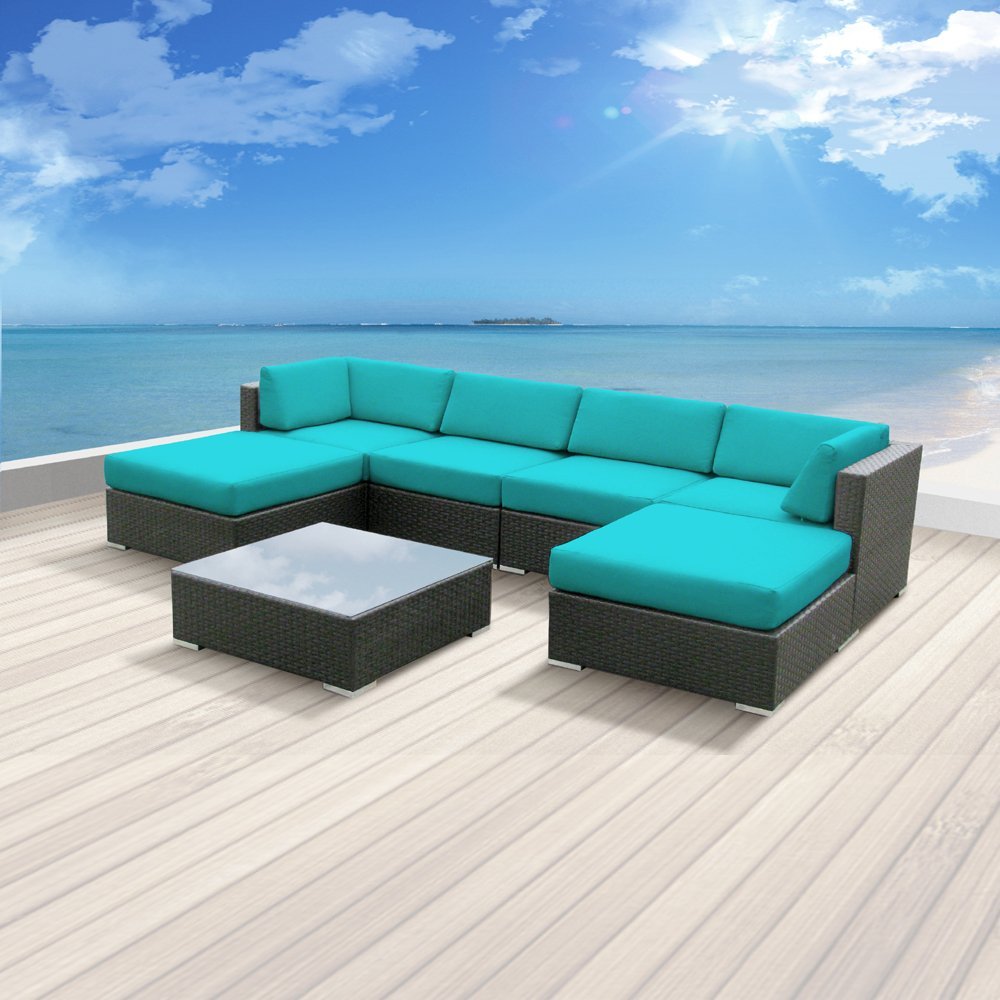 That being said, when it comes to purchasing your own cushions and pillows, online there is almost always a never-ending supply of patterns, colors, designs, and motifs to allow you to add your very own personal style to both your furniture and outdoor space.  This can be anything from stripes, damask, paisley, or designer prints, to specific colors that suit your taste.  A fun way to choose is simply to think about what feel you are trying to go for. For example a pattern with flowers or palm leaves can really add a tropical ambiance to your patio, garden, or wherever you choose to use your furniture.  Picking colors which match or complement your house, or outdoor area is another simple way to get the most from your decision.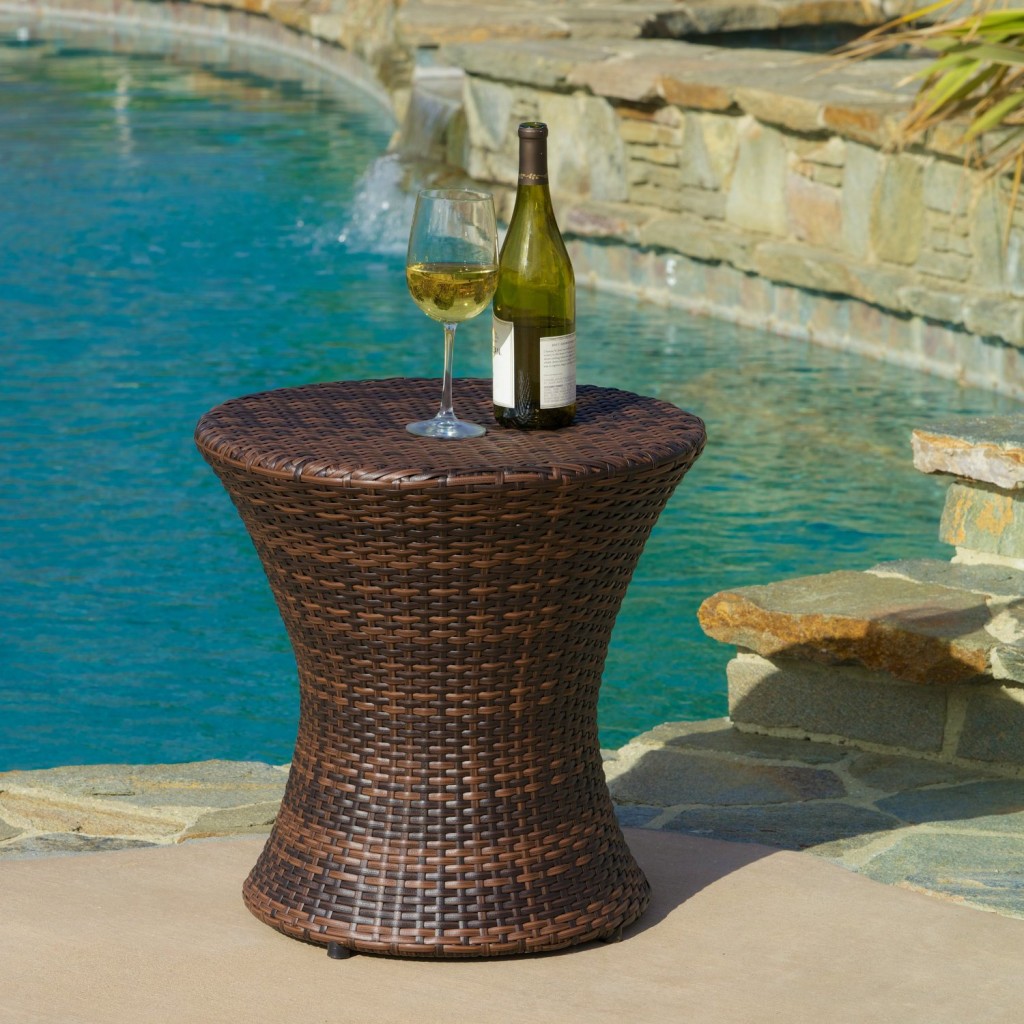 The highest quality cushions and pillows are normally made from polyester, and are resistant to water, stains, mold, and mildew.  Being able to withstand UV rays without fading is also huge advantage since they will most likely be out in the sun.  Some of the top brands include Pillow Perfect, Greendale Home Fashions, Manual Woodworker, and Waverly.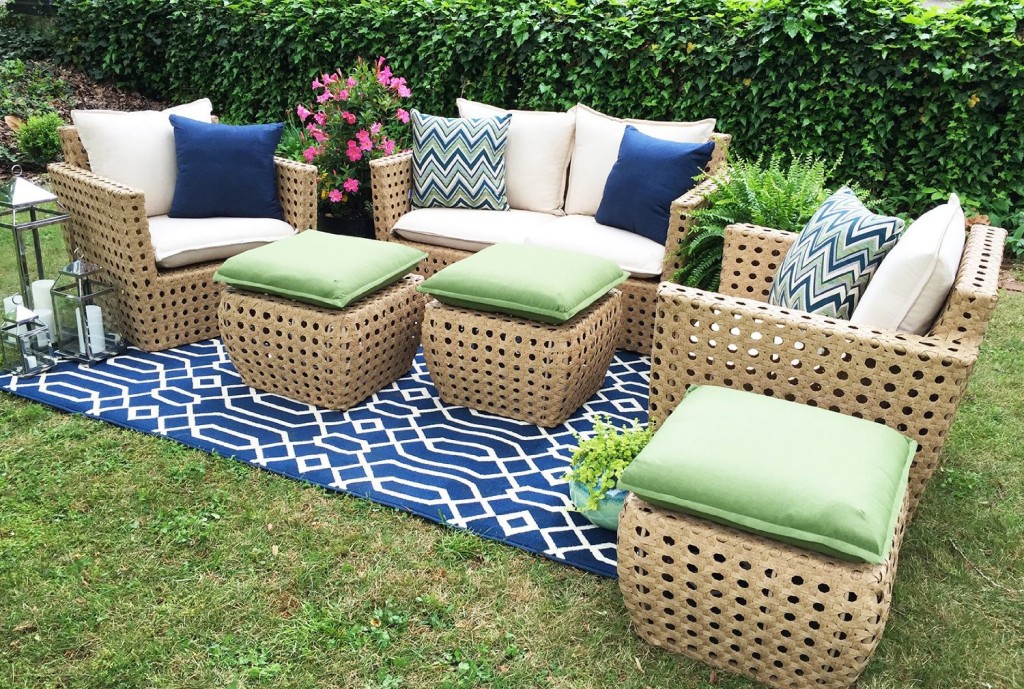 Rattan Furniture Care
Although your rattan garden furniture is very durable, it needs to be treated with respect to ensure it gives you the best possible service. As it is so lightweight and easy to lift, you need to make sure you always do lift it when you need to move it — never drag it around, which can cause damage. It's a good idea to protect the feet with rubber stoppers or felt pads, to prevent splintering or other damage.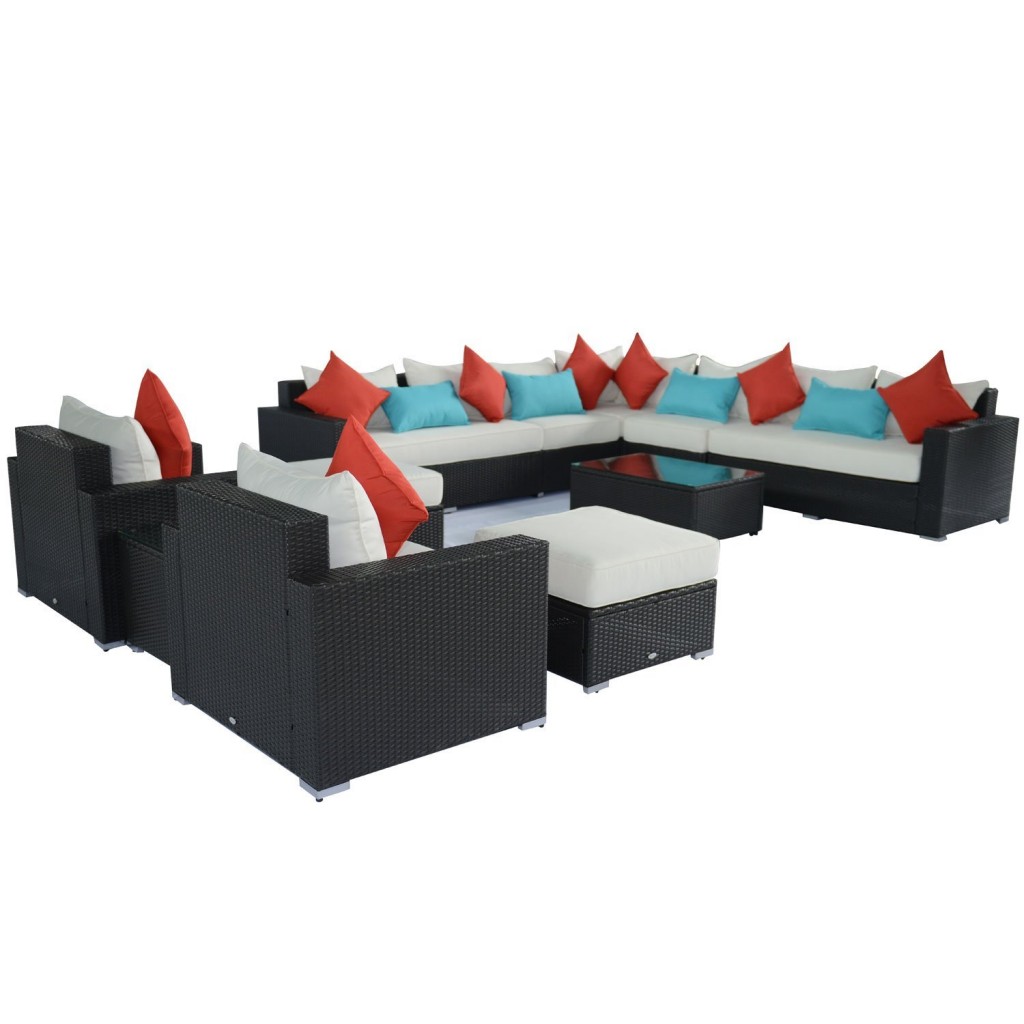 Rattan furniture is very easy to clean. For regular cleaning, you can just wipe it gently with a soft cloth moistened with a solution of dish washing liquid and water, and use a small brush or toothbrush to get dirt out of the crevices. If there are cushions, make sure the chairs are completely dry before putting the cushions back.
The furniture also benefits from a more thorough cleaning, about once a year. You can spray it with dishwashing solution and then hose it down,  but don't forget to remove the cushions first. Make sure you dry it thoroughly with a hairdryer, or in the sun if it's warm enough, as leaving it damp may cause mildew.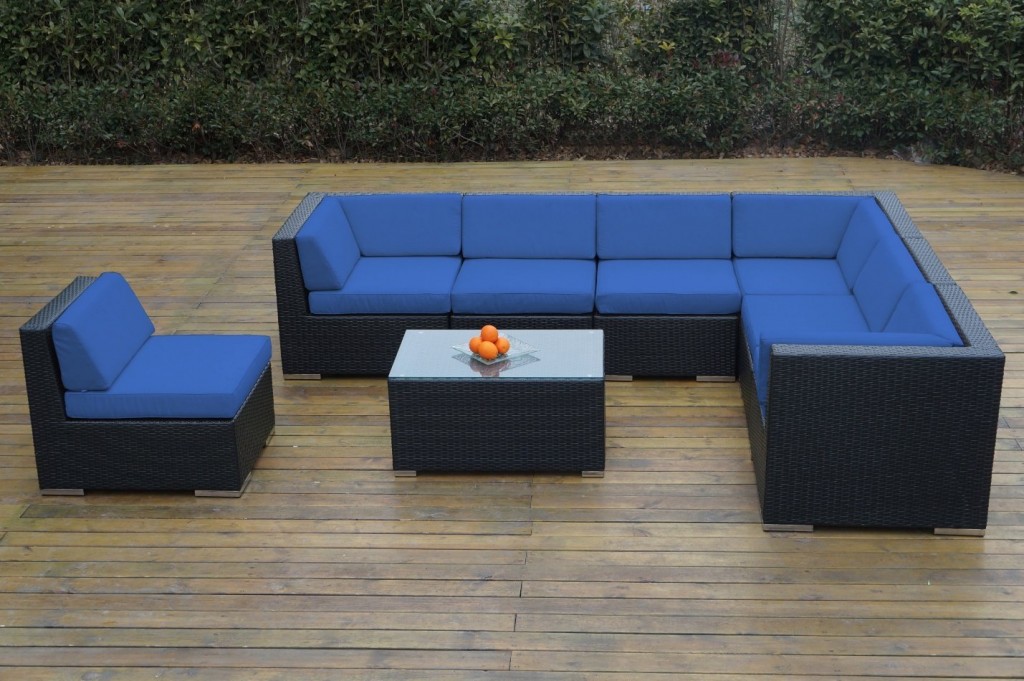 Normally, however, it's not a good idea to leave your rattan furniture in the sun for long periods, as excessive heat can damage it over time. It can dry out all the natural moisture, leaving it brittle and more likely to fray. If your furniture is kept out in the open, rather than on a shaded veranda, you can use easily removable furniture covers to protect it when you're not using it — this is a lot easier than constantly moving it in and out. Many stores that sell rattan furniture also sell covers as accessories.
If you find your furniture does crack and fray, you need to re-coat it. If you do not, the damage will gradually increase, eventually rendering it unserviceable. You can spray it with waterproof lacquer, but make sure it is completely dry first, as moisture trapped inside will cause further damage.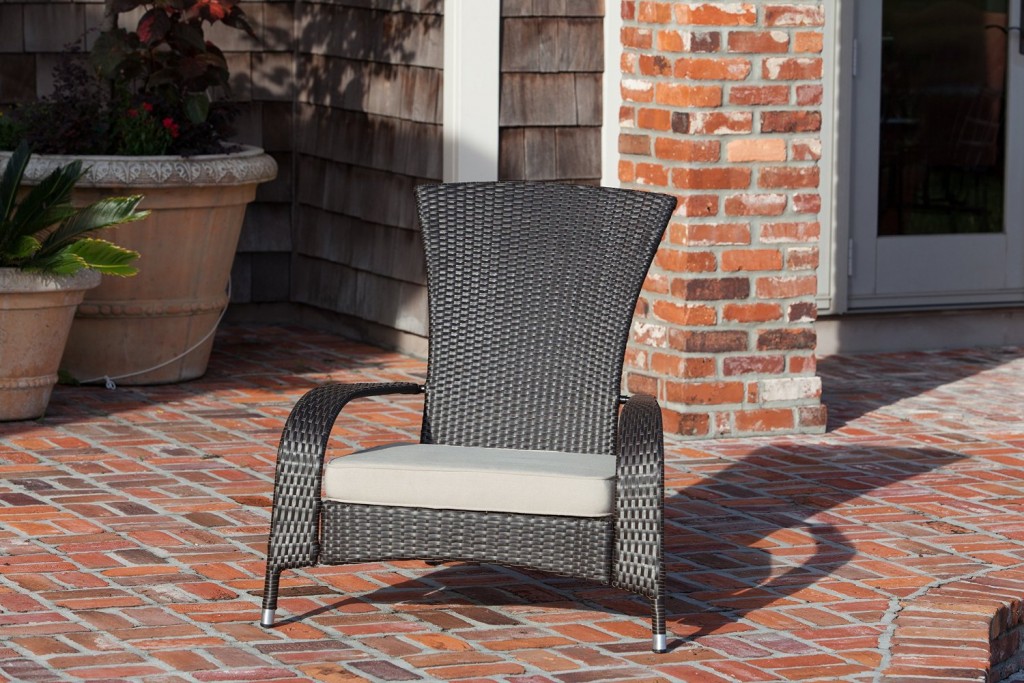 Covers For Rattan Garden Furniture
If you live in an area with intense sun, or frequent rain considering a cover for your furniture would be a good idea.  They are also ideal during the fall for making sure you don't end up with wet or soggy leaves on your furniture which is no fun either.   For homeowners who choose to leave their rattan outdoors during the winter months a cover is a must to protect from both freezing rain and snow.  While it is a very durable material, by both maintaining and protecting your rattan you will be extending its life and beauty for many years.  Covers will also help you keep your cushions and pillows dry and safe as well.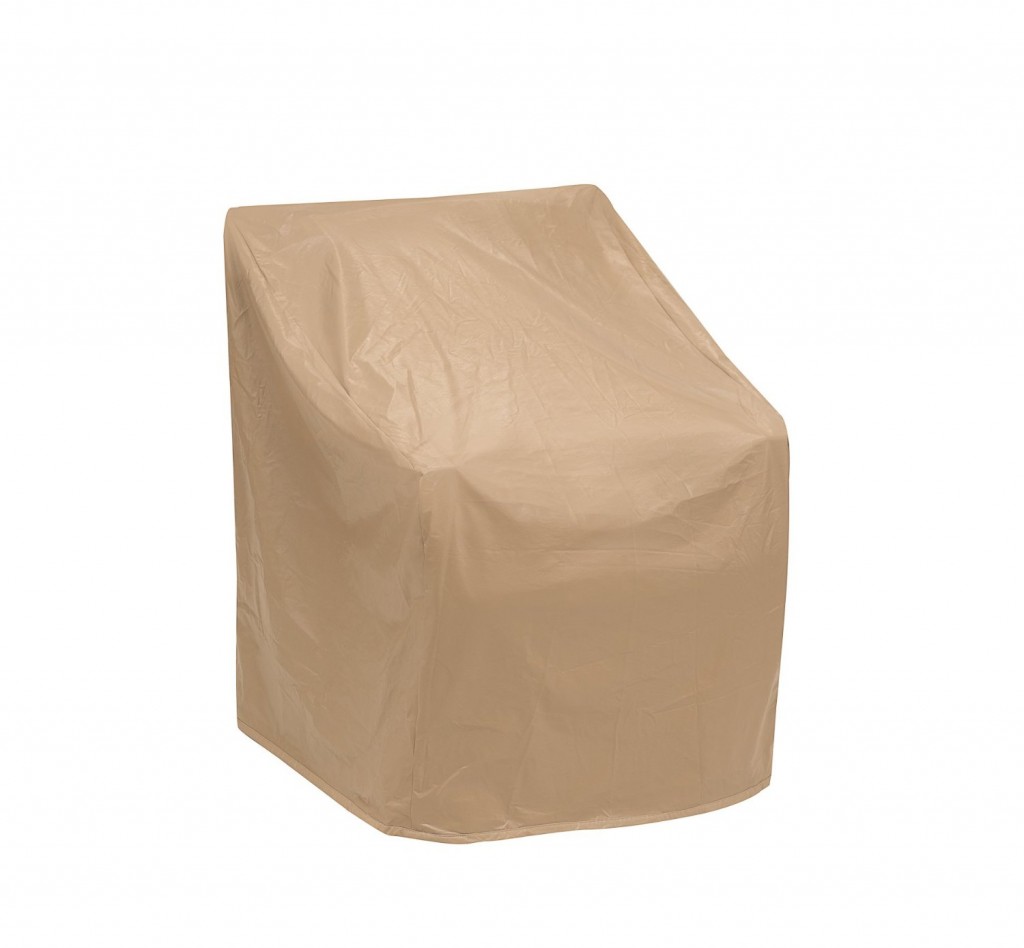 Normally rattan garden furniture covers are either tan or gray in color, and can be many different shapes and sizes to fit the actual piece or pieces it is made to protect.  For example there are covers for single chairs, sofas, chaise lounges, love seats, etc.   Some consumers purposely select covers which are much larger so they can accommodate multiple pieces or even entire sets.  And if you do have a large or even extra large set there are covers made for those too so don't worry.
The most common materials are vinyl and polyester and top brands will usually be treated for extra protection from UV rays.  Covers which are made specifically for rattan are the best option.   These are made from vinyl as it is heavier than polyester, which is important as rattan garden furniture is light in weight and without one could blow over in very heavy winds.  Straps which attach to the legs of the furniture will ensure the cover itself will stay on even in the windiest of conditions.    Many covers made for rattan will also use a soft material on the inside like fleece, to make sure that the wood does not get scratched.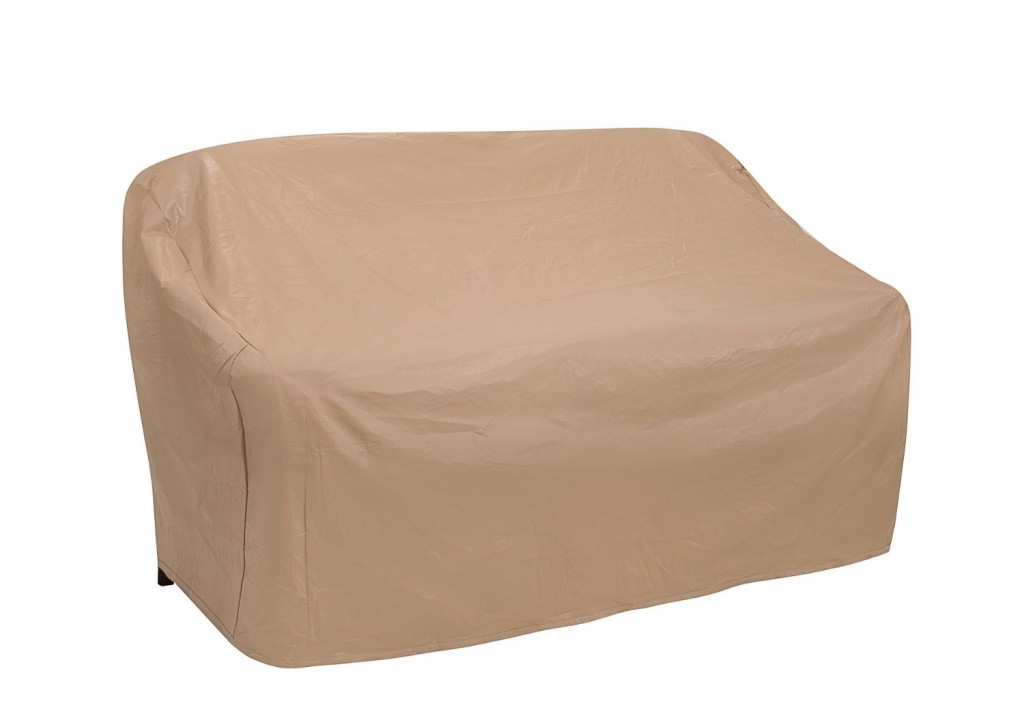 The Smartest Way To Buy Rattan Garden Furniture
If you decide to purchase rattan locally from a furniture shop it can sometimes be very frustrating.  This is because many stores may only carry a few options and the prices are often times way too expensive.  Unfortunately this often turns many people off to rattan initially and they end up going with furniture made from a cheaper or less desirable material.  If you are going to buy from a local shop you are best off waiting for a rattan garden furniture sale.
However, depending where you live this may not be for a while and you'll end up missing out on the enjoyment and relaxation you could be having in the meantime.  The best case scenario would be to find a rattan garden furniture clearance sale from a shop that is going out of business, yet you would have to know exactly what you wanted and move fast because it probably wouldn't last long at clearance prices without someone else snatching it up first.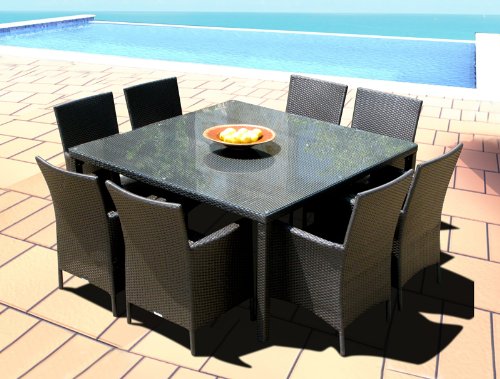 The best way to buy rattan garden furniture, without a doubt is online.  While you might get lucky and find something in a shop near you, the internet has the best deals and prices because there is the most competition.  Also whereas a store might only lower its prices during certain times of the year like the winter months, online deals are abundant 365 days a year.  It's also very common to find luxury rattan garden furniture for heavily discounted prices.  Online in places like Amazon you'll find an enormous variety of choices in every size, shape, and color you can think of both for individual pieces and sets.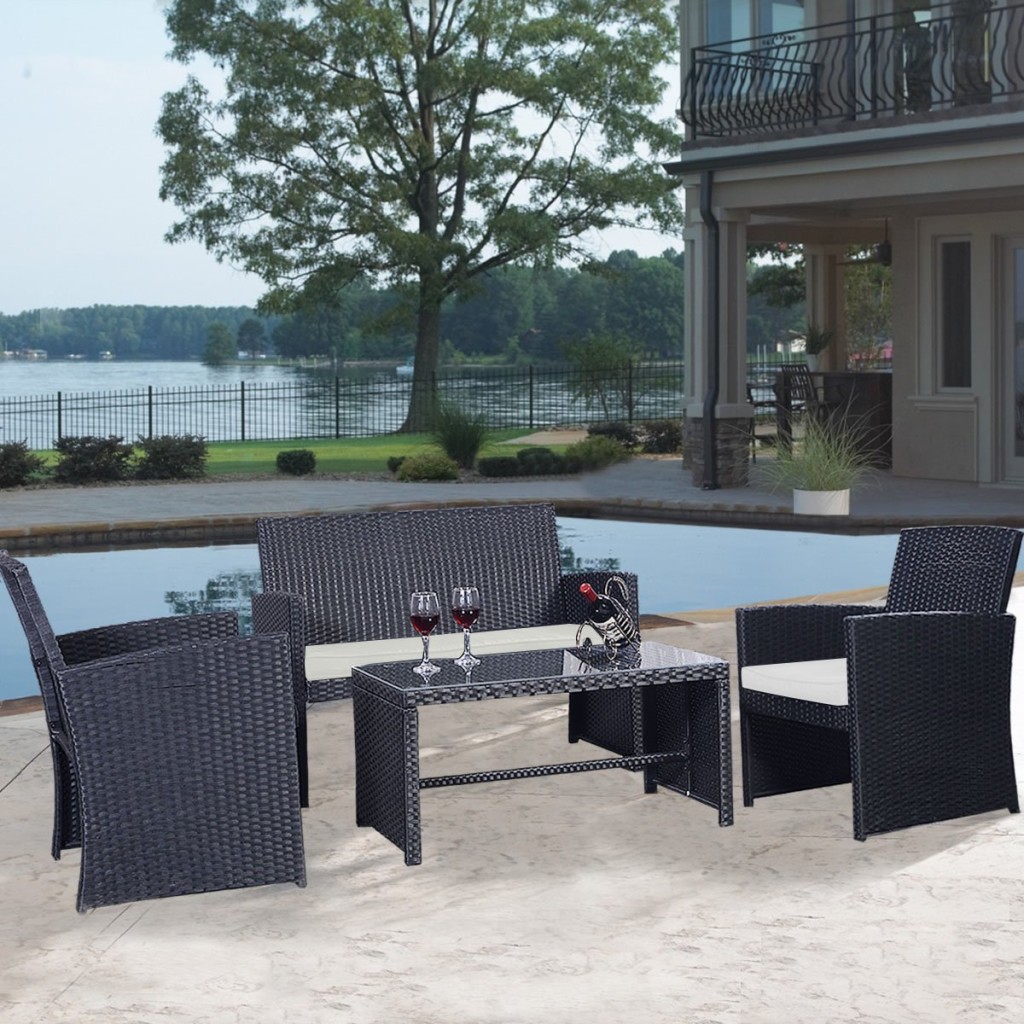 In fact the easiest way to guarantee you get the most value for your money is in purchasing a set.  You will almost always pay a lot less per piece especially in sets with many pieces as the price per piece will usually decrease as the number of pieces in the set gets higher. To further entice consumers many manufacturers and sellers will provide free shipping as well on already discounted prices, which is always great since it saves you both hassle and even more money.  And of course many sets include extras like free furniture covers to add to their appeal too.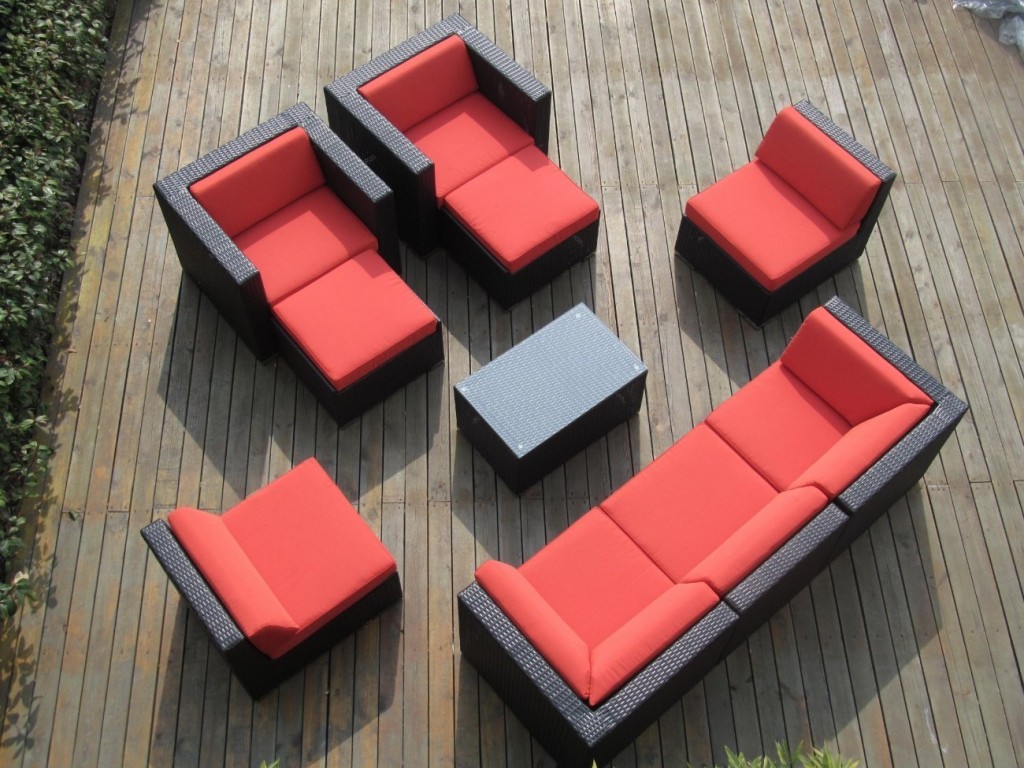 While some homeowners are hesitant to buy furniture online, really this fear is unfounded.  If you do have a local furniture shop near you, you can always visit the showroom to help get acquainted with what type of rattan you prefer and then find something similar but less expensive online.  This is easy to do as all good brands should have clear professional pictures in various positions and even settings to help make sure you are picking what you really want.   Purchasing from a reputable brand and or one which has many positive reviews will virtually guarantee you end up with a winner and at a discount.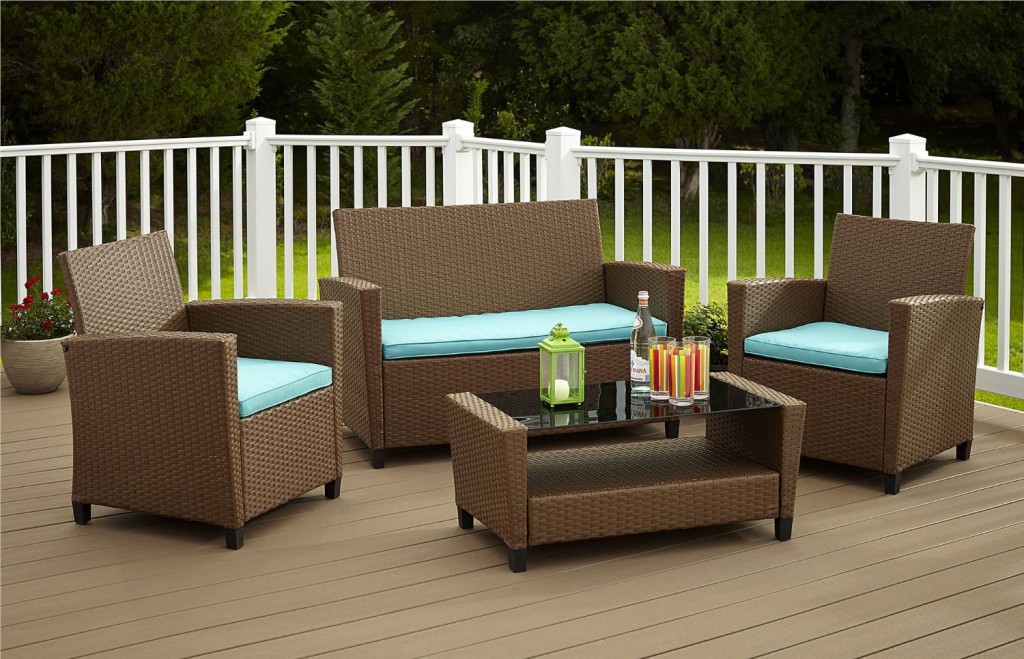 Top Rattan Garden Furniture Brands
Fortunately for consumers there are many well-trusted brands to choose from.  Whiles some of the companies mentioned below concentrate specifically on rattan others are reputable outdoor furniture manufacturers that while they do make other things also have some fabulous rattan products as well.
One of the biggest names that specializes in rattan garden furniture is Ohana.  With Ohana you get an incredibly high-quality and sturdy product with tons of convenient features from a company that has a very wide selection (particularly when it comes to sets) and that has excellent customer service to boot.    Another very well-known brand is Luxxella which offers rattan that can handle all weather and climate conditions, extra comfy pillows, a three year warranty, and best of all highly reduced prices for the level of quality you're get.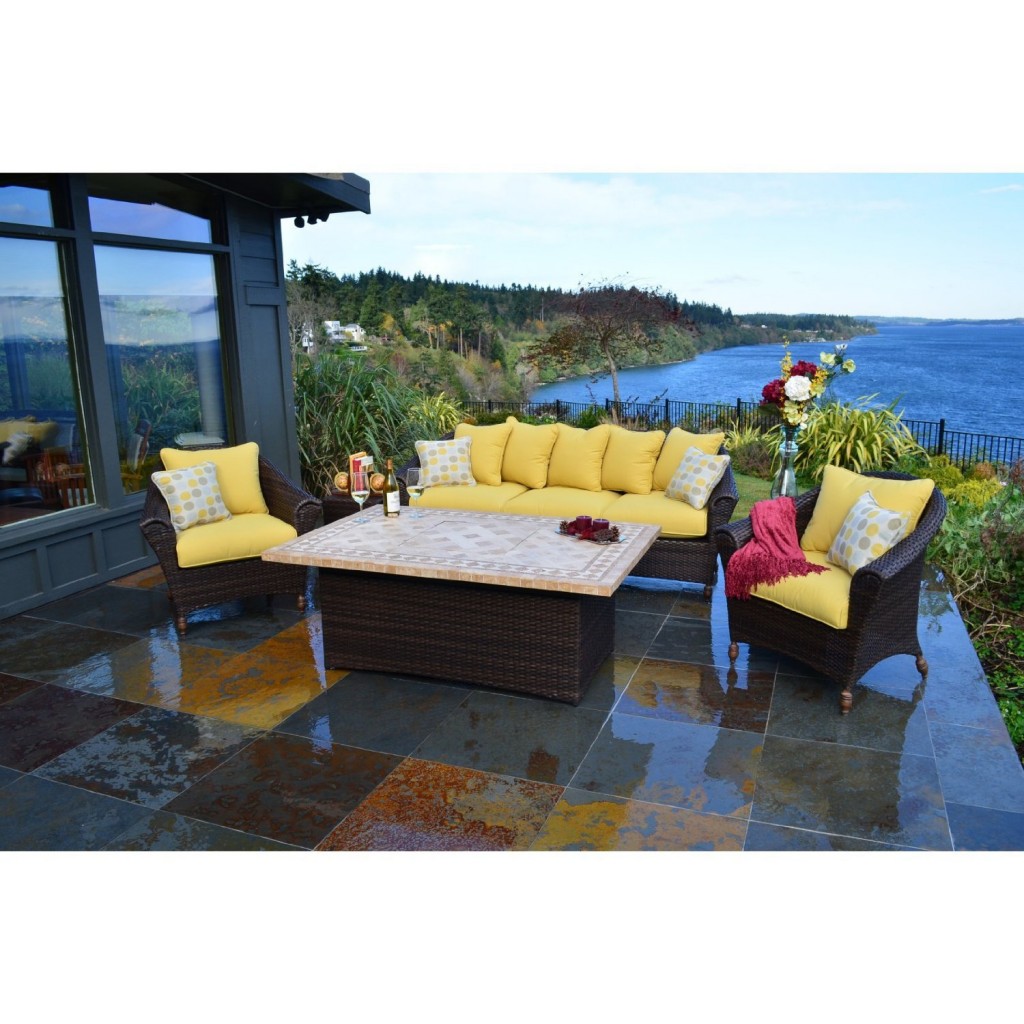 Harmonia Living might be a little more expensive than other brands but all of their products are well worth the price.  They use top-notch materials that are guaranteed to give you years of use.  With thick gauge aluminum frames, high grade recyclable all weather rattan, and Sunbrella cushions made specifically for the outdoors, they make for a smart buy.
Outsunny offers very reasonably priced and good-looking sets along with other outdoor décor, gazebos, and patio covers to keep you cool.  LexMod has some gorgeous and modern looking furniture particularly outdoor chaise lounges, day beds, and sofa sets all made from rattan.  From outdoor dining sets to sofas and bars Mango Home also has some handsome rattan options that will make your outdoor space look unbelievable.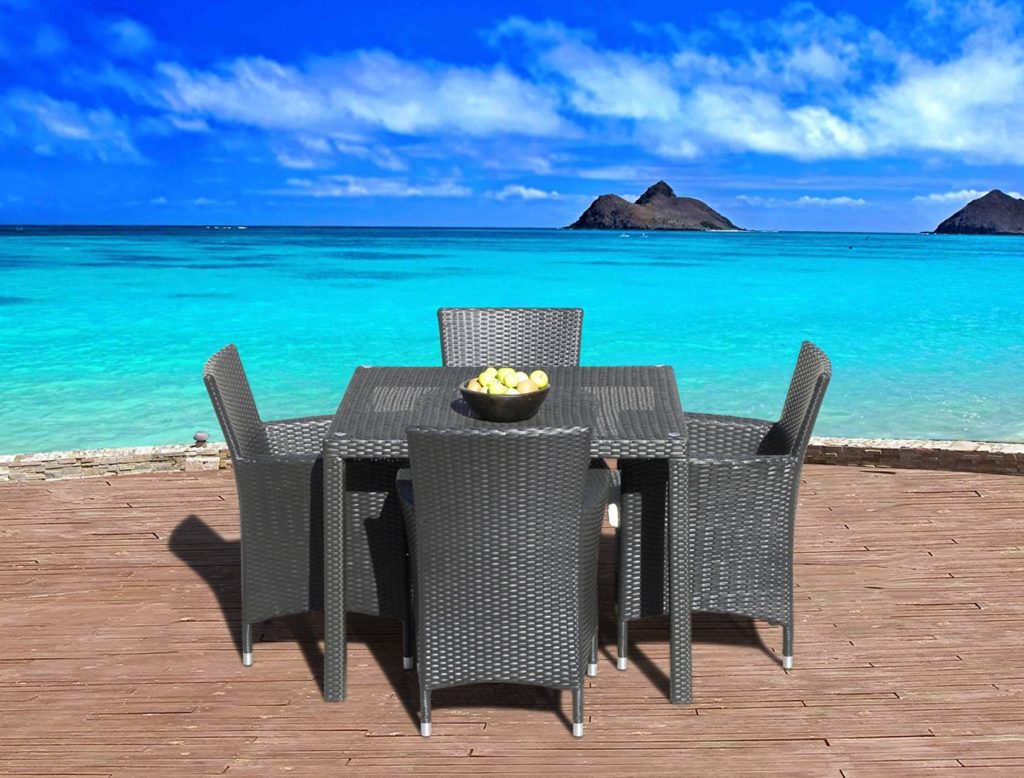 Keter a leading supplier of plastic outdoor furniture and storage has quite a few best-selling rattan effect garden furniture sets and pieces (like the bar/cooler above) that are very budget friendly yet outdoor tough.   Known for their extremely high quality resin products Suncast has got some fantastic rattan effect storage options that all have top ratings, and are number one sellers in their category. The indoor and outdoor furniture company Crosley, has some very charming outdoor rattan furniture collections that range from light to dark in color and offer some really functional and stylish storage options as well.
For rattan rockers, recliners, dining and seating sets  that are designed for maximum comfort La-Z-Boy Outdoor may have what you need.  Patio Sense, maker of outdoor heating and patio products, sells a few very inviting chairs and bistro sets made from rattan that look much more expensive than they are if you are looking to make an impression and not spend too much cash.  Even Cosco has a few inexpensive decent quality sets that you can buy online without having to become a member or even leave your home.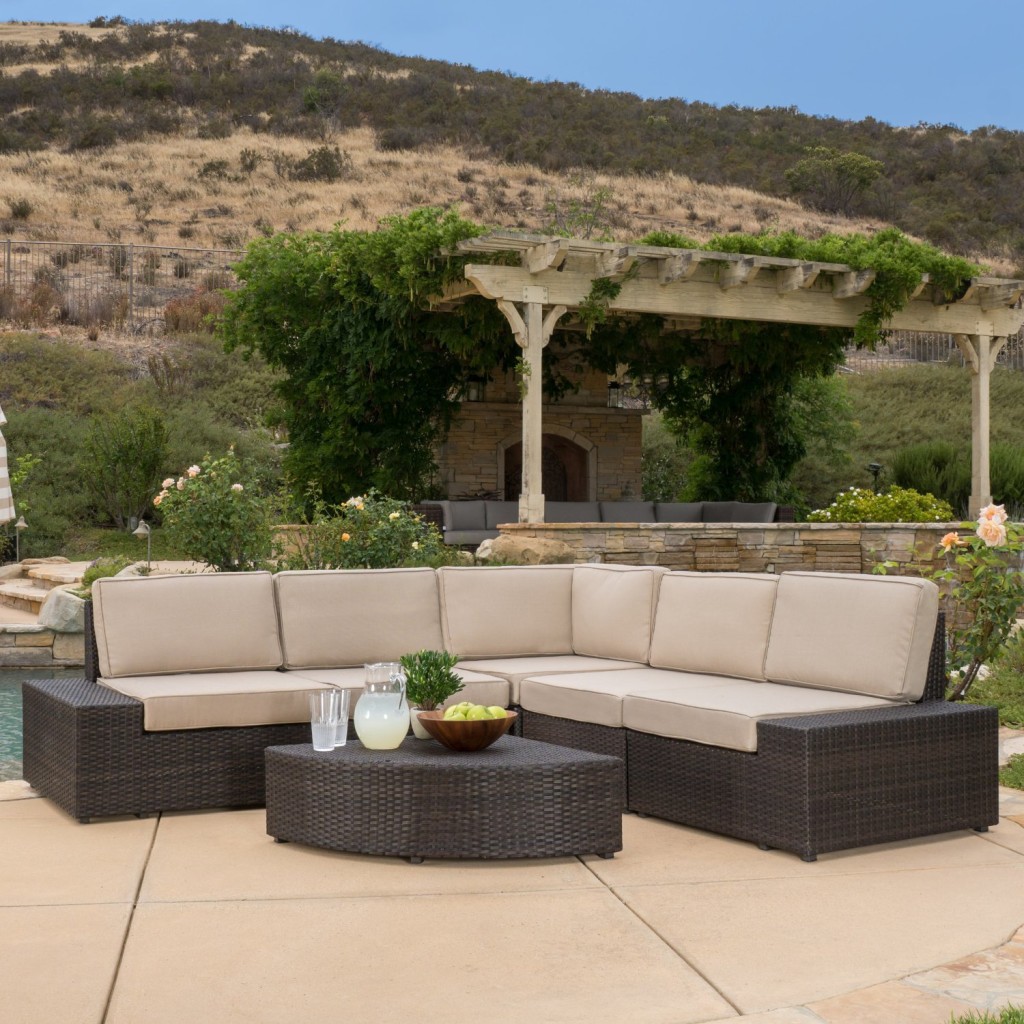 Whatever your budget, it is well worth making rattan garden furniture the centerpiece of your garden or patio design. Not only does it transform the entire appearance of your outdoor space, but it is absolutely eco-friendly, so you are doing your bit for the environment too. You save money, save labor, and create an amazing atmosphere for relaxation with both family and friends.
Click Here Nowto start shopping for rattan garden furniture!